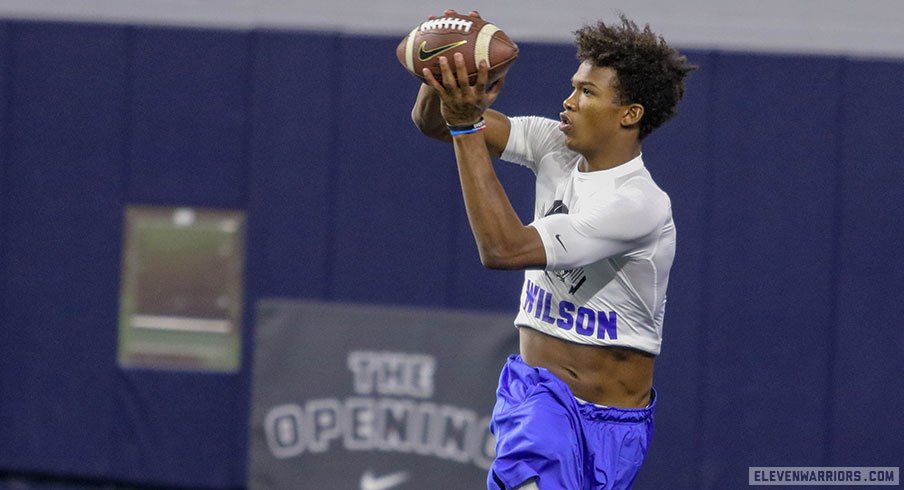 Quarterbacks, Wide Receivers and Tight Ends hit the The Star practice field in Frisco, Texas, on Saturday in advance of the 7-on-7 tournament's Opening Finals. The players were acclimated, undergoing individual exercises and received instructions from Super Bowl winner quarterback Trent Dilfer and Atlanta Falcons rookie wide receiver Calvin Ridley.
Ohio State's five-star-wide receiver committing Garrett Wilson; St. Louis four stars Marcus Washington and Jameson Williams; and Texas four-star Elijah Higgins were all on hand to give us a look at the top four wideouts on the Buckeyes Priority Card. They each offer unique skills and would complement each other well in Columbus.
Wilson was not exactly the tallest, widest receiver in the room, which was only 1
.80 meters tall, but with each repetition, he showed his great bargain. His routes in the red zone were very precise, his jump ability and his entire fishing radius were difficult. Catches are routinely on the lookout – and the quarterbacks (Alabama's four-star commitment Taulia Tagovailoa and Washington's four-star promise Dylan Morris) look more accurate than they actually were. He is a very well-rounded athlete and will give Ohio State versatile versatility.
They seem to work well together, with the first ones going deep on most routes and the latter working under them during exercise. Of course, Williams has the speed, and that's something that immediately stands out on Saturday afternoon. He almost glides across the field, and I notice he often dips his right foot into the grass to slow himself if he goes in and out of his pauses too quickly. He also makes difficult adjustments when the ball is thrown behind him.
I think it would be hard for you to find a better trio of pass-catchers – and I would beat Washington, Williams and Wilson against the Georgia Hatch of the five-star wide receiver Jadon Haselwood and Dominick Blaylock and four Star Tender Ryland Goede (all are also present) every day of the week. This class has the potential to make a significant difference to Zone 6.
The quarterbacks were pretty much all in all pretty accurate in terms of accuracy throughout the session, but it'll be interesting to see who separates during the 7-on-7 tournament. After all, it is one thing to throw to an open receiver. It's another, Snap judgments with ballhauking collateral and cornerbacks like Buckeyes four-star promise Jordan Battle Roaming the secondary make.
That said, I was particularly impressed by Oklahoma five-star commite Spencer Rattler. He has a particularly quick clearance and shows a lot of confidence in every throw he makes. I expect that to be shown during the tournament. Rattler is not a name we've talked about because he committed himself to the Sooners last summer, but there's a reason he's the country's best-placed car.
Source link