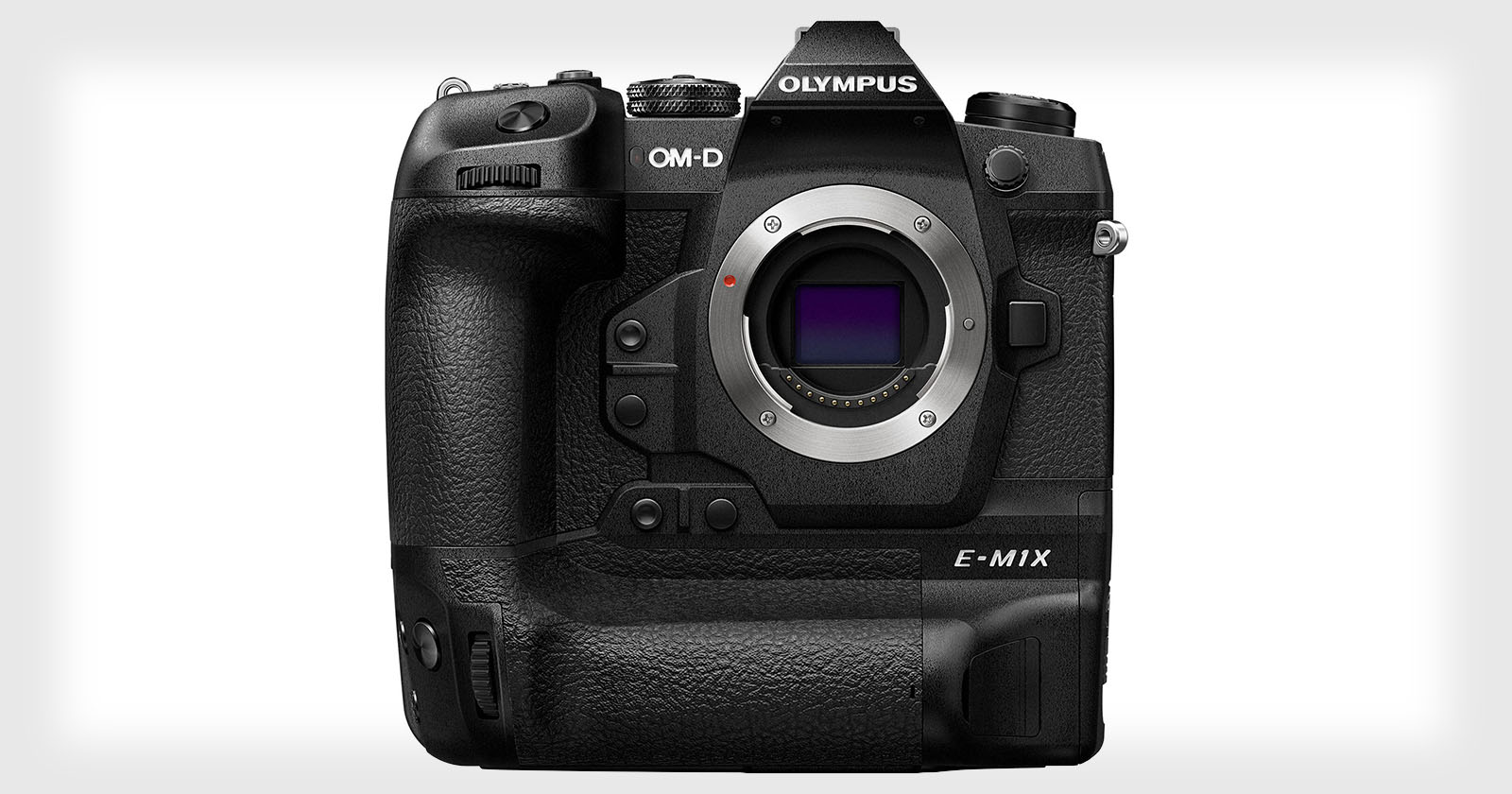 After weeks of leaks and teasers, Olympus has officially unveiled the new Olympus OM-D E-M1X camera. It's a Micro Four Thirds camera for professional photographers.
"The Olympus OM-D E-M1X is packed with industry-leading speed, performance, reliability, and high-quality image output similar to full-frame DSLRs." Olympus says.
One of the key features you'll notice on the camera first is the built-in vertical grip that gives the camera two batteries and the same shape as professional DSLRs like the Canon 1D X II and the Nikon D5. With the handle, photographers can use the same secure grip on the camera with a deep finger rest, whether photographing in portrait or landscape orientation.
"The ergonomic design reduces fatigue during long shots," says Olympus.
The new vertical handle offers a redesigned physical interface – the layout, shape and height of all camera's buttons and levers have been redesigned to help photographers focus on shooting rather than using controls playing around. With a new C-LOCK lever on the camera, you can disable various buttons and dials to prevent accidental touching of items.
When using two BLH-1 Li-ion batteries, photographers can shoot around 870 shots with one charge. The batteries in the cassette insertion system can also be replaced when the camera is mounted on a tripod. USB-C can be used to power the camera from a maximum 100W power source without a dedicated adapter that delivers consistent performance – allowing you to charge the camera batteries in just two hours.
Inside The E-M1X is a 20.4-megapixel live MOS-Four Fourths Sensor supported by dual TruePic VIII image processors. The sensor can shoot with AF / AE Lock at an amazing continuous speed of 60 frames per second. Drop down to 18 frames per second and AF / AE tracking can be used in silent mode.
Like the E-M1 Mark II, the E-M1X also has a Pro Capture mode that can retroactively store up to 35 20-MP RAW images. Button is released,
"This feature has been highly praised by professional photographers […] and is particularly well suited for capturing artistic images of subjects that move unpredictably, "says Olympus.
A high-res-shot mode can be used for shooting High-res-shot 80 megapixel photos by taking multiple 20-megapixel shots and combining the data. It can be used both on a tripod and while recording with a handheld.
There are 121 phase-locked autofocus points on the sensor, all of which are cross-type – just like the OM-D E-M1 Mark II. The AF system has a multi-function joystick to choose from AF areas (with diagonal movement possible), smart scene AF, tracking of unpredictable subject movement and speed changes, a -6 EV low-light AF border with 1: 1.2 lenses, and multiple AF target modes, AF Range settings and switching to manual focus by turning the focus ring.
Another key feature of the E-M1X is the image stabilization system, which according to Olympus offers the world's highest performance. When using the stabilized M.Zuiko Digital ED 12-100mm F4.0 IS PRO, it provides a total compensation of 7.5 shutter speed levels. With the body stabilization alone, the camera offers 7 compensation stops.
Interestingly, in 2016, Olympus claimed that the theoretical limit for stabilization at this time was 6.5 stops, "due to earth rotation interfering with gyroscopes. "Well, Olympus apparently overcame this little problem in the E-M1X.
On the back of the camera is a 3-inch Vari-Angle touchscreen with 1.037 million points.
Above it is a distortion-free electronic viewfinder with 0.83x magnification (35 mm equiv.) With a 120 fps frame rate (progressive scan) and a 0.005s latency.
The E-M1X is designed to withstand the demands of nature. It is dust-proof, splash-proof and frost-resistant (-10 ° C), even when accessories such as a remote control cable, a microphone and headphones are connected to the camera. A Super Sonic Wave filter in the camera between the trigger and sensor vibrates 30,000 times a second to remove dust and dirt, and has a new coating that increases its effectiveness by 10%.
The camera has a "construction that emits heat when shooting video and high-speed shooting in very hot conditions," says Olympus. The shutter button in the camera is designed for 400,000 operations.
Other features and specifications of the E-M1X include a live ND (from 1 stops to 5 stops) for long-term locking effects without ND filters, integrated GPS, a temperature sensor, a manometer, a compass, anti-fibrillation artificial shooting Light, Olympus Capture for transferring photos via Wi-Fi in the studio, stabilized 4K video, OM-Log400 video and 120 fps high-speed video.
Here are some sample photos taken with the E-M1X:
.
The new Olympus OM-D E-M1X will ship at the end of February 2019 for $ 3,000.