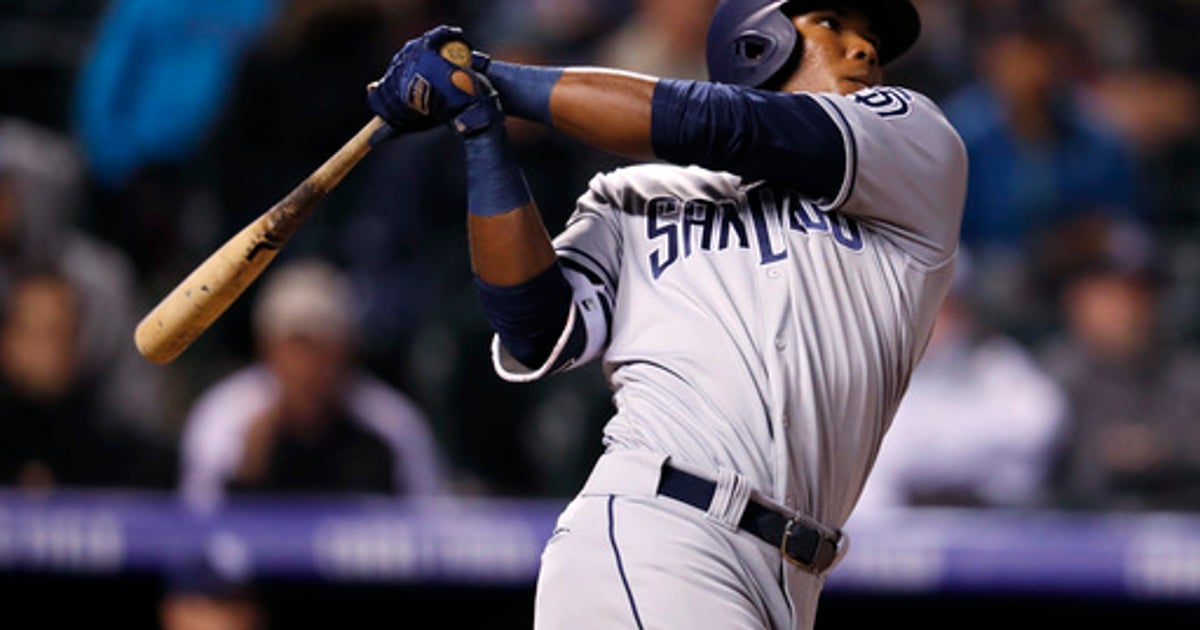 DENVER (AP) The last time the Colorado Rockies and San Diego Padres met, their spirits flared and punches were thrown. This time, the Padres inflicted all their damage on their bats.
Carlos Asuaje got married and had a career high of four RBIs, Franchy Cordero went deep during a nine-run seventh inning and San Diego romped past the Rockies 13-5 on Monday night.
Asuaje hit a three-round shot in a four-run first and Cordero added a two-run drive during a 45-minute seventh for San Diego. Wil Myers had four hits and two RBIs, and Eric Hosmer drew a career-high four walks with his two hits.
The Padres won for the second time in seven games.
"It was a fun night for the boys," said manager Andy Green. "This is one of those days when you can smile and laugh and take aggressive at-bats, and you want to see that kind of transference the next day."
It was the eighth meeting of the year between the teams and their first since a brawl on April 1
1th. Www.mjfriendship.de/de/index.php?op…39&Itemid=32 He threw a 96 – mph fastball past Rockies star Nolan Arenado, who attacked the mound and Perdomo Missed blows.
Arenado, Perdomo and Colorado have been slipped for their roles in the fight More clashes on Monday
"It's over," said Colorado manager Bud Black before the game
Arenado and Trevor Story got married for the Rockies who fell to 3-7 at home. Colorado starter Chad Bettis, who had allowed two runs or less in his first four starts of the year, dug a 4-0 hole in the first, but left after five innings with a 5-4 lead.
In seventh, Jake McGee (0-1) got out only one and gave four runs. Scott Oberg came in and brought another five runs, while he took out only one. Antonio Senzatela finally closed the door in the inning after allowing three hits and no runs.
"It is definitely something for the moment to wash," said Oberg. "But go forward, learn from the mistakes and try to do our best not to repeat them."
Overall, San Diego sent 15 batters to the plate in the inning. The Padres had eight goals and four walks. Knallhitter Matt Szczur, Cordero and Myers had two goals each.
The nine runs were the most for the Padres in an inning as they also scored nine goals against the Chicago Cubs on July 24, 2014.
"I was I definitely enjoy this inning," said Cordero about a translator. "That's what we play for."
Robbie Erlin (1-2) won as a relief to starter Bryan Mitchell
COACH
Padres: 3B Christian Villanueva was a late scratch due to the tightness in his paralyzing. Villanueva leads the majors in slugging percentage (.774) and has the second highest hit average (.355) in the NL.
Rocky Mountains: LHP Chris Rusin was placed on the 10-day disabled list with a right intercostal load LHP Harrison Musgrave was drafted by Triple-A Albuquerque. Musgrave threw a goalless inning in his Major League debut. In a similar move, RHP Carlos Estevez was wheeled onto the 60-day DL with one elbow load
EARLY TROUBLE
Myers hit a beam in the first lap and Asuaje followed with a 3-run homer who finished fourth Strike marked straight game, in which the Rocky Mountains have allowed several runs in the opening inning.
Colorado tied it up in the bottom half with two runs from Arenado and Story.
LONG, LONG GONE
Stories homecoming in the First He reached the left field hall and traveled an estimated 464 feet. According to Statcast, this was the longest homerun of his career.
Corderos Homer in the seventh was 456 feet.
"He's a tall, physical man," said Green.
UP NEXT
LHP Eric Lauer, his 25th overall colleague in the 2016 draft, is expected to make his debut in the big league for San Diego on Tuesday. The Rocky Mountains will counter with LHP Kyle Freeland (0-3, 5.85 ERA) looking for his first win since July 30.
–
More AP Baseball: https://apnews.com/tag/MLBbaseball 19659032] (function () {
var isTouch = window.navigator.userAgent.match (/ Android | webOS | iPhone | iPad | iPod | BlackBerry | IEMobile | Opera Mini / i);
if (isTouch) {
// a copy of fsUtils / ScriptLoader has been heavily modified
let getScript = function (url) {
// Create a new script and set up the basics.
let script = document.createElement ("script");
script.async = false;
script.src = URL;
// Attach the script tag to the page (before the first script) for the magic to happen.
lost firstScript = document.getElementsByTagName (& # 39; script & # 39;) [0];
firstScript.parentNode.insertBefore (script, firstScript);
};
let googlePixelLoader = function () {
Window ['google_conversion_id'] = 832239217;
Window ['google_conversion_label'] = "TccACP23rXkQ8ezrjAM";
Window ['google_remarketing_only'] = wrong;
getScript (window.location.protocol + & # 39; // www.googleadservices.com/pagead/conversion.js');
};
let fbPixelLoader = function () {
/ * by https://fng-jira.fox.com/browse/FSCOM-12494 – Facebook Pixel Code * /
! Function (f, b, e, v, n, t, s)
return {if (f.fbq); n = f.fbq = function () {n.callMethod?
n.callMethod.apply (n, arguments): n.queue.push (arguments)};
if (! f._fbq) f._fbq = n; n.push = n; n.loaded =! 0; n.version = & # 39; 2.0 & # 39 ;;
n.queue = []; t = b.createElement (e); t.async =! 0;
t.src = v; s = b.getElementsByTagName (s) [0];
s.parentNode.insertBefore (t, s)} (window, document, & # 39; script & # 39 ;,
"Https://connect.facebook.net/en_US/fbevents.js");
fbq (& # 39; init & # 39 ;, 161811331078914 & gt;);
fbq (& # 39; track & # 39 ;, ViewContent & # 39 ;, {content_name: & # 39; Mobile_App_Install & # 39;});
};
(Function (b, r, a, n, c, h, _, s, d, k) {if (! B [n] ||! B [n] ._ q) {for (; s <_. Length;) c (h, _ [s++]); d = r.createElement (a); d.async = 1; d.src = "https://cdn.branch.io/branch-latest.min.js "; k = r.getElementsByTagName (a) [0]; k.parentNode.insertBefore (d, k); b [n] = h}}) (window, document," script "," branch ", function (b , r) {b [r] = function () {b._q.push ([r,arguments])}}, {_ q: [] _v: 1}, addListener applyCode Banner closeBanner creditHistory Credit Data deepview deepviewCta first getCode init shortcut Redirect sign off references removeListener sendSMS setBranchViewData setIdentity track validateCode ".split (" "), 0);
branch.init (& # 39; key_live_acdMtqDFnx4gILoc1Rq9VbckBtmjzNok & # 39;);
branch.addListener (& # 39; didShowBanner & # 39 ;, function () {
lease iframe = document.getElementById (& # 39; branch-banner-iframe & # 39;);
let btn = (typeof iframe.contentDocument! == & undefined & # 39;)? iframe.contentDocument.getElementById (? branch-mobile-action?): iframe.contentWindow.document.getElementById (? branch-mobile-action & # 39;);
btn.addEventListener (& # 39; click & # 39 ;, function (ev) {
if (ev.preventDefault) ev.preventDefault ();
if (typeof window ['adwordPixelEnabled'] === & # 39; undefined & # 39;) {
googlePixelLoader ();
fbPixelLoader ();
// specifies that it loads only once after a click
Window ['adwordPixelEnabled'] = true;
}
});
});
branch.banner ({
icon: & # 39; https: //b.fssta.com/uploads/2016/10/fox-sports-app-icon175x175.vadapt.175.high.0.png&#39 ;,
Title: "FOX Sports Mobile",
Description: "You're the fan, we'll do the rest!",
openAppButtonText: & # 39; open & # 39 ;, openAppButtonText
downloadAppButtonText: & # 39; Install & # 39 ;,
sendLinkText: & # 39; Send link & # 39 ;,
phonePreviewText: & # 39; 123-456-7890 & # 39 ;,
showiOS: right,
showAndroid: true,
showDesktop: wrong,
iframe: right,
disableHide: false,
forgetHide: 2,
Position: & # 39; above & # 39 ;,
mobileSticky: wrong,
desktopSticky: wrong,
customCSS: # branch banner {width: 100%; z-index: 99999; Font family: "Helvetica Neue", Helvetica, Arial, sans serif; -webkit-font-smoothing: antialiased; -webkit-user-select: none; -moz-user-select: none; user-select: none; -webkit-transition: All .25s ease; Transition: lighter every 250ms} # branch-banner .content {width: 100%; overflow: hidden; height: 76px; background: # f2f2f2; color: # 333; border-bottom: 1px monochrome # c1c1c1} # branch-banner .content .links {text-align: left} # branch-banner .icon img {width: 64px; height: 64px; margin-right: 0; border-radius: 14px} # branch-banner-close {color: # 787878; font-size: 22px; above: 14px} # branch-banner .title {font-size: 14px; font-weight: 400; color: # 000} # branch-banner .description {font-size: 12px; color: # 303030; max-height: 30px; overflow: hidden} # branch-banner .reviews {font size: 10px; Edge: 1px 0 3px; Color: # ff9500} # branch-banner .reviews .star span {Display: Inline-Block; Right margin: 0; Color: # ff9500; Position: absolutely; above: 0; left: 0} # branch-banner .reviews .star svg {fill in: # fe9402} # branch-banner .reviews .review-cou nt {display: none; Font size: 10px} # branch-sms-form-container {right margin: 0} # branch-banner .button {Display: Inline-Block; Edge-Top: 0; Edge-left: 5px; Padding: 6px 12px; Font size: 18px; Color: # 007aff; Cursor: pointer; Text decoration: none; Background: 0 0; Frame: none} # branch-banner .button: mover {color: # 05a5ff; background: 0 0; border: none} & # 39 ;,
make_new_link: wrong,
Rating: wrong,
ReviewNumber: 90,
Theme: & # 39; light & # 39;
}, {});
}
} ());

Source link