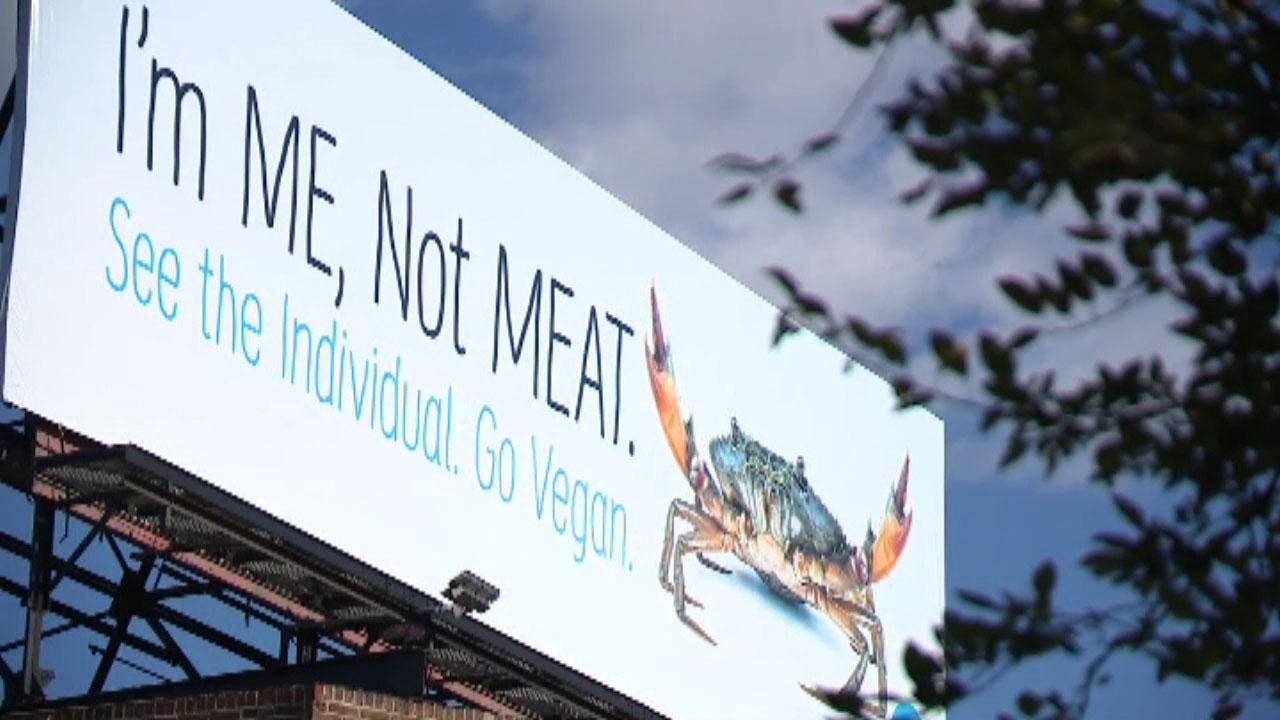 A new billboard in Baltimore, Maryland, has received a gruff reaction from some fish lovers in the city.
Animal Ethics (PETA) people have recently created a billboard that encourages people to shed crabs and "go vegan" near several of the city's inner harbor fish restaurants.
Billboard featuring a blue crab reads "I'm ME .. Not MEAT .. See the individual .. Go Vegan."
MYSTERIOUS FOR THE COVERED SEA "MONSTER" WASHES BEACH AT THE BEACH: "WOULD AN ANCIENT CREATURE? "
In a statement, the Animal Protection Group said the sign "comes as part of a nationwide campaign to encourage guests to leave crabs and other marine animals in front of the plates and in their water residences."
"Crabs feel just like people's pain and fear, they have unique personalities and value their own lives, "said PETA Vice President Tracy Reiman in the statement. "PETA's Billboard aims to give Charm C The townspeople have some food for thought to spare delicate marine animals, to be agonized, cooked alive or crushed in fishnets by becoming vegan."
But many Marylanders are not on board with the group's message.
It's part of the city's history, do you know what I mean? "Gerard Brown, who eats cancer, told CBS Baltimore," There's no Baltimore without seafood. "
" This is a brave piece in Baltimore " wrote a Twitter user.
Also the Restaurant owners expressed their dissatisfaction with the billboard.
"I do not think they knew what they were getting into when they put that up," said John Minadakis of Jimmy's Famous Seafood the news channel.
RARE CLUBHOOK SQUID IN OREGON SECOND TIME IN 2 WEEKS
The billboard will be back just a month in time for the Baltimore Seafood Festival in September.
Also this month, PETA has pushed an almost identical billboard in Maine Launched a lobster, the marketing boost came just before the state lobster festival in Rockland.
Tags Billboard crabs eating encourages Maryland People PETA quotveganquot stop