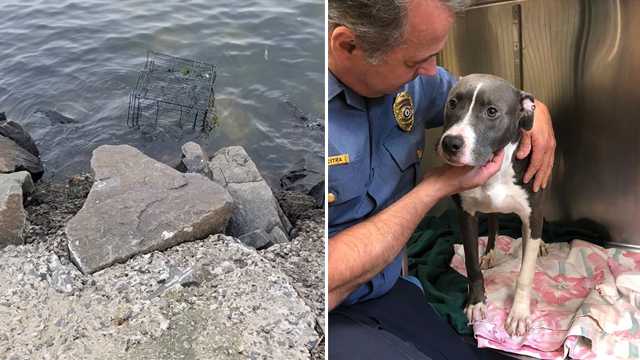 HIGHLANDS, NJ –
Authorities are trying to drown the person who left a young pit bull in a cage on the water's edge in a rising tide.
A person walking with their dog in Veterans Memorial Park in the Highlands, New Jersey, spotted the little dog cowering on a sand track between a bulkhead and the water in the cage on Monday morning.
"When the passerby examined them, they saw a black wire cage with a small dog cowering in the cage, the cage was on a small sandy area between the bulkhead and the water, the tide came and the water had reached the good Samaritan climbed over the wall and rescued the dog, "reads a statement on the Monmouth District Attorney's Facebook page. "If not for the heroic rescue of the Good Samaritan, the dog might have drowned."
Officials estimate that the dog was set up between 4 and 6 o'clock according to the tide schedule.
The Gray and White The Pit Bull was taken to the Highlands Police Station.
AlertMe
Source link