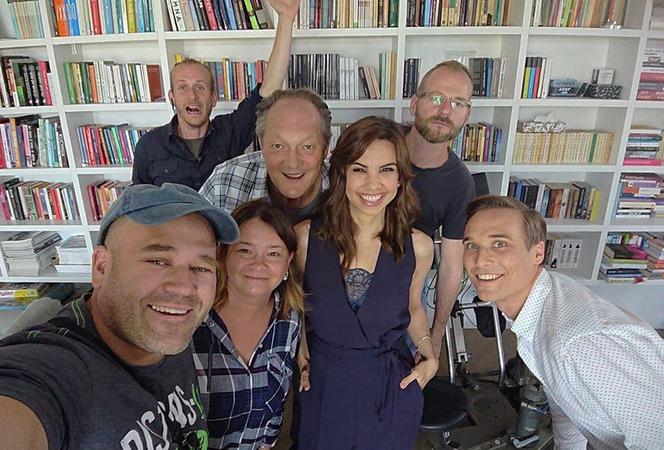 Tomasz Dedek in "M jak miłość" enters the life of Aneta (Ilona Janyst) and Olka Chodakowski (Maurycy Popiel) after the holidays in 2019 as new hero , For the great actress, after a break of 18 years, it is a great comeback for "M jak miłość". Once Dedek had already played in the successful TV series. At the beginning he played the role of Robert Kozielski, partner of Krzysztof Zduński (Cezary Morawski). Who will be "M jak miłość" in the new season? Is Anetas father or maybe her lover or partner? Check the details.
"M jak miłość" after the festivities 2019 new episodes from Monday, 2/09/2019. at 20.55 in TVP2
In the new episodes of "M jak miłość" Aneta Kryńska returns after the summer break! It's no surprise to anyone that Oleks lover will turn his life upside down. Through her behavior, Aneta has proven time and again that she is an unpredictable, extremely mean and vengeful woman, and Olek even recognized that Aneta was a psychopath because she wanted to burn him in the apartment.
But that's not the end of surprises! In the next season "M jak miłość" in the history of Aneta, a new hero will appear, played by Tomasz Dedek.
Who played Tomasz Dedek in "M jak miłość"?
The actor once played in "M jak miłość". Exactly 18 years in 2001, he played in several episodes of the series the role of Robert Kozielski, partner of Krzysztof Zduński, the first husband of Marysia (Małgorzata Pieńkowska) in the camp in Gródek.
Roberts shares in the company amounted to 65%, so he had more business profits. He used the naivety of Krzysztof to achieve financial benefits. Many of the things that were registered for the company were in his house. One day Robert went to Germany to buy new transporters for the company.
A few weeks later it turned out that he was actually running away from creditors to whom he owed money. The truth became known as the executors began attacking Krzysztof and then his family. Zduński decided to pay his partner's debts to protect his family from violent creditors.
On the day of the transfer, it turned out that the two executions had been murdered. Krzysztof was accused of killing her. Fortunately, he was quickly released from the charge. After a few months Robert returned to Poland with his wife Renata (Monika Stefaniak). He began to carry out illegal activities. When Krzysztof discovered that Robert had ordered the assassination of the creditors, he reported the matter to the police. Kozielski was sent to jail.
After his arrest, his wife Renata sold a warehouse.
QUIZ: On a journey through Polish series. How do you look at them closely?
It looks like Tomasz Dedek will be something different in the new season "M jak miłość". His character will be closely linked to Aneta Kryńska. It was Ilona Janyst who showed his first photo from the plan after years of returning to the show on her Instagram profile. She wrote to her fans that Dedek will stay in "M jak miłość" for a long time, which makes her very happy because she appreciates him as an actor.
– I'm also a big fan because I read the script that I could not believe ] – well-known anonymous Aneta from "M jak miłość"
Source link