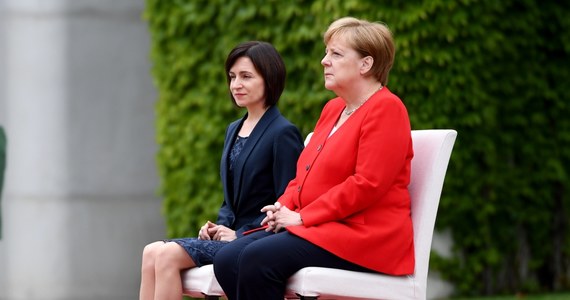 Chancellor Angela Merkel once again heard national anthems sitting in a chair. The situation was unforeseen in the diplomatic protocol during the visit of Moldovan Prime Minister Mai Sandu to Berlin.
Chancellor Angela Merkel (P) and Prime Minister of the Republic of Moldova Maia Sandu (L) at Listen to national anthems
/ Britta Pedersen / AFP
Both heads of government received military honors and listened to national anthems sitting in chairs on the podium in front of the Chancellery. Danish Prime Minister Mette Frederiksen was also greeted by Merkel on Thursday. The German media emphasized that this was "absolutely unusual".
At Merkel's express wish, three seizures during official ceremonies last month, the principles of the protocol have been omitted. On Tuesday, there was no sign of dissatisfaction with the German chancellor: she smiled and talked animatedly with Sandu.
The exact cause of the problems of the German politician is unknown. Merkel assured her on Thursday that she cares about her health and is aware of her responsibility for the role assigned to her.
The Chancellor's first seizure occurred on June 18, when new Ukrainian President Volodymyr Zełenski was in Berlin. The situation was repeated on 27 June at Schloss Bellevue, the headquarters of German President Frank-Walter Steinmeier, at the new Justice Minister Christine Lambrecht, and on 10 July during the visit of the Finnish Prime Minister Antti Rinne and hot weather. Another was psychological in her opinion.
Almost 60 percent. The Germans believe that the state of health of the Chancellor is their private affair. However, repeated indispositions sparked a debate among their party colleagues from the CDU as to whether they should relinquish the power of a successor or successor before the term of office ends in 2021. A browser.
DW Premium News: Demonstrators marching in Germany again
Deutsche Welle