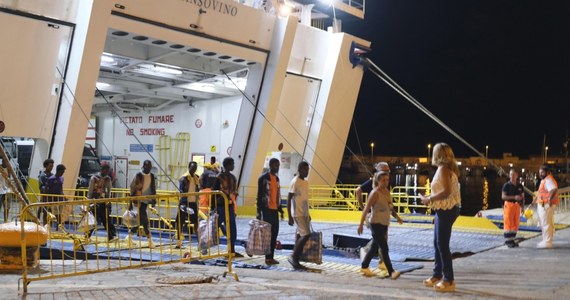 Another eight migrants left Monday night for medical reasons, standing on the banks of Lampedusa Open Arms NGO ship. The ship has been waiting for nearly three weeks for permission to enter the Italian port.
Another eight migrants left the deck of the Open Arms
/ PASQUALE CLAUDIO MONTANA LAMPO [1945 PAP / EPA
99 migrants stayed on the ship of the Spanish NGO. The unit is at sea because, according to the decision of the Ministry of the Interior in Rome, Italian ports are closed to NGOs rescuing refugees from Africa.
On Saturday, 27 minors left the deck.
The crew of the unit warns this on the 18th day crisis the situation on the ship is unmanageable and worsens every minute, and hygienic and hygienic conditions are unbearable. He calls for evacuation of all migrants as soon as possible.
Spain explained its contribution to solving the crisis around the ship and offered to open one of its ports and pick up migrants. The crew of Open Arms, however, can not compete in a multi-day cruise.
There were rumors of a cruise to Mallorca or Menorca in Spain, but it is still unknown how the whole operation should be organized.
Italian Minister Infrastructure and Transport Danilo Toninelli said on Monday evening: "We can bring migrants to Spain." He explained that the Italian Coast Guard would take part in such an operation.
An aid organization proposed to transport migrants by plane or ferry from their ship to Spain. The European Commission called on the EU to end the impasse.
Z Rzymu Sylwia Wysocka