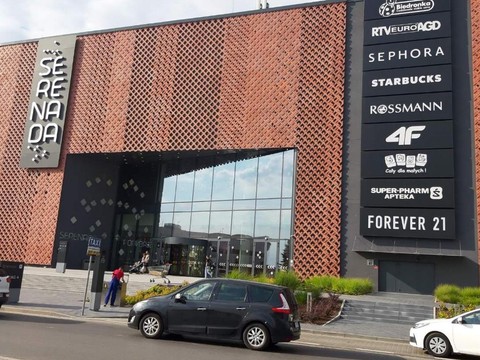 A new branch of the Biedronka network at al. T. Bora-Komorowskiego 41 in Krakow is located at the level of 0 shopping center. The store has a sales room with an area of ​​1047 m2 and 5 cash registers. Motorized customers can use the free underground car park. 23 people found employment in the business
– We are glad that we joined the group of tenants of the Serenade Center. With the opening of one of the most modern and largest Biedronka stores in Krakow, we are offering our customers the opportunity to benefit from attractive offers and promotions for larger purchases in the shopping gallery. Thanks to its innovative solutions, Biedronka is not only modern, but also customer-friendly ̵
1; says Dawid Skrzypski, regional manager for operational marketing of the Biedronka social responsibility network of the Biedronka network. The store uses LED lighting and refrigerators use environmental gases such as natural gas CO2 ("clean technology" and propane gas).
Many attractions are planned on the opening day of the new facility. Adults can join in the tasting of freshly brewed coffee from Delta's coffeemaker, available at Biedronka's stores. For the little clients painting faces and playing with balloons is waiting. Anyone who has loved the Sweetie Gang also has the unique opportunity to complete the plush collection. In the opening week anyone who min. 149 zlotys, he can buy a mascot for 1 zloty.
Customers can also avail special promotions until July 29th of this year. or while supplies last. Selected discounts, including for fruits and vegetables, bread and fresh meat even up to several dozen percent
Biedronka at al. T. Bora-Komorowskiego 41 in Krakow, open from Monday to Saturday from 09:00 to 22:00 and on Sundays from 09:00 to 21:00. Biedronka replaced the Poznań delicatessen: Piotr i Paweł.
For some it is a symbol emaciated for others! Biedronka throws this product on the shelves
Lidl's fierce fight with Biedronka. Where is it cheaper this week?
Source link