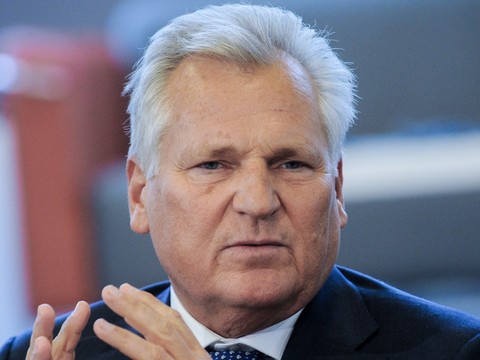 Today's constitutional debate makes people bubble out of their brains – the ex-president says that it's far from certain that a referendum will be held on the amendment of the Basic Law
I feel overwhelmed by the services – Alexander admits to Kwasniewski. He adds that the current authority is to discredit his person
The year 2018 will be marked by such actions that will introduce the fear factor. Who does not want to be with us, d. H. With a good change, is against us and will not have it easy ̵

1; believes the former president
According to Kwaśniewski, there is a swallow of hope for the left. Robert Biedron has my support, but that does not mean that I do not support the SLD on his return to parliament – he emphasizes
It is impossible for Monika Jaruzelska's romance with the Left as the story of Magdalena Ogórek – Aleksander Kwaśniewski claims
] Andrzej Gajcy: Are you attracted to politics like the proverbial wolf in the forest?
Aleksander Kwaśniewski: You know, in a way, I'm still in politics. If someone was president, it's always in politics, so it's hard to talk about longing here.
I ask for a return to active politics?
It is no longer for me to take chairs and positions, and I would honestly say I do not miss it. Today I comment and advise all who want to hear my advice. And I admit that there are many such active politicians from different groups. Not just from the left, but – and I'll surprise you here – even on the right.
Here you really surprised me. For example, who on the right hand comes to Aleksander Kwaśniewski for advice?
(laughs) Of course I will not tell you that. Once it seems that a new law on the protection of personal data …
… please do not hinder the law in this case.
You know, I think political life in Poland is pretty sick, so I do not want anyone to do unintentional harassment and, above all, problems. Why should I run the risk of someone having problems after our conversation? But I also have these contacts with the right-wing politicians, and if someone wants to come to my office and talk to me, I invite you. I assure discretion.
This may be easier with the names on the left. Do you advise Robert Biedroń?
I call him and sometimes we talk. Robert Biedron has one fundamental task: to renew his mandate in Slupsk and to show that his four-year presidency has received a positive vote from the voters in this city. This will be the basis for him to build something much bigger for the future.
What? Recently, Robert Biedron said he would be the one to stop the PiS and remove the group from power. Do you see that too?
Ambition in politics is a good thing and respectable. Biedron is in a good age where he already has parliamentary experience and self-government experience, as well as grace and ease to persuade people to his ideas, he can think about far-reaching plans.
How many?
I do not know. He has my support, but that does not mean that I will not support the SLD when I come back to Parliament …
… I see that old love will not rust.
(laughs) You know, all good things happen on the left. He is worried that the ability to interact between different left-wing circles is rather limited. I try to break that, which is not easy.
What will happen next with the Democratic Left Alliance?
If you believe in polls but I have some distance, it clearly shows that there is some hope for the left. Recent PiS decisions, such as the degradation act or the activities of the IPN, are helping to make the nostalgic electorate, which is still affiliated with the PRL or at least unwilling to lead to a complete strike of its achievements and biographies, more active. It seems that the SLD is permanently above the electoral threshold.
So you believe in the return of the SLD to political prime minister?
Yes, I believe in the return of the SLD to the Sejm
And there will be no further steps from the left?
There is no real threat for now. Of course, the Together party will not give up its separateness and try to address the younger generation with postulates from socialists and equality. We will see how they can do it. This will be an interesting experiment.
Such an experiment is also an involvement in the politics of Monika Jaruzelska
I think that those who have convinced her can speak of success. I understand that this was an SLD initiative, and it must be admitted that the acquisition of such a person is important to this formation.
Not everyone on the left shares your enthusiasm.
Some of her statements are criticized, which in turn I judge rational. In my opinion, the expectation that a very liberal anti-abortion law can be achieved in very Catholic Poland is simply unrealistic. Monika Jaruzelska, who says that we have to defend this compromise, what is, behaves like a very realistic person and hopes in the future as a realistic politician.
Your name will not be too big a burden.
In some environments it will definitely be a burden, in other trumps and great help. If one looks at the different assessments of martial law, in spite of the ongoing activity of the institute and all the contemporary propaganda, some Poles consider Wojciech Jaruzelski unworthy and who needs to be demoted, and another, and probably much more, thinks he has made a dramatic decision that protects the country from a threat from the Soviet Union.
You can argue with this assessment. Returning to Monika Jaruzelska, some fear that her romance with the left will end like the story of Magdalena Ogórek.
That's impossible.
Why?
Because the project with Magdalena Ogórek was missing from the start [19659038] However, Magdalena Ogórek was the presidential candidate of the Left.
But I did not vote for it. I think something similar can not happen anymore. Monika Jaruzelska got to know the politics of this most brutal side. As a daughter of Wojciech Jaruzelski in the 1980s, it was not an easy burden, and she did. We speak of a person who has many personal qualities and strong life experience.
For example what?
We almost went to the funeral procession when he was Wojciech Jaruzelski's funeral. I followed her to Powązki, where the General's supporters stood on one side of the alley and on the other side of the graves his opponents with disgusting cries and spat in their direction. She survived all this with extraordinary dignity. If someone dies, he is not a celebrity, but a hard-working man. Therefore, such a salvo, which took place with Mrs. Ogórek, the SLD is not at all threatened. Which does not mean that there will be no disagreements. Also, I want us to stop losing that relationship with the left wife Ogórek and start telling the truth about her. It was not a strong relationship at all. [1965-9042] How was it not?
They consisted of being interned in several places, carrying out one or two political events on the left and, to everyone's surprise, being used as candidates for the presidential election. 19659044] You're kidding right?
I'm not kidding because it's true. From the beginning I thought it was a misunderstanding and that's how it ended. The SLD has paid a high price for this decision, which it pays to this day. The party lost its seriousness in its traditional electorate.
"Today we have no chancellor or presidential system, but a Novgorod system"
The topic changes, the constitutional referendum is initiated by President Andrzej Duda. Do you think that the 1997 Constitution, which was created under your wing, is now ready for exchange?
I am not at all convinced that the constitutional referendum will take place at all. To see PiS argue with President Duda, there is no such certainty today
Andrzej Duda would prefer the presidential system and PiS Chancellor …
And in the end it will stay as it is. Moreover, the constitutional referendum may be an excellent opportunity for the opposition to unite in the name of defending democracy. All you have to do is persuade the Poles not to take part in such a referendum that it will end in a flop.
So you do not believe that a good change can change the Constitution?
I sincerely doubt
And do you think correction is needed today?
The Constitution is not an inviolable work, but it should be I am surrounded by extraordinary stability because I know countries where the Constitution is changed after each election. Nobody in Ukraine knows today what is in this condition and what it looks like. The mere fact that the current constitution has been in force since 1997 is therefore a plus, not a minus.
Yes, but in these 21 years the political situation has changed a bit. We are even a member of the European Union. However, it should not be updated in any way.
It should be respected first and it is not. This is a fundamental problem. As far as the constitutional debate is concerned, it should continue, but isolated from current policies. We should have four years, and thus the entire Sejm period, by a constitutional commission with the participation of parliamentarians, prominent constitutionalists and NGOs, etc. They should discuss and propose changes, and the decision to change the constitution should be taken by another of the Sejm. I would be very much for something like that. What happens today, however, is very dangerous.
Why?
First, the authority, beginning with the president, ignores the current constitution. This is an example of everyone else you can. In my opinion, that is not possible. Second, the arguments against this constitution are a party: we are not preparing this constitution, we will adopt our constitution.
Are you afraid of a constitution in the version of PiS and President Duda?
Today it's hard to say what it can be. It will probably be less democratic and less civic than what we have today.
And would you prefer the chancellor or presidential system?
Of course, there are different systems, and we've already discussed that. I can say why in 1997 we adopted a mixed system. On the one hand, we had President Lech Wałęsa and there really were not many who were willing to entrust the President with more power to create a presidential system. On the other hand, there were no conditions to establish a chancellor system because we had a very fragmented political scene and unstable governments.
Today, however, these premises have changed?
You know, today I'm even amused because I think this discussion is the tip of the absurd that should be written in the Guinness Book. Because today we have no chancellor or presidential system, but a Novgorod system. What difference does it make if the government or the president has more power, and Jarosław Kaczyński decides everything. This causes people to water from the brain.
And it's not thinking about a constitution that solves all problems, is it a fiction?
Of course, because there would be hundreds of pages and maybe even more manuals that nobody would read anyway. The constitution is based on specific legal regulations, but also on the spirit, which is connected with the goodwill of all involved. Not the best constitution in the hands of people of good will will work, the best in the hands of evil will not be respected. And that is the answer to the question of this whole argument.
"I do not believe in such a great wealth of our land"
Do you like social promises called "five Morawiecki"?
If we can afford it, it's good, but I'm afraid that nobody really counted on it. What the PiS suggests, however, is dangerous. All over the world, prime ministers or heads of government broke into someone who really counted money and talked about what we could afford. In Poland, this has usually been the job of finance ministers, people of competence and character, who said that you can promise a lot, but not all promises, simply standing up for us, because otherwise everything could collapse. Today I have the impression that there is nobody in the PiS who would say: "Hola, hola, do not open so many pigs."
I sense that you are now overflowing over 500+, which was a real help to many families?
It's good that 500 plus was introduced. But if I hear that it costs PLN 300 for each child, or if I read about this "Morawiecki five", I ask, where will we get the money for it? After all, Morawiecki himself said not long ago that we need to change the model of the economy into something more innovative. And what does that mean? Well, money. More investment, jump-start, reorganization. You know, I am not the Minister of Finance, but all these promises have long since transcended the present possibilities of this country, and above all the opportunities in the future in a few years' time. I do not want to be malicious now, but the slogan of the PiS in the campaign was "Poland in ruin". Well, if it was ruined, then suddenly suddenly such an increase and financial opportunities.
For example, with the VAT seal
Okay, but I understand that the process of sealing the VAT will end in two or three years and then there will be no extra money. On the other hand, there is an economic situation in the world and, fortunately, in good condition, the Polish economy, which is not the merit of only this government, but of all former ones. Therefore, I would expect the PiS to say openly that there was no such ruin. Also, I would like, if it were so good, that someone from the PiS leadership, maybe even President Yaroslav Kaczynski, went out and said that during these 30 years of transformation, all millions of people and all rulers founded a prosperous state
And it should not be malice.
I'm joking a bit. I do not believe in such a great wealth of our country, but it lacks such a gesture of rulers in the face of the achievements of their predecessors.
Are you feeling ambushed by the services? "Yes, I feel"
And is not it true that politics in Poland and in the world today is governed primarily by PR?
Yes, of course. All these promises are just pure PR, and when scandals come out, we cover them with more promises: here we'll give, and here we'll give away. Once anarchists said, "Movement is everything, the goal is nothing. Today the goal is nothing and PR is everything. I am afraid of such a policy. Added to this is the anxiety factor, which always plays an important role in activation.
What exactly are you talking about?
I speak of opposition politicians and journalists. It also challenges ordinary people: do you want to be a hero or live a normal and peaceful life? After all, there is work, relative peace and basically nothing is missing. I think that 2018 will be marked by such actions that will introduce the fear factor. Who does not want to be with us, d. H. With a good change, it is against us and he will not be easy.
And you are sleeping well?
Yes, I sleep peacefully
And your wife?
also.
So you are not afraid of the results of the investigation of the so-called Kwaśniewski Villa, which recently gained momentum?
No, because this case is 12 years old, no new circumstances have occurred and there are no new facts. In addition, neither me nor my wife was questioned in this case in these 12 years.
Why?
I do not know.
And are you ready to stand before the prosecutor?
As I am called, I will have to stand it, of course. But honestly, I will behave appropriately with everything that happens and what I hear.
That is
In my opinion these are purely political questions. The goal is to persecute, discredit, and hang something about Kwaśniewski.
But the investigators disagree with you. The prosecution will have new, previously unknown documents on financial flows and new testimonies to confirm the CBA's findings that the Kwasniewski family had bought a villa in Kazimierz Dolny
Please have a look.
Maciej Wąsik, Deputy Special Services Coordinator, explains that the material collected by the Central Anti-Corruption Agency clearly indicates that the real estate in Kazimierz Dolny actually belonged to Jolanta Kwaśniewska.
And that's not true. [19659097] Maciej Wąsik is lying?
He is wrong. And I can also say that I saw Minister Wąsik in the picture, which shows the following. That's more or less such a story.
However, you realize that this whole story about the mansion in Kazimierz is not clear, and many materials collected by the CBA, even the footage your wife talks to, and the preconditions for making money for the purchase Real estate was found in the headquarters of Royal Wilanów, indicating that Kwaśniewscy had something to do with it.
I just want to say: Nothing like that happened. You know, I have to be careful in these statements because I do not want to give my opponents or the prosecutor any ammunition. I also know very well that surgical techniques can be applied to me, and I have a high probability that you will also need to be interrogated when we talk to each other.
Do you feel attacked by the services?
Yes, I feel.
This continues the thread of listening devices and tapes. Are you satisfied with the court's ruling that the weekly "Do Rzeczy" should not publish the spicy details of the 2013 conversation between you and Ryszard Kalisz at the Sowa & Przyjaciele restaurant?
Yes, that's me. This conversation was completely private and was recorded illegally. This record was used as part of a political struggle and I do not doubt it
In one of the talks, Kalisz said – referring to a meeting with the head of the Military Shielding Service, General Janusz Nosek – that General Nosek has evidence of corruption Tomasz Siemoniak (then Chief of the Ministry of Defense) and "very high suspicion even higher". What did you talk about then?
I do not know. Anyway, the topic you are quoting only appears in the third hour of our conversation with wine, and you can not give it to him, I do not know how serious it is.
You know very well that you are honest with this kind of talk [19659108] Of course, you are honest, but with a great tendency to exaggerate.
Ryszard Kalisz joked that way, bluffing?
Maybe he was joking or maybe he was bluffing. But even assuming that you have such illegal material, is that the question of how much of a journalist can use it directly? What is another journalistic investigation, but citing such material directly and attributing meaning to no one, is simply not serious and is an abuse the court has upheld. I'll say more, journalists are just ruining public life, because when we all start listening and publishing, we will turn this difficult life on earth into hell. The finale of this will be illegal transmissions from the confessional of celebrities or celebrities.
You do not get the impression that such sociable conversations are just the source of your problems? Previously, Józef Oleksy, in this case Ryszard Kalisz, had problems with the villa's release in Kazimierz
so I believe that listening to, recording and then publishing private conversations is a misuse. For me it's inedible and unethical.
How are you in America?
That's not a problem.
US investigators questioning Paul Manafort, Donald Trump's former head of the campaign, said they had fairly close contacts with him within the "Habsburg group."
This Manafort is in trouble, not me.
However, if it is true what US prosecutors claim, one cites, inter alia, documents for which Manafort has paid Mr and Alfred Gusenbauer (former Austrian Chancellor) and Romano Prodi (former Italian Prime Minister and former head of the European Commission) You prefer trouble?
First of all, I do not know anything about the "Habsburg group" and have asked my colleagues to join me in this group. They do not know anything about it. Maybe Manafort called himself.
But you met Manafort?
That's how I met him when, along with Pat Coxem, I was my mission in Ukraine in 2012-2013. He was at that time the adviser to the President of Ukraine, Viktor Yanukovych, and we wanted – to be honest – to use Manafort to help us release political prisoners Yulia Tymoshenko, because we knew that his opinion counts Yanukovych. I will tell you more: Manafort was a big proponent of signing the EU Association Agreement with Ukraine, as was Yanukovych himself. What has changed as a result of Russian pressure? Last time we saw each other in autumn 2013.
From that moment on you had no contact with him anymore.
No. It was not until he became head of Donald Trump's campaign that it sparked my interest. And back to the years 2012-2013, I attended many meetings or conferences, but I do not know if they were then organized and paid by Manafort. Maybe that's it. Sometimes, as a participant, we received a fee or a refund. This is probably all in the documents that US prosecutors have. So, here is no problem. All the more so that all the conferences I attended were public. I have absolutely nothing to complain about. I talked about what is before and today about Ukraine. My views on the sovereignty and Europeanization of Ukraine are strong and unchanging.
So you have never taken money from Manafort for alleged lobbying?
No, never. The fact that I met him several times was important at the time and I do not see anything wrong with it. All the more so since Manafort, in the period in which I spoke about it, was a proponent of bringing Ukraine closer to the EU, which was in direct opposition to Putin. I remember it very well and I could even defend it in this matter and for that time. [196595] Want to keep up with the most important information of the day? Like onet News on Facebook!
Source link