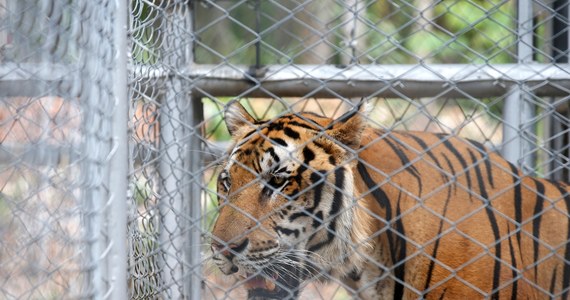 Of the 147 tigers that served as a tourist attraction for years, only 61 were able to save activists. In 2016, animals were picked up from the temple of Wat Pha Luang Ta Bua in Thailand, where they were kept for years in poor conditions, and tourists could pose with them for photos. One of the reasons for the death of cats were genetic defects.
Over the years, Wat Pha Luang Ta Bua in the western part of Kanchanaburi Province attracted thousands of tourists to take a paid photo with the tigers living in the temple.
In 201
6, animal rights activists took steps to get the tigers there. This is due to the more frequently accused allegations that big cats were maltreated and used profitably.
Terrifying discoveries were made during the release of the tigers. In the freezers, the bodies of juveniles were found, which were probably sold and another source of income for the temple managers. Tiger meat may have been especially popular in China and Vietnam, where many people still believe that it has healing properties.
147 adult tigers were transported to clinics in other parts of Thailand, but according to official sources only 61 of them were rescued.
The genetic burden was considered as one of the causes of death of animals. Tigers were propagated by inbreeding, which in the long term led to genetic disorders that burdened, among other things, the immune system.
Many Received animals suffered from progressive paralysis, respiratory problems, and loss of appetite, resulting in their slow death. Some animals suffered poor transport and relocation, and over time, more illnesses and worsening tigers' general health conditions were added.
Official proceedings are currently underway against the temple.
The question also arises as to whether the authorities, which knew about the implementation of the procedure in the temple, have done something to improve the poor conditions under which the animals were kept. The tigers were kept in small cages. Also, the paddocks were not adapted to such a number of animals and did not provide them with the necessary for proper functioning movement dose.
Thailand is becoming an increasingly popular destination. This also affects the possibility of communication with wildlife. The revenue of centers with animals increases with the number of incoming tourists, which unfortunately does not translate into an improvement in the conditions under which these animals function.
For a fee tourists can ride in Thailand and swim with elephants or take pictures with monkeys or tigers. According to animal welfare officers, animals are kept in too small cages, they do not have good veterinary care and they are forced to do tricks to the delight of the tourists.
Source: The Guardian