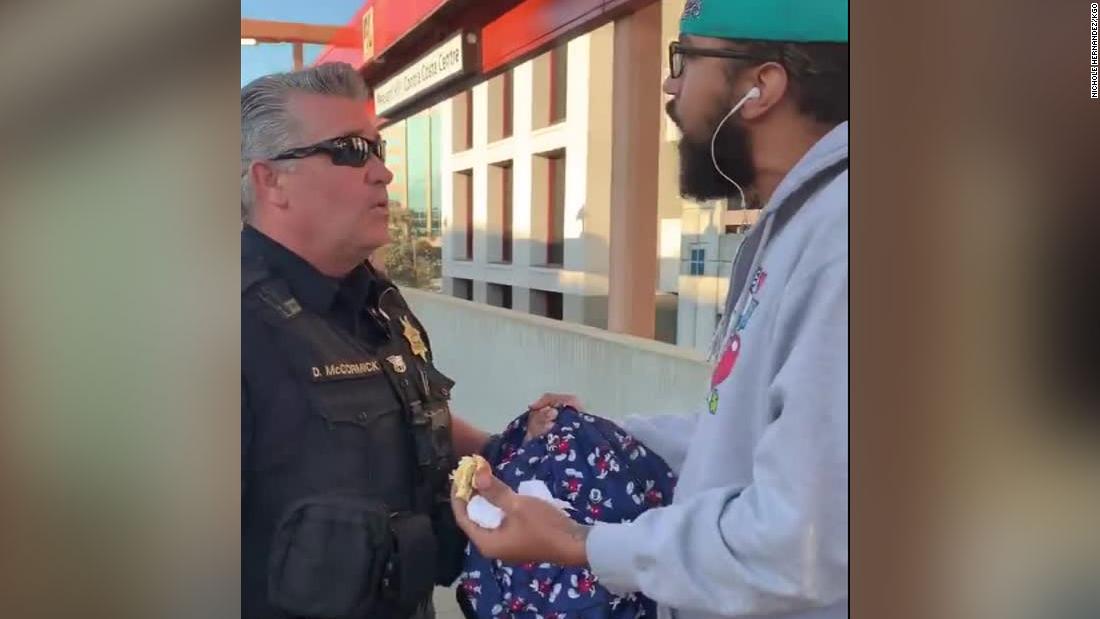 In the video posted on social media, the Bay Area Rapid Transit police officer told the man, later identified as Steve Foster, that the food on the platform violated state law. The policeman holds his hand on Foster's backpack while Foster angrily speaks to the camera and the policeman.
Foster insisted he did not go wrong and refused to give his name. The November 4 incident escalated and Foster was handcuffed when a second officer arrived at the platform.
"I'm definitely mad, crazy, a little frustrated and angry about it," Foster told CNN affiliate KGO.
BART spokeswoman Alicia Trost said Monday that an official had quoted Foster but had not arrested him. "The court will determine the amount of fine it should pay," she said.
BART General Manager Bob Powers issued a statement saying he was disappointed with how the situation developed and apologized to Foster, drivers, employees and others who "have an emotional reaction to the Had video ".
"The food in the paid area is prohibited, and in each station several signs are attached, where this is noted," it says in the statement. "As a transportation system, our food concerns are related to the cleanliness of our stations and our system, which was not the case on Monday's Pleasant Hill Station incident."
"The officer asked the driver not to eat anything while driving past on another call," the statement went on. "It should have ended there, but it was not like that." When the policeman came by again and saw him eating, he went ahead with quoting a quote.The person refused to identify himself, cursed, and made homophobic bow "The Officer has done its work, but the context is crucial, "Powers said in a statement." BART's independent police vault is conducting an investigation, Powers said. "
Several BART drivers who had been angry about the incident protested a "stop off" on the platform, "Foster told KGO.
Source link