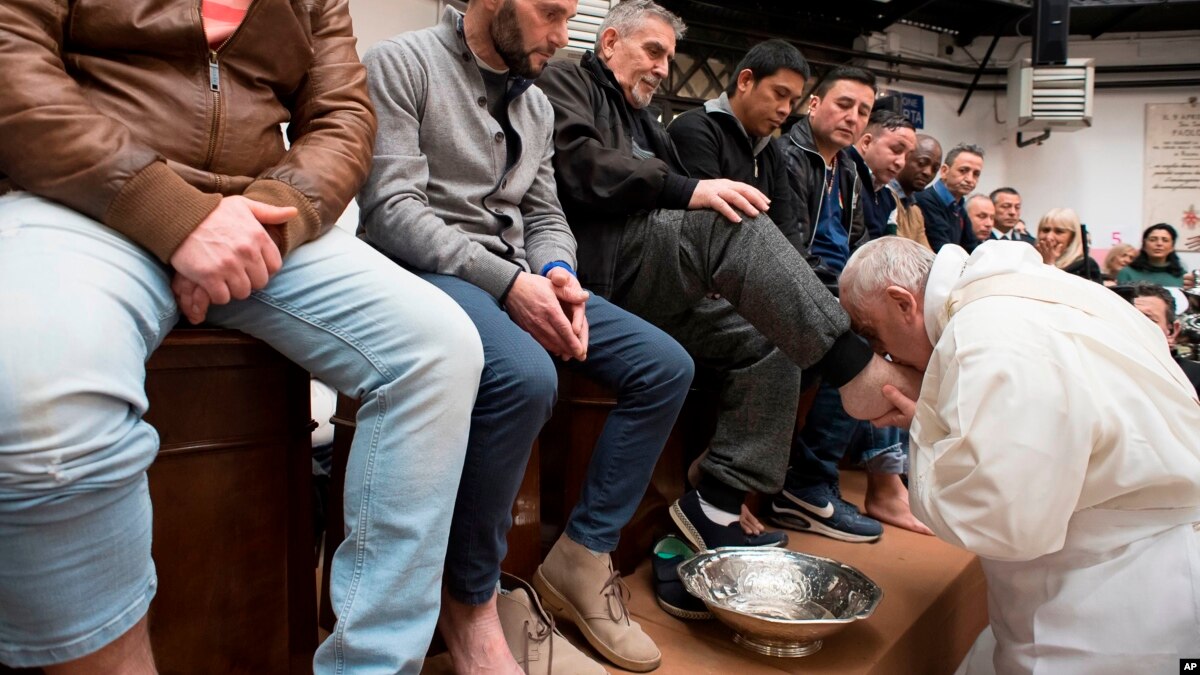 ROME –
Pope Francis announced on Thursday inmates of a central prison in Rome that a leader must know how to serve
Shortly before he leaves on Holy Thursday in Regina Coeli, just a stone's throw from the Vatican, washing his feet The Pope also told the inmates that he was a sinner as they were, but he represented Jesus.
Francis washed the feet of 12 inmates in the same way that Jesus had washed the feet of his 12 disciples before sharing the sacrament with them. The men selected by the prison authorities came from Italy, the Philippines, Morocco, Moldova, Colombia, Nigeria and Sierra Leone. Eight of them were Catholics, two Muslims, a Buddhist and an Orthodox.
The visit of Francis in the oldest and most famous prison of the city reminded on December 26, 1
958, when Pope John XXIII. The first Pope became Regina Coeli
Since the beginning of his pontificate five years ago, Francis celebrated the Lord's Supper Mass in front of the Vatican on Maundy Thursday. In the past, he went to detention centers and a home for the disabled to wash the feet of prisoners, refugees and other marginalized people.
This tradition began Francis as Archbishop of Buenos Aires, where he regularly held the Thursday Holy Liturgy in the local prisons
In prison, the Pope also welcomed inmates and visited the sick in prison
In the morning, the Pope celebrated the traditional Chrism Mass in St. Peter's Basilica. As Holy Thursday was the day when Jesus shared his priesthood with the apostles, Francis led the many priests, bishops and cardinals present to renew their ordination.
The Pope also blessed the oils used in the Sacraments of Baptism (19659003) In a long sermon, Francis called on priests to be close to their people, calling closeness "the key to mercy" and "the key to mercy" Truth.
Jesus, the Pope, said he could have been a scribe or doctor of the law, but he wanted to be a "proclaimer," a street preacher, who would "bring good news" to his people.
The Pope told priests around the world "For an evangelizer, closeness is important because it occupies a key position in the gospel."
On Good Friday, Francis will conduct the Stations of the Cross in the Roman Colosseum in Rome and reenact the crucifixion of Christ.
Source link