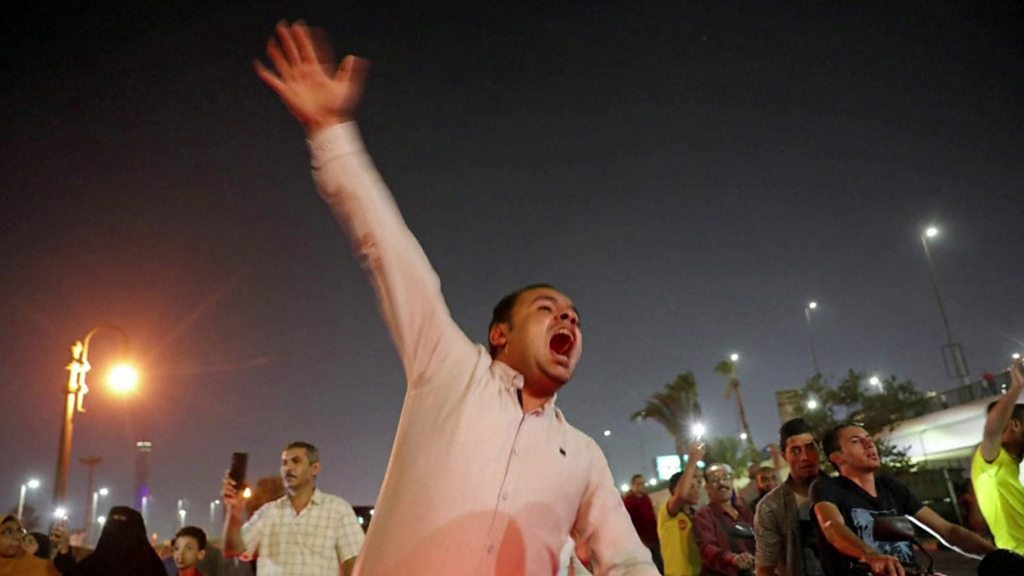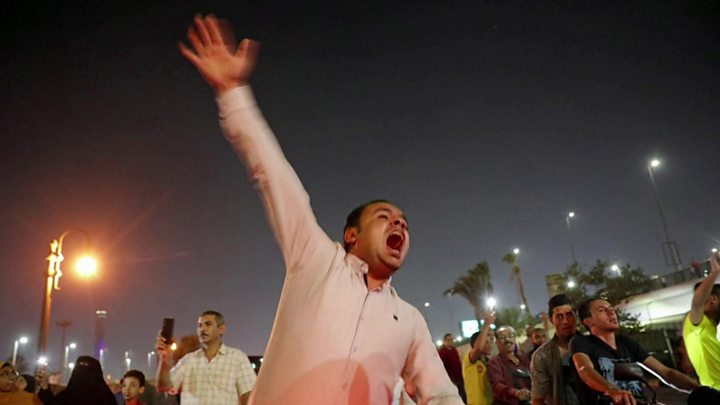 On Friday night, hundreds of young people took to the streets in the center of the capital Cairo – including near Tahrir Square, the center of the popular uprising that forced President Hosni Mubarak to resign in 2011 – and Alexandria. According to Damietta and Mahalla al-Kubra, Witnesses and Social Media.
According to reports, the demonstrators called "Leave, Sisi" and "People want the overthrow of the regime" before they were dispersed by police with tear gas.
There was a heightened security presence on Saturday night, but dozens of witnesses reported that they had still been able to attend a demonstration in Suez.
On Monday, local human rights groups said they had searched for relatives who had been missing after the protests.
A lawyer told The BBC was said to arrest nearly 500 people. They expected an increase in the number in the coming days.
The Egyptian Center for Economic and Social Rights, a non-governmental organization, has reached 516 reported arrests.
The detainees are accused, among other things, of having participated in a banned group, of spreading false news through social media and protesting without permission. Some should be younger than 18 years.
The well-known human rights lawyer Mahienour al-Massry was among the detainees, her lawyer said. Tarek al-Awadi told AFP that she had been arrested on Sunday when she left the Cairo Procuratorate, where she represented several people detained in connection with the protests, had re-released old footage from the 2011 revolution to mislead the public and to believe that there were riots.
Meanwhile, NetBlocks tweeted on Sunday evening that Facebook Messenger, BBC News, and social media servers in Egypt were being restricted by leading vendors.
The protests were triggered by a phone call from Mohamed Ali, an Egyptian businessman living in self-imposed Spanish exile, who has been posting videos on social media since 2 September, accusing Mr Sisi and the military of corruption.
Mr Ali had called on the Egyptians to take to the streets on Friday to demand the resignation of the President and this Friday called for a "million-dollar protest" slander ".
Source link