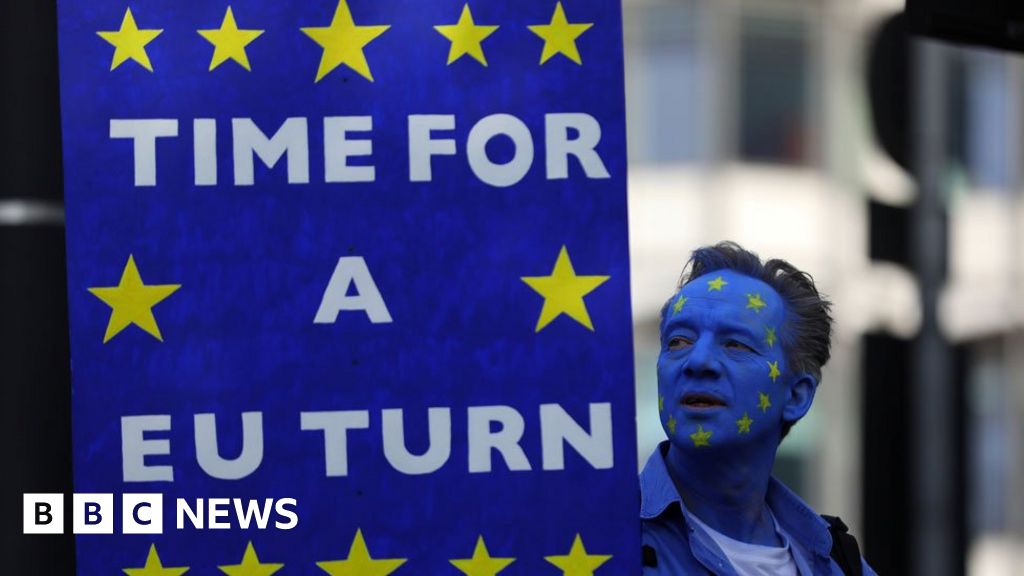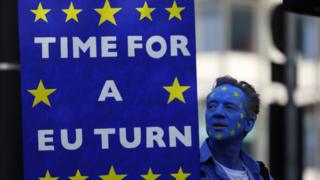 Protesters calling for a referendum on the final Brexit deal have gathered in London's main demonstration of this type.
Before a rally a march begins in Parliament Square, which is organized by the Popular Elections Campaign.
Young voters lead the march, from which the organizers are expected to be more than 1
00,000 men.
Prime Minister Theresa May has already ruled out such a referendum.
The deputies of all major political parties support the demonstration.
Meanwhile, former UKIP head Nigel Farage is conducting a pro-Brexit rally this afternoon at the Harrogate Convention Center, the last of a series of events organized by the Leaves Means Leave group.
"Chaos and confusion"
The British public voted in June 2016 in a referendum to leave the EU with a margin of 51.89% to 48.11%.
The United Kingdom is due to leave on 29 March 2019 under the two-year procedure under Article 50.
The current plan provides for a transitional period of 21 months to pave the way from Brexit to the UK and the EU's long-term future relationship. But with the two sides that were unable to reach an agreement this week, it was announced that the arrangement could be extended.
Lord Adonis of the Labor Party, an electoral campaigner – who wishes a referendum on the outcome of the Brexit negotiations – said: "Brexit will be a doggie.
" The new chaos and confusion over the Brexit negotiations Showing how even the best deal that is available now will be a bad one for the UK.
"It's a mess no one has voted for and the reason for the growing crisis is that those who cheer for Brexit do not know what they promise."
But Richard Tice, founder of Leave Means Leave and former Co-Leader of Leave.EU, told BBC Breakfast, "The idea that you should have a second referendum would be incredibly damaging – especially for confidence in democracy Up and down people in this country. "
He added that the demonstrators" just have to accept that they are lost. "
"Final Opinion"
About 150 busloads of people from across the UK – including as far from London as Orkney – traveled to the March for the Future, which starts at noon around Park Lane.
About 30 of the coaches were sponsored by people like Elly Alexander, writer Armando Iannucci and football manager Alan Pardew.
Those departing from Orkney left on Friday morning with others from Devon and Cornwall, Northern Ireland and Wales.
Mayor of London Sadiq Khan is one of those expected to speak in Parliament Square along with representatives of major political parties, while prominent speakers will be Steve Coogan, Delia Smith and Deborah Meaden.
Mr. Khan said : "There is nothing more democratic than trusting the people to have the last word about our future."
#PeoplesVoteMarch tended on Twitter on Saturday with many young people – some of whom were not eligible to vote in the 2016 referendum – on the march.
BBC journalist Charlotte Gallagher told Park Lane protesters that there are many families with small children, many of whom are draped in EU flags
Bea, 14, who traveled from Norwich with her mother Emma and Brother Richard said to her, "I am marching because they are ruining our country and leaving it to my generation to get rid of the mess."
Aleta Doyle, 46, from Peterborough, who is with her 12-year-old son Leo, said she marched "for the future of my children and European unity."
And Leo Buckley, 16, from Hampshire, said, "Young people lose the most, I'm getting poorer and do not have the same career opportunities."
"fine print"
Dr. Mike Galsworthy, of NHS Against Brexit, told BBC News, "We should retain control over what's going on."
"Whether you've voted or voted to stay – if contract comes back, you have the right to read the fine print and actually say "no, no". No, that's not what we want to sign up for.
This is followed by a march in London in June, on the second anniversary of the Brexit vote.