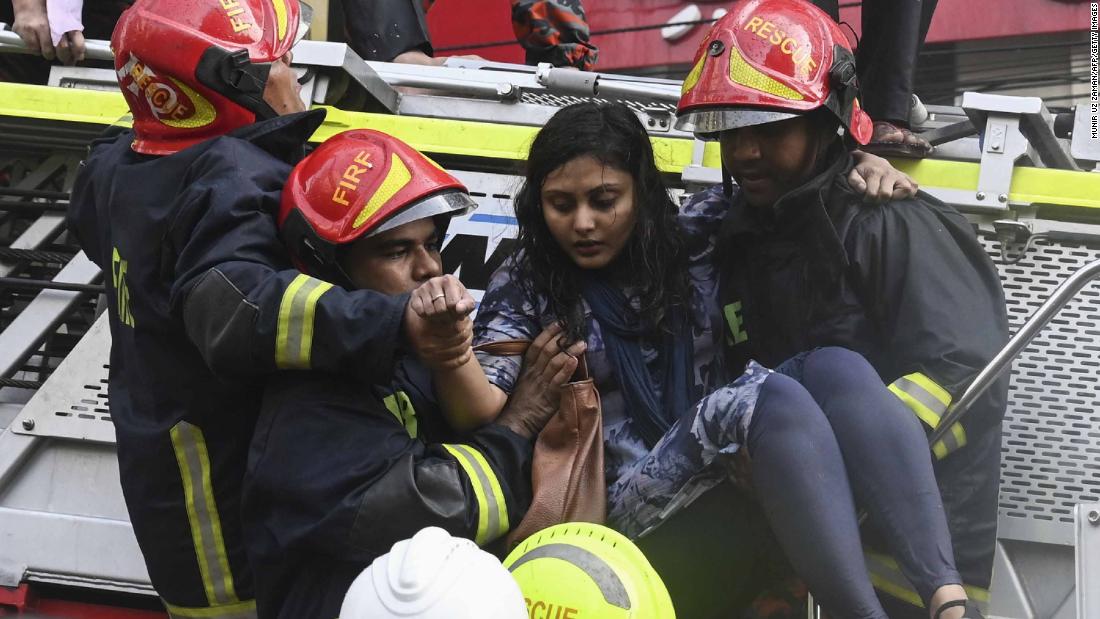 At least five people were killed and 60 injured when the fire broke through the FR Tower on Thursday in the city's commercial Banani area.
Photos showed thick clouds of smoke from the building and emergency crews that extinguished the flames. Video showed how firefighters rescued people from the building when huge crowds gathered outside.
The injured were taken to hospitals around the city, said Dhaka Fire Department spokesman Shajahan Sikder told CNN.
It is not known, as Sikder said, that many people are trapped in the tower.
The Dhaka Fire Department said 21 fire engines and more than 100 firefighters were at the scene. Ambulances waited to bring the rescued to hospitals. Firefighters work to extinguish the fire Firefighters work to extinguish the fire Firefighters carry a woman who has been rescued from the building. Firefighters carry a woman rescued from the building. "class =" media__image "src =" http://cdn.cnn.com/cnnnext/dam/assets/190328122108-10-bangladesh-fire-0328-large-169.jpg "/>
" The fire is almost under control, "said Sikder," in some of the building's pockets there are still some small fires that the firefighters want to wipe out, but overall the situation is under control. "
Bangladesh has claimed deadly building fires in the past, especially in Factories in which safety and structural standards have long been deemed inadequate.
At least 67 people were killed and 40 injured in February when a fire was ripped through residential buildings and chemical warehouses in Chakkbazar, Dhaka.