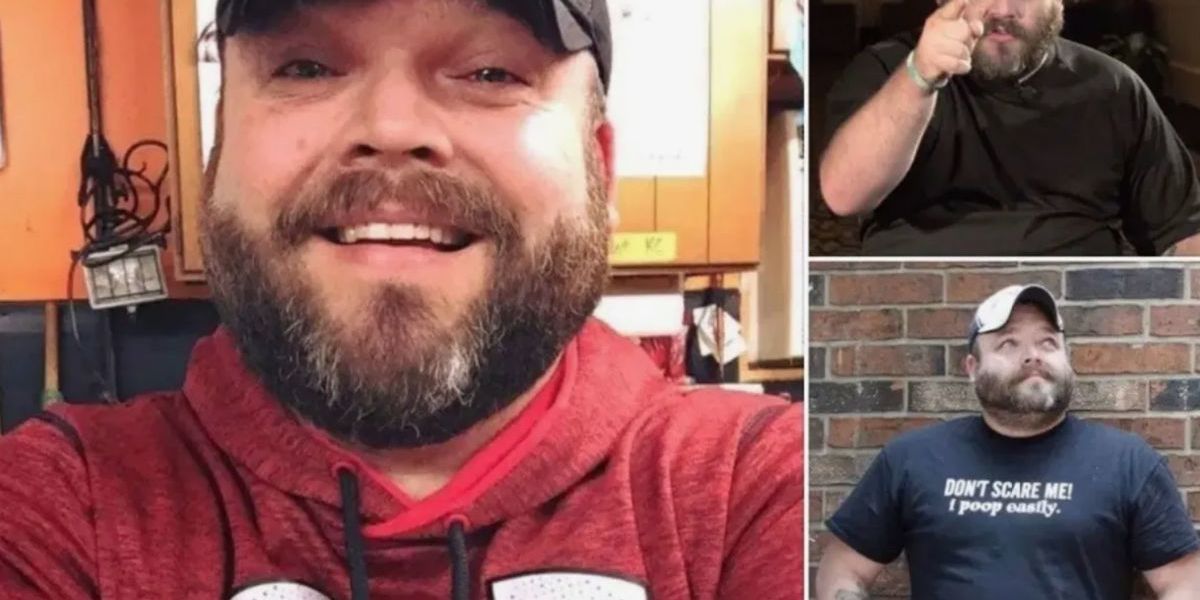 Richard Rose was a good, fun, and kind person in every way. He served his country in the army for nine years with two tours in Iraq and Afghanistan. The 37-year-old didn't think wearing a mask was going to be there to write the next chapter of his life. He died of coronavirus on July 4.
Rose had been told on social media that he didn't see the point of face covering. Heavy.com confirmed the posts were real. On April 28, he wrote, "Let's make that clear. I'm not buying a royal mask. I̵
7;ve made it so far not to get involved in this damn hype."
---
Two months later, he visited a small village called Put-in-Bay on South Bass Island in Ohio. He posted a picture on Facebook showing a crowded pool with no one in a mask and commented, "It's not full, lol." In a later Facebook post, Rose revealed that he was probably infected with the virus during this time.
Rose developed symptoms at the end of June. On July 1, he let his friends know that he was very sick and had symptoms of COVID-19. "I was finally wiped this morning," he said. "I should soon know what the results are. I just want to feel good again!" He let everyone know that he hadn't slept in two days because of breathing difficulties. Unfortunately, Rose was gone on the day our country celebrates its independence. He died of complications related to the virus in his home.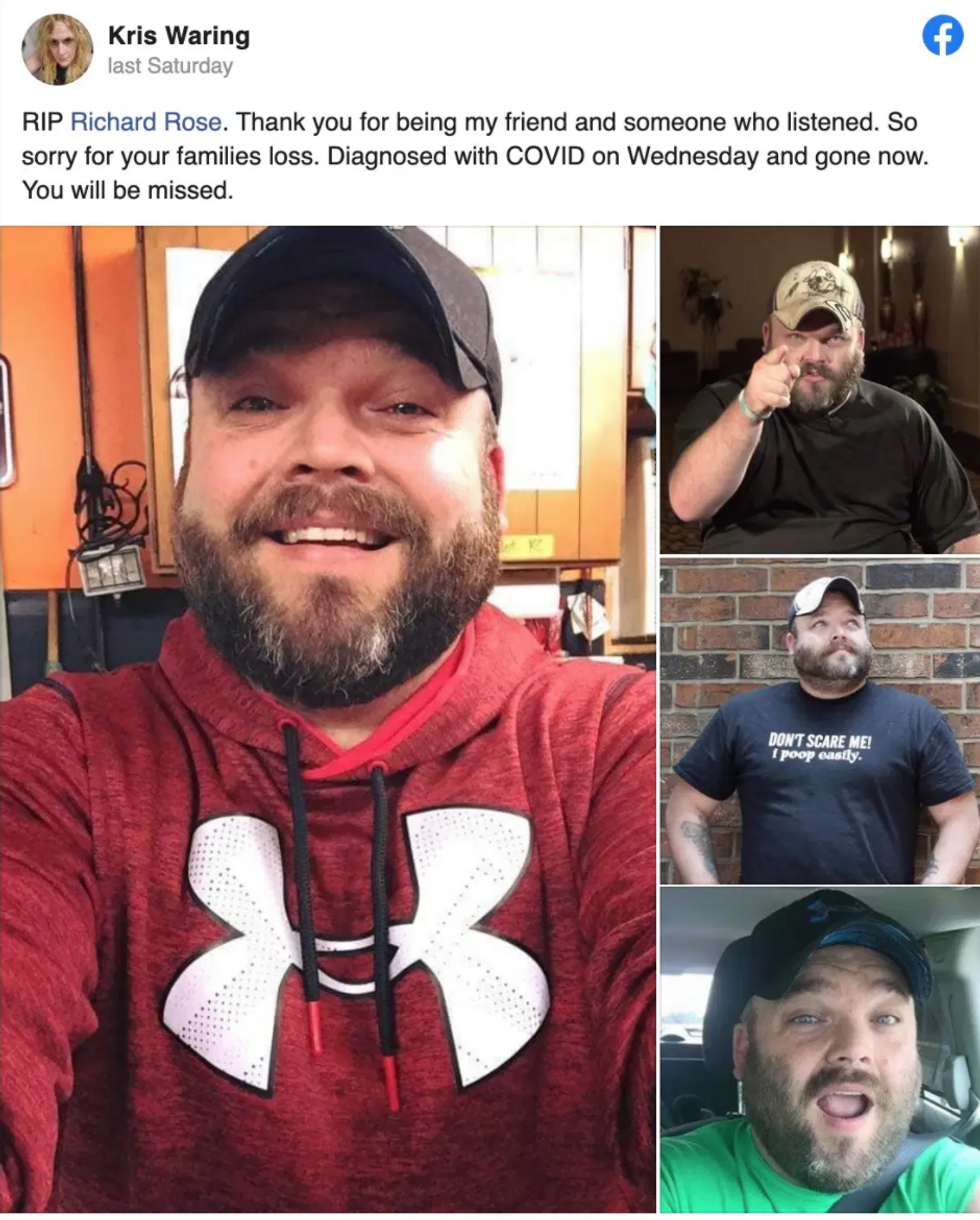 There was an outpouring of love on social media from those close to him. They talked about what a funny and caring man he was. His friend Nick Conley shared his feelings, but also condemned people who made fun of his friend.
He said to Cleveland 19: "Rick is being slaughtered online because he chose not to wear a mask, and that's not true," said Conley. "We should still be compassionate about whether we agree with someone's beliefs or not. Someone has died and we should have some compassion for it."
Shame on the people who said "I told you" on the side of a deceased man. Richard Rose did not believe that masks were necessary. I think we all know that if he was still there to talk about it, he would do it now. And based on the reports of those who loved him, we suspect that he would speak out for both his own health and the people he may have infected. The man had a wrong judgment. Do you know what else he had? Nine years in the service of our country. He loved and was loved by so many. Did he make a mistake? Yes. Should he be ashamed of being dead now? Absolutely not.
Anyone who thought that was okay should take a close look at how he leads his own life – really check how carefree and reckless these comments can be. You really have no place in this world.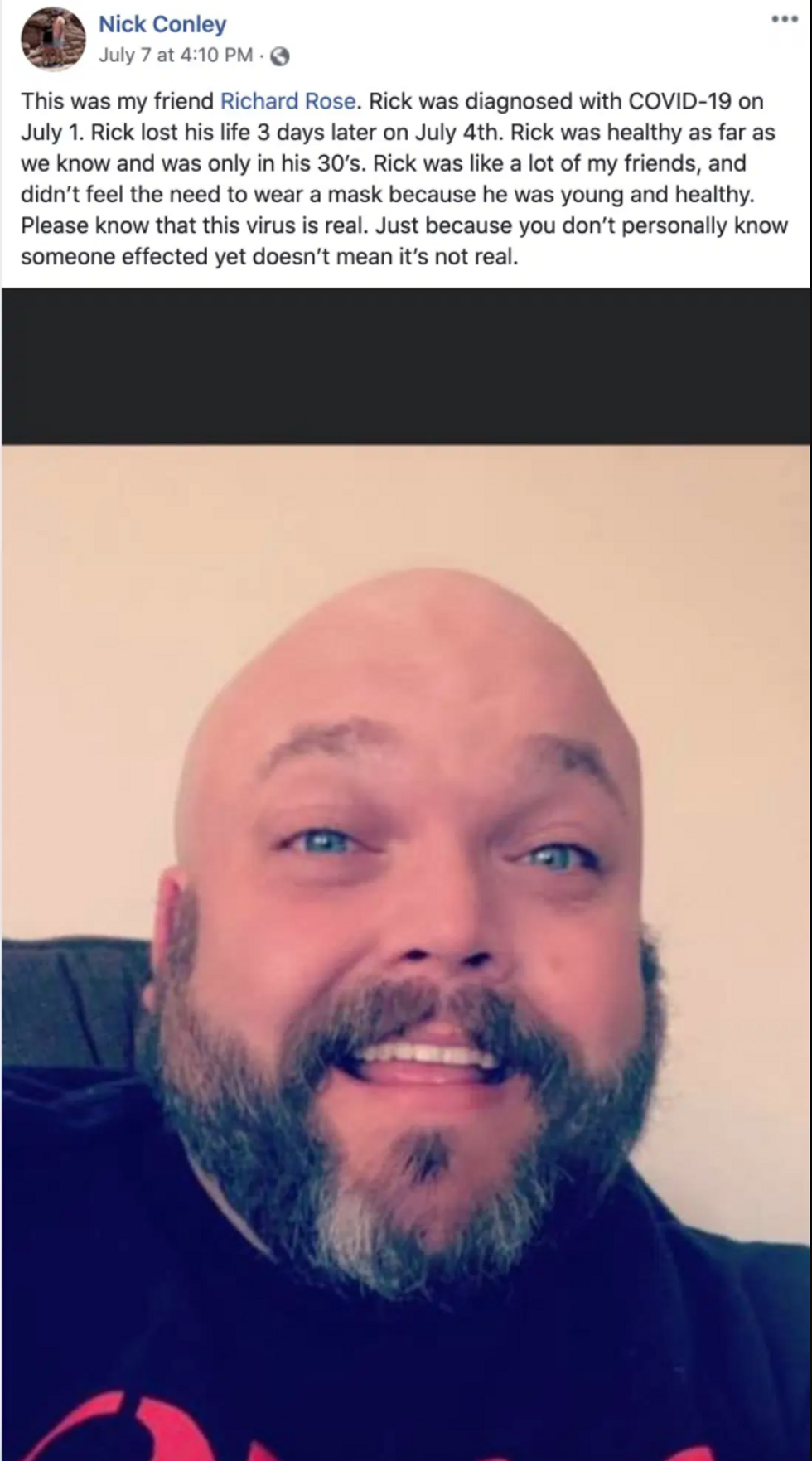 Conley hopes his friend's death will serve as a warning to others. He wrote on Facebook: "As far as we know, Rick was only in his thirties. Rick was like many of my friends and didn't need to wear a mask because he was young and healthy. Please know that this virus is real. Just because you don't personally know someone who's affected doesn't mean they're not real. "
The truth is that Richard Rose's death is an example of how real corona virus is. COVID-19 kills people. If you don't wear a mask, you put yourself and everyone around you at risk. Nobody knows this better than Richard Rose III. After all of this, if you still don't believe that masks are essential – and you think every doctor in the world is doing something wrong – take a look at people like Richard who lost their lives. Please wear a mask.
function rm_fn_9000afc3d3fb8457c9fe38b660cb490c() {
!function(f,b,e,v,n,t,s) {if(f.fbq)return;n=f.fbq=function(){n.callMethod? n.callMethod.apply(n,arguments):n.queue.push(arguments)}; if(!f._fbq)f._fbq=n;n.push=n;n.loaded=!0;n.version='2.0'; n.queue=[];t=b.createElement(e);t.async=!0; t.src=v;s=b.getElementsByTagName(e)[0]; s.parentNode.insertBefore(t,s)}(window, document,'script', 'https://connect.facebook.net/en_US/fbevents.js'); fbq('init', '1676218835946757'); fbq('track', 'PageView'); } window.REBELMOUSE_LOW_TASKS_QUEUE.push(rm_fn_9000afc3d3fb8457c9fe38b660cb490c);
function rm_fn_e3323212a5c1a85caff08537172126b3() { function fbvideoID(frame) { var myRegexp = /2F(d+)%/g; var match = myRegexp.exec(frame); return match[1]; } var fbIframe = document.querySelector('iframe[src^="https://www.facebook.com/plugins/video.php?"]'); if (fbIframe) {fvVidID = fbvideoID(fbIframe.getAttribute('src')); if (fvVidID) { fbIframe.insertAdjacentHTML("beforebegin", '
'); // fbIframe.parentNode.removeChild(fbIframe); } } var videoId = "promoted-video"; var oldFacebookVideo = document.getElementById(videoId); if (!oldFacebookVideo) { return }; var facebookVideoPost = oldFacebookVideo.closest(".widget"); if (!facebookVideoPost) { return };
var facebookVideo = facebookVideoPost.querySelector("#" + videoId); facebookVideo.classList.add("fb-video"); var firstPost = document.querySelector(".widget.post-partial");
function onScriptLoad() { FB.init({ appId: window.REBELMOUSE_BOOTSTRAP_DATA.fbId, version: window.REBELMOUSE_BOOTSTRAP_DATA.fbAppVersion, status: true, cookie: true, }); FB.XFBML.parse(); if(fbIframe){ fbIframe.parentNode.removeChild(fbIframe); } }
function loadFacebookScript() { var existingScript = document.querySelector('script[src="https://connect.facebook.net/en_US/sdk.js"'); if (!existingScript) { var script = document.createElement("script"); script.src = "https://connect.facebook.net/en_US/sdk.js"; document.head.appendChild(script); script.addEventListener("load", onScriptLoad); } }
function intersectorCallback(video_player) { var booted = false; var totalSeconds = 0; var interval = null;
function impressionCounter() { totalSeconds++; console.log("I've been watching for " + totalSeconds + " seconds"); } return function intersector(entries) { var entry = entries[0]; if (entry.isIntersecting) { if (!booted) { booted = true; video_player.mute(); video_player.play(); } interval = setInterval(impressionCounter, 1000); } else { if (interval) { console.log("I've stopped watching at " + totalSeconds + " seconds"); clearInterval(interval); interval = null; } } }; }
function trackVideo(video_player) { var observer = new IntersectionObserver(intersectorCallback(video_player), {}); observer.observe(facebookVideo); }
function onFacebookElementLoaded(msg) { if (msg.type === "video" && msg.id === videoId) { trackVideo(msg.instance); } }
function onFacebookReady() { FB.Event.subscribe("xfbml.ready", onFacebookElementLoaded); if (window.oldFacebookWaiter) window.oldFacebookWaiter(); }
if ("FB" in window) { onFacebookReady(); } else { window.oldFacebookWaiter = window.fbAsyncInit; window.fbAsyncInit = onFacebookReady; loadFacebookScript(); } } window.REBELMOUSE_TASKS_QUEUE.push(rm_fn_e3323212a5c1a85caff08537172126b3);