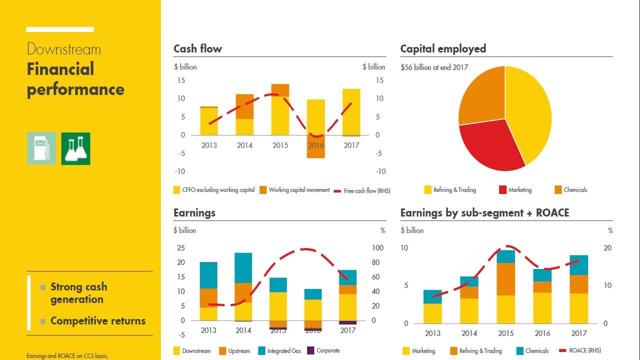 By Aristofanis Papadatos
Royal Dutch Shell (RDS.A) (RDS.B) has been corrected by 12% in the last two months. It is the first time in more than a year that the stock has seen a correction of this magnitude. As a result, the stock now offers a dividend yield of 5.8%. Shell is on our list of 5% + dividend yield stocks. You can see here all 428 stocks with 5% + dividend yield.
Shell also has exciting growth prospects. This article explains why the stock could be attractive to value and income investors.
Business Overview
Shell operates in three segments: Upstream, Downstream, and Integrated Gas. Like the other oil companies, Shell was hit hard by the collapse of the price of oil, which started almost four years ago. Earnings per share decreased 87% from $ 4.72 in 201
4 to $ 0.60 in 2015. The upstream segment was the one whose profits collapsed as this segment benefited heavily from the price of oil.
Fortunately for the company, the downstream segment benefited from the collapse in oil prices, partially offsetting losses in the upstream segment. As oil prices fell, oil product prices fell more slowly but decelerated due to increased demand as prices fell. In fact, this is a general rule; The Downstream segment is essentially a partial hedge by Shell against a decline in the price of oil. The contribution of each segment to the overall result of the company is shown in the graph below. It is impressive that almost the entire result in 2015 and 2016 came from the downstream segment.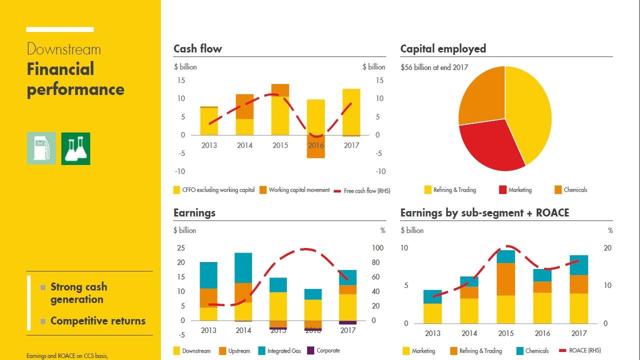 While the 3-year downturn on the oil market has been intense, oil prices have rebounded strongly since last summer and are now close to a three-year high. As a result, Shell's upstream segment has significantly improved its performance, and the oil company's total free cash flow has seen an impressive recovery from – $ 1.5 billion in 2016 to $ 14.8 billion last year. After two years of negligible free cash flow, Shell is now able to fully finance its $ 10.9 billion annual cash outflow through its free cash flows.
It is also impressive that the oil giant's operating cash flows returned to pre-crisis levels last year, even though the price of oil was still 45% lower than at that time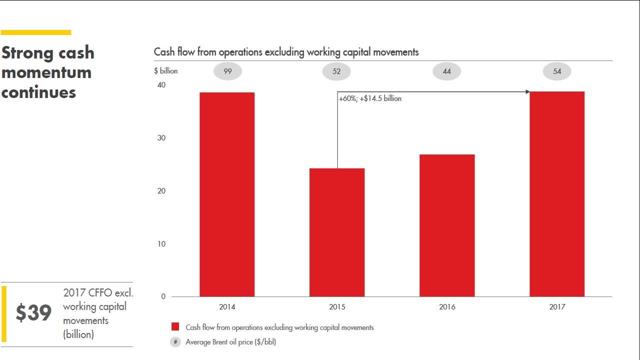 This performance stems from the action Shell has taken to navigate the downturn in its business. More specifically, the company has reduced its operating costs by 35% over the last four years, achieving savings of B $ 6 billion in capital efficiency. As the company was forced to lower its capital costs during the downturn, it was important to maximize the amount of oil it squeezed out of its mature fields. This significantly reduced the decline in mature fields. And while the other oil companies have reported similar successes, Shell outperformed operating cash flows for the first time in about two decades Exxon Mobil (XOM) ($ 35.7b vs. $ 30.1bn).
Growth Outlook
Shell's management expects significant production growth over the next three years as several new projects go online. While the company currently produces 3.756 Mb / d, management expects more than 700,000 barrels / day of projects to start this year and next. Although the natural decline in existing fields will partially offset the new production volumes, net output growth should continue to make sense.
It is also important to note that the price of oil has finally gained strong support since last summer, after a three-year downturn. OPEC and Russia have extended their production cuts and are determined to expand them as much as possible to ensure that the price of oil does not fall again. Thanks to these production cuts and the excessive reduction in the cost of capital for all oil producers, the oil market has finally become balanced. As a result, the oil price should not fall again while it could rise slowly. Therefore, Shell is likely to experience a double upturn in the near future – higher production and higher oil prices.
One of Shell's biggest weaknesses compared to its competitors is the level of its oil and gas reserves. More specifically, last year the company filled up only 27% of its reserves, reducing its reserves to 12.2 barrels of oil equivalent. As a result, given the current production rate of 10.5 years, the duration of its reserves has decreased to 8.9 years in 2015. This ratio is much worse than that of other oil companies. For example, Exxon Mobil has proven reserves that last for 14.5 years. Shell therefore needs to increase its cost of capital to improve its oil and gas reserves. Fortunately, the management seems to be aware of this issue, as it recently stated that it would increase the cost of capital from $ 21 B in 2017 to $ 25-30 B per year in 2018-2020.
Dividend Analysis
Unlike Exxon Mobil, Shell is not a dividend aristocrat. Nonetheless, his dividend record is nothing short of extraordinary. Although the company has not cut its dividend since the Second World War. This achievement confirms the high execution rate and reliability of its business model.
On the other hand, the oil giant has slowed its dividend growth rate noticeably in the last decade, as it has risen on average by only 2.7% year during that time. In addition, he paid the same dividend for 16 consecutive quarters. This is in contrast to its American competitors, Exxon Mobil and Chevron (NYSE: CVX), which have raised their dividends, albeit very slowly. Nevertheless, Shell currently offers a much higher return than its American competitors. Of course, Shell offers a 5.8% return, while Exxon Mobil offers a 4.1% dividend yield. Given Shell's low single-digit growth rates, Shell's dividend is currently much more attractive. An important consideration is the withholding tax on dividends. Shell is based in the Netherlands, meaning that US investors are subject to a 15% withholding tax. Still, Shell's 4.9% after-tax return is still above Exxons.
Even better, while Shell's free cash flows in 2015 and 2016 were nearly negligible, and thus inefficient, to support the dividend, they have now exceeded the annual dividend many times over ($ 14.8 B vs. $ 10 , 9 B). In addition, the company's debt stock has recently fallen to a healthier level due to the downturn in the oil market and the acquisition of BG. More specifically, net debt (according to Buffett, Net Debt = Total Debt – Cash – Receivables) is $ 151.8 billion. Although this amount is high, it is only ten times the annual free cash flow and is therefore manageable. In addition, management has repeatedly emphasized that debt reduction and dividend are top priorities in this order.
Given all these facts, the dividend looks certain for the foreseeable future. On the other hand, given the four-year dividend and the required capital increases, investors should not expect significant dividend increases, at least in the short term. Nevertheless, the extraordinary current dividend yield should be enough to satisfy most investors.
Evaluation Analysis

Shell trades at 11.3 times its price. This is much cheaper than Exxon Mobil, Chevron, and BP (NYSE: BP) forward P / E, which are 16.0, 18.8, and 14.5, respectively. On the other hand, Shell's lagging P / E = 32.3 is higher than the subsequent P / E ratio of the other three major oil companies, which are 20.9, 31.6, and 21.5, respectively. Overall, the rating of Shell seems reasonable. If the expected earnings per share of $ 5.75 this year, those who buy the stock now, can be sure that the stock will reward them. Even if capital gains are modest, the dividend yield of 5.8% provides a big boost.
Final thoughts
Shell was hit hard by the three-year downturn on the oil market, but has recovered strongly in recent quarters. It currently offers a dividend yield of 5.8%, which is much higher than that of its American counterparts. In addition, free cash flows have improved significantly, enough to support the generous dividend. Given the promising growth prospects of the oil company and its reasonable valuation, its shareholders should therefore enjoy attractive returns.
Looking for stocks with a longer history of dividend increase than Royal Dutch Shell? Consider the Dividend Aristocrats who have increased their dividends for more than 25 years. The dividend aristocrats have clearly outperformed the S & P 500 Index over the last 10 years, and this outperformance is likely to continue. That's why we've developed our Underrated Aristocrats service, which offers actionable buy and sell recommendations for some of the most undervalued dividend growth stocks. Click here to read more .
Disclosure: I am / we are long RDS.A, XOM.
I wrote this article myself and it expresses my own opinions. I do not receive any compensation for it (except from Alpha search). I have no business relationship with a company whose inventory is mentioned in this article.