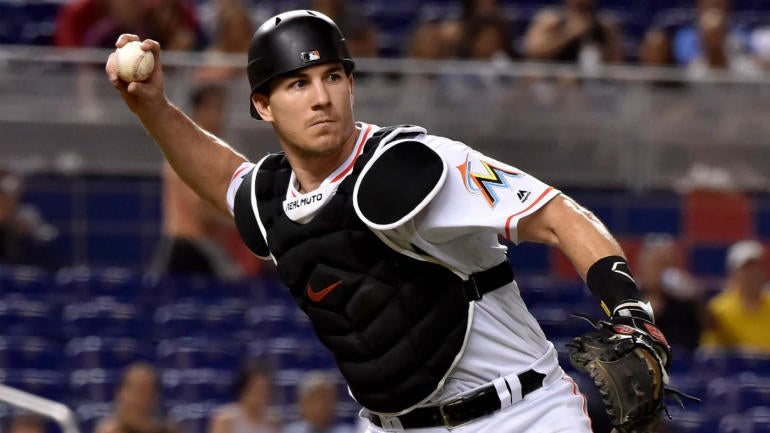 The offseason marches on, and thanks to a relatively slow winter meetings we've got plenty of big names still on the board. To give you an idea of ​​the buzz that's out there on Tuesday, we're here to round up all the notable trade and free agency rumors. As always, our Free Agent Tracker is a great way to catch up on what's happened on that front.
We'll continue updating throughout the day.
The Bride and the Astros
The Bride and the Astros have been signed by Michael Brantley they might feel freed up to deal top outfield prospect Kyle Tucker. As such, check this out:
Adding J.T. Realmuto to the Astros' already-potent offense would be amazing. As reported there, though, the Padres, Dodgers and Rays remain interested in the All-Star Catcher.
Realmuto hit .277 / .340 / .484 with 30 doubles and 21 homers in just 125 games last season, posting relatively gaudy 4.3 WAR in that time. Giancarlo Stanton, Marcell Ozuna, Christian Yelich and more last offseason. He's just under the control of Marlins ,
Daily Harper, Machado update!
Jon Heyman says that the Phillies did indeed meet Bryce Harper's agent Scott Boras during the winter meetings in Las Vegas and that they remain in on Manny Machado. Heyman says the White Sox are still pursuing both of the top available free agents. (More on the White Sox's hot stove pursuit of those superstars here from our Jonah Keri.)
All the other teams seemingly involved have chosen one or the other, as the Yankees with Machado and Dodgers with Harper. Several teams remain on the periphery, but the list for both really does seem pretty short right now.
Then again, when Boras convinced the Tigers to sign Prince Fielder out of the blue in the middle of January? It's hard to really narrow down here.
Cubs sign Descalso
The Cubs have signed utility infielder Daniel Descalso to a two-year, reported $ 5 million deal. They now have tons of infield depth. Full story here .
Royals sign Gore to MLB Deal
The Royals are stocking up on team speed. They already added Billy Hamilton and Tuesday they were bringing back basepath terror to Terrance Gore. He's mostly been a minor-leaguer and September's call to serve as a pinch runner, but the Royals announce his deal is a major league deal.
In 63 career games, Gore only has 19 plate appearances. He's 1-for-19 (the hit came off Max Scherzer because baseball is awesomely weird), but he's also 27-of-31 career in stolen base attempts. He's scored 19 runs. In postseason play, he's successful on five of his six scored stolen attempts.