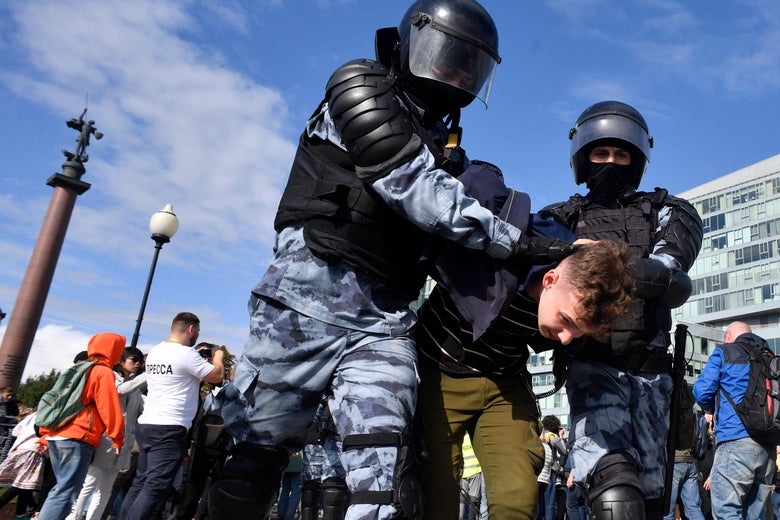 For the second weekend in a row, police in Moscow cracked down on demonstrators when officers arrested more than 800 people demonstrating against the exclusion of some opposition candidates from city council elections in September. Among the detainees was the well-known opposition activist Lyubov Sobol. The police forcibly removed Sobol from a taxi minutes before the scheduled start of the unauthorized protest that activists had called a peaceful walk.
The numbers vary slightly, but OVD-Info, an independent monitoring group, said the police arrested 828 people. The police say they arrested 600 people and 1,500 people in the demonstration, but "footage of demonstrations taking place in different parts of Moscow indicated that many more had participated," reports Reuters. Some of the arrests on Saturday were violent, and it is reported that the police beat protesters with batons. Police appear to have better prepared for this protest and to have served several terms before the demonstration began on Saturday.
Although the protest was not as big as it was a week ago, when nearly 1,400 people were arrested, it showed that some opposition activists are ready to endure imprisonment for this to reach out to convey their message. Although the demonstration has to do with local elections, there are indications that the message is spreading. Around 2,000 people took part in a demonstration in St. Petersburg to support the Moscow protests.
Help us continue to handle important news and issues – and
get ad-free podcasts and bonus segments,
Member-only content and other great benefits.
Join Slate Plus
Source link