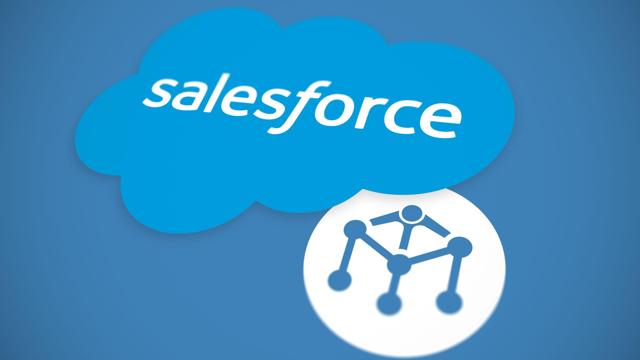 It was another brand-name property of Salesforce.com (NYSE: CRM).
This Wednesday, after the closing bell, the SaaS company delivered its 14th straight all-round win. Revenue of $ 3.28 billion exceeded expectations by approximately $ 50 million, and subscription revenue (93 percent of total revenue) increased 28.4 percent over the prior year. Even after adjusting for 14 cents in the accounting premium to non-GAAP EPS, earnings were still ten cents per share above consensus as gross and op margins increased 11 and 176 bps, respectively.
(Credit: TechCrunch)
I was pleased to see that my expectation of a 20% -plus sales growth over the next few years would not seem jeopardized. With the recent acquisition of MuleSoft, revenue growth of 27% was the highest the company has achieved since the quarter of April 2016. In terms of profit sharing, the management team reiterated its optimism regarding the entire CRM area, but especially regarding the individual performance of Salesforce.com – which reportedly grew almost twice as fast as the overall sector.
In terms of segmentation, revenue The cloud, as far as I can remember, grew at the slowest pace: 13% versus 14% over the year and 16% in the 2018 fiscal year. This was a slight concern, which I outlined in my earnings forecast. since I estimate that Salesforce.com now controls more than 40% of the revenue cloud market. However, the remainder of the portfolio recovered as platform services grew 53% (part of which was probably produced inorganically).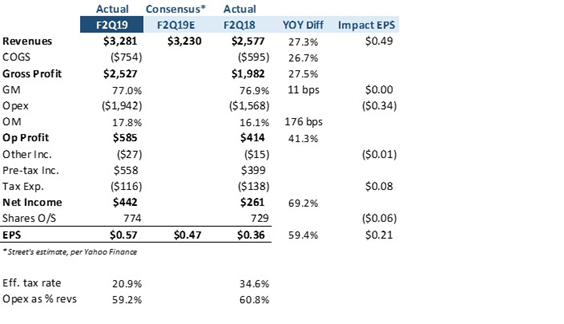 (Source: DM Martins Research, using data from corporate reports)
Finally I was very pleased with the improvement in profitability. Non-GAAP gross margins increased slightly as the company continues to grow in size. GAAP OPEX as a percentage of revenue (excluding one-time charges) decreased to 70.6% for the quarter, compared to 71.8% for the financial year 2Q18, and I expect the operating profit rate to continue to fall over the next few quarters.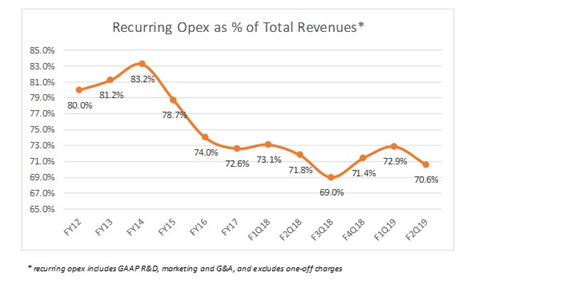 (Source: DM Martins Research, Using Data from Corporate Reports)
Key Events
Even though the after-hours response was broadly neutral to slightly negative as the stock swung -3 % to + 2%, second-quarter Salesforce.com results look solid. Growth seems to be as good as it has been before, as has the backlog of orders (ie "revenue from contracts"). The outlook for the full year has been raised, a bit on turnover and a good deal on EPS (about 21 cents in the middle of the range). However, I believe the majority of this earnings guidance is related to mark-to-market accounting for investments that have little or nothing to do with the business activities of the company.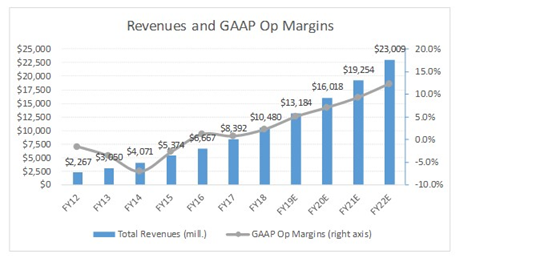 (Source: DM Martins Research, historical data comes from company reports)
I have increased the non-GAAP operating margin of the company this quarter by a solid 176 bp, which is very important that the operating GAAP margin target for financial year 2022 is approximately 12.5% ​​(see chart above). I also believe that profitability should gradually improve, with operational leverage playing a key role in the expansion of margins.
If for any reason (possibly lower than expected third-quarter 1919 profit estimates or perhaps profit-taking)), if CRM falls during the trading session tomorrow, I'll likely pull the trigger of my second buy order; Due to valuation concerns, I decided to buy stocks with a dollar-cost-average strategy. If I go beyond the next few days or a few weeks, I am confident that the CRM stock will continue to rise as the company continues to deliver.
Author's note : CRM is part of what I call my "All-Equities SRG" portfolio. If you would like to know more and find out which other stocks are currently in the portfolio join my Storm-Resistant Growth group. Take advantage of the 14-day trial, read all the content, and get instant access to the community – once you're a member, you can even send me a message and discuss these and other ideas further.
Disclosure: [19659019] I am / we are CRM long.
I wrote this article myself, and it expresses my own opinions. I do not receive any compensation for it (except from Alpha search). I have no business relationship with a company whose warehouse is mentioned in this article.