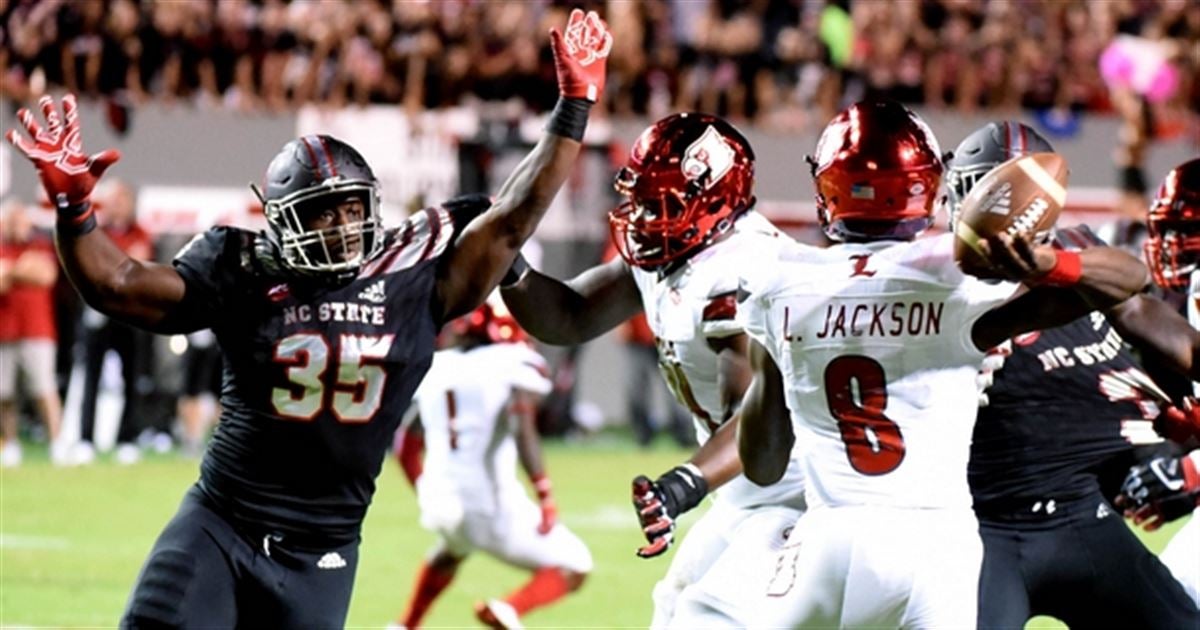 With the 128th pick in the fourth round of the NFL Draft in 201
8, the San Francisco 49ers have selected Kentavius ​​Street from North Carolina State
Street (6-2, 280) will likely be missing the season In 2018 after ripping his ACL during a private workout with the New York Giants in March.
As part of the same defense line at school as Bradley Chubb's first choice, Street played in 48 games in North Carolina State and was a three-year starter, spending time both in defensive tackle and defensive end. As a junior in 2016, Street had 30 tackles with 5.5 sacks, 9.0 tackles for loss and a fumble recovery. Street followed this with 38 tackles as senior along with 2.5 sacks, 6.5 tackles for loss and two fumble recovery.
The selection announcement was accompanied by Star Wars characters R2-D2, Chewbacca and a few Stormtroopers. See below:
This child is the #NFLDraft pic.twitter.com/eHYlBhWihW

– The Checkdown (@thecheckdown) April 28, 2018
If Healthy, Street could Set up at the defensive end on the right side of the line. Among the options the 49ers have at this point this season include Solomon Thomas and Ronald Blair. Below are some scouting reports about Street.
NFL.com : "Street has the degree of strength and tenacity that defenders seek at the edge, but its lack of reactive speed and lack of desired length is a problem against NFL The Road It does not seem to be a plus NFL pass, but its power is intriguing – a team might be interested in adding more weight to throw it in. After tearing its ACL on its pro day, it's likely to decline see in his design positioning. "(1945)
NFLDraftScout.com: " Street was overshadowed by NC State, but he is an explosive athlete, perhaps more suited to the pass-happy NFL than the ACC, the blending of size, speed, and agility to play multiple roles in a traditional 4-3 scheme A shrewd attempt at the East-West shrine game and an expected good result during training could prove to be a best continuous rise after the season.
Here's a full look at the 49er's selection in the 2018 NFL Draft.
– Round 1, Pick 9: Mike McGlinchey, OT, Notre Dame
– Round 2, Pick 12 (44th overall): Dante Pettis, WR, Washington
– Round 3, Pick 6 (70th overall ranking): Fred Warner, LB, BYU
– Round 3, Pick 31 (95th overall ranking): Tarvarius Moore, S, Southern Miss
– Round 4, Pick 28 (128th overall): Kentavius ​​Street, DL, NC State
– Round 5, Pick 5 (Pick 142 total)
– Round 6, Pick 10 ( 184. Total)
– Round 7, Option 5 (223rd overall)
– Round 7, Option 22 (240th overall)