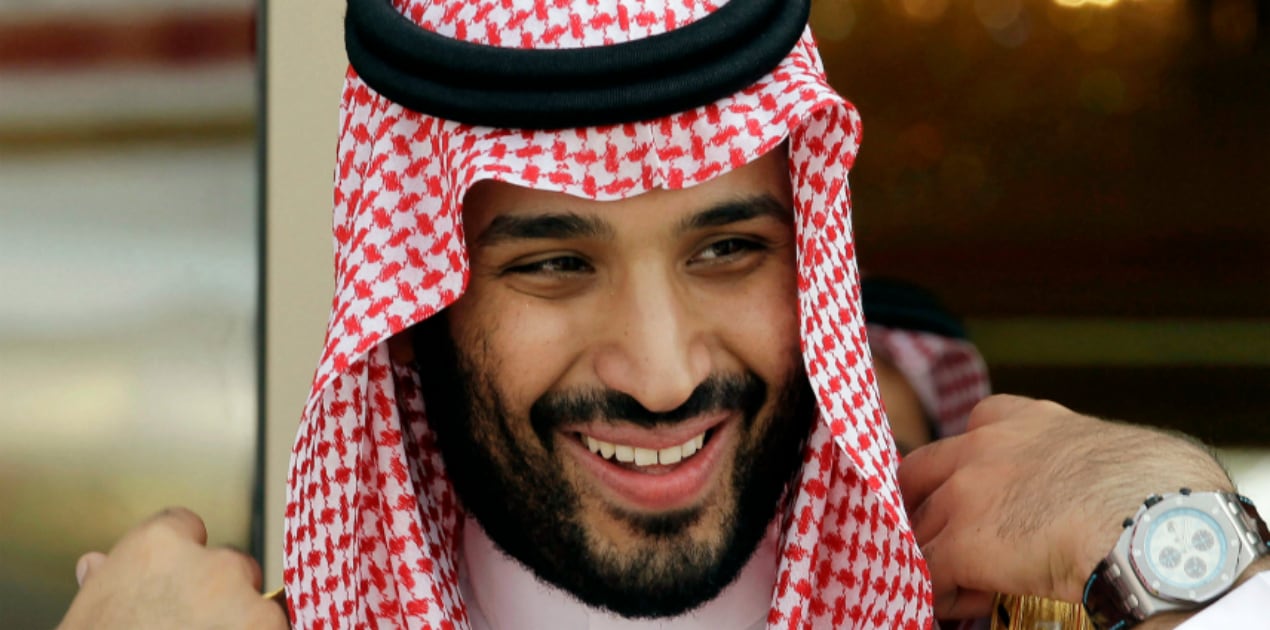 The Saudi Arabia-backed Islamic Development Bank (IDB) is expected to provide Pakistan with a loan of some $ 4 billion to address the country's acute balance of payments problem. This much needed financial support will strengthen Riyadh's influence if Imran Khan becomes prime minister of nuclear-armed Pakistan. Pakistan has also supported Saudi Arabia in its diplomatic fight against Canada in releasing women's rights activist Samar Badawi.
The Saudi loan will be in addition to a $ 12 billion bailout from the International Monetary Fund (IMF). Pakistan's foreign exchange reserves have fallen so sharply over the past year that Chinese lending has kept the country afloat.
The Pakistani currency has been devalued four times since December last year.
The unintended consequence of the loan from the IDB would be the alleviation of the pain over Pakistan currently being inflicted by American actions. Washington has not only denied Islamabad hundreds of millions of dollars in security funds, but has also taken punitive measures to pressure Pakistan to take decisive action against terrorist areas.
This is not the first time that Saudi Arabia has come to Pakistan. In 201
4, Riad Islamabad donated $ 1.5 billion to support its foreign exchange reserves. The close ties between Saudi Arabia and Pakistan began during the tenure of Zulfiqar Ali Bhutto. According to a CIA report, during a state visit in 1975, Bhutto received "the assurance of generous help from Saudi Arabia." In return for this assistance, Pakistan provided military forces and advisers to the armed forces of Saudi Arabia. Pakistan helped the Saudis in 1979 liberate the Great Mosque in Mecca and stationed its forces on its territory during the Iran-Iraq war. Most troops were recalled after the war ended in 1988, but a smaller contingent remained.
Both countries worked very closely together to support the Afghan mujahedeen in their so-called "jihad" against the Soviet occupation of Afghanistan. Pakistan's Inter-Services Intelligence (ISI), with support from America and Saudi Arabia, helped the Afghan resistance force the USSR to withdraw in 1989. The Saudi leadership enjoys excellent relations with the military and political leadership of Pakistan. In 1999, when Prime Minister Nawaz Sharif was overthrown by General Pervez Musharraf in a military coup, Saudi Arabia granted him political asylum.
When the Taliban movement conquered Kabul, only three countries – Pakistan, Saudi Arabia and the United Arab Emirates – offered them recognition as legitimate rulers of Afghanistan. Saudi Arabia went hand in hand with Islamabad's policy of managing relations with the new Afghanistan. Riyadh endeavored to limit Tehran's role in Afghanistan and, consequently, in the Pakistani Shiite population
Pakistan's illegally acquired nuclear weapons also bind Islamabad and Riyadh. Pakistan is the only country that can provide nuclear weapons or nuclear weapons to Saudi Arabia. It must be remembered that Riad Islamabad provided liberal aid for the development of an "Islamic bomb". When Washington imposed severe economic sanctions on Pakistan in 1998 for conducting nuclear tests, it was Riyadh who had helped Islamabad. Visits by the Saudi Defense Minister to Pakistan's Nuclear Research Center in 1999 and 2002 had highlighted the closeness of their relationship. The Pakistani Major General Feroz Hassan Khan mentions in his book "[the Eating the Grass: Making the Pakistani Bomb " clear: "Pakistan and Saudi Arabia have extremely close military ties and several formal defense agreements Pakistan provided generous financial support that enabled it to continue the nuclear program, particularly as the country was under sanctions. "Hassan has also announced that on May 28, 1998, all military and strategic facilities in Pakistan have been declared an air-raid a secret from Saudi Arabia.
In Saudi Arabia, it is believed that in the event of an Iranian nuclear attack, Pakistan's nuclear shield will protect the kingdom one way or another. In addition, nuclear weapons deployed on Saudi territory and managed by Pakistan can reinforce Islamabad's second strike capabilities and serve as a safeguard to neutralize India's potential nuclear strike.
The main reason for the recent acquisition of Imran Khan by Saudi Arabia is bitter rival Iran. Riyadh is not sure what his policy towards Iran would be. In the post-election speech, Imran mentioned Pakistan's ties with Riyadh and Tehran while expressing his desire to "improve relations with Iran." He added, "Saudi Arabia is a friend who has always been at our side in difficult times." Both Riyadh and Tehran have invited Imran to visit their countries.
Saudi Arabia considers Pakistan as an important strategic tool to contain Iran's influence. Saudi Arabia's considerable religious influence in Pakistan is also due to the main Islamic holy places. Over the years, Riyadh has promoted the Wahhabi lineage of Islamic Orthodoxy through liberal financial donations to mosques and madrasas in Pakistan. Many violent sectarian groups in Pakistan have long been recipients of Saudi charity. The Saudi royal family is still in full swing between the liberalization necessary for economic development and the conservative demands of the Wahabi movement.
Despite very close ties, Pakistan has withdrawn from the Arab coalition, which has been fighting in Yemen since 2015, against the Iranian-backed Shiite forces. This refusal was sufficient to trigger tensions between Islamabad and Riyadh, leading to a loss of confidence between Pakistan and the Gulf States. In fact, there was a sense of shock towards Pakistan that dared to choose neutrality in a confrontation with Iran. But Pakistan has partially reversed this decision, most likely to appease the Saudis. The head of the Saudi-led Islamic Military Counter-Terrorism Alliance is the former General of the Pakistan Army, General Raheel Sharif, who underlines the strategic partnership between the two countries. Pakistan's military establishment was encouraged to better balance Indian influence in Saudi Arabia.
Riyadh has developed a versatile partnership with New Delhi. The fight against terrorism is one of the areas where cooperation between India and Saudi Arabia has increased since the visit of the Saudi King Abdullah to India in 2006. Indian Prime Minister Narendra Modi's visit to Saudi Arabia in April 2016 further consolidated this partnership. During his visit, both countries condemned terrorism and decided to step up their counter-terrorism cooperation.
The joint statement by the two leaders called on all states to reject the use of terrorism against other countries; The removal of terrorist infrastructures where they exist and any kind of support and funding for the terrorists who operate terrorism from their territories and perpetrate against other states; The reference to terrorism has been interpreted as being directed against Pakistan, whose continued rivalry and strategic competition with neighboring India has proven to be very dangerous to regional security.
India is suffering from terrorism, financed and supported by Pakistan's state and non-state actors, so security cooperation and intelligence exchange are important elements of the partnership that New Delhi and Riyadh are trying to forge.The Saudis have set some Pakistani terrorist groups on lists of groups that have The Saudi government has often helped India seize key terrorist suspects In 2012, Saudi Arabia arrested and deported Zabiuddin Ansari, aka Abu Jundal, who had traveled to Saudi Arabia on a Pakistani passport Authorities have au a suspected founding member of the Indian Mujahideen (IM), Fashi Mehmood, deported for the 2010 Bangalore explosion. In December 2016, Saudi Arabia deported Abdul Salam, a leader of false Indian banknotes, on his return to India from the National Investigation Authority (NIA). In the first week of August, a suspected Lashkar-e-Taiba (LeT) terrorist was arrested by the NIA after Saudi Arabia deported him.
Political leaders in India and Saudi Arabia focused on the positive aspects of their bilateral relationship. Saudi Arabia is India's fourth largest trading partner after China, the United States and the United Arab Emirates. The volume of bilateral trade in 2016-17 was around $ 25 billion. India's growing proximity to the US, Saudi Arabia's oldest and most important ally, has also helped make New Delhi more and more friendly with Riyadh. More recently, Washington has been instrumental in persuading Riyad to withdraw its crucial support for Islamabad, which eventually resulted in Pakistan being officially placed on the gray list of the Financial Action Task Force (FATF) in June.
Increased Focus on Security and Counter-Terrorism The cooperation indicates an increasingly maturing relationship between India and Saudi Arabia that has gone beyond the Energy Partnership. But this will hardly affect Riyadh's unique relationship with Islamabad, which continues to reaffirm its commitment to Saudi Arabia's territorial integrity. Despite the recent irritation in the Saudi-Pakistani relationship, New Delhi must be realistic about the weaning limits of Riyadh of Islamabad.