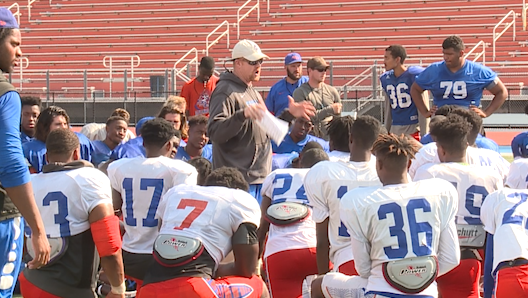 Savannah State University athletics will suspend football, volleyball, and cross-country skiing for the 2020 fall season in accordance with the Southern Intercollegiate Athletic Conference (SIAC) guidelines. SIAC is examining the possibility of shifting all autumn sports to the 2021 spring season. "The Southern Intercollegiate Athletic Conference (SIAC) made the very difficult decision to extend the suspension of all sports and championship events until the fall of 2020," the conference office press release said. "This decision was based primarily on the overarching concern of all SIAC member institutions with regard to the health and safety of our student athletes, coaches, students, employees, fans and other interest groups on campus."
; As the original decision made by the SIAC in the past Intercollegiate athletics suspended in spring. The conference was cautiously optimistic in the hope that significant progress could be made in the continuing spread of the coronavirus. "" Our main concern is always the health and safety of our student athletes. Employees, coaches and fans, "said Opio Mashariki, director of athletics. "We also want to follow the example of the conference office regarding the cessation of autumn sports." The SIAC and Savannah State are following the guidelines of the Centers for Disease Control and Prevention (CDC) to ensure the health and safety of athletes, coaches, employees and staff in preparation for the possible return of the competition in the spring. and fans – top priority. Winter and spring sports are planned as usual. Savannah State University athletics encourages everyone to observe and be guided by the preventive measures identified and recommended by the CDC
SAVANNAH, Ga.-
Savannah State University athletics will suspend football, volleyball, and cross-country skiing for the 2020 fall season in accordance with the Southern Intercollegiate Athletic Conference (SIAC) guidelines. SIAC is examining the possibility of shifting all autumn sports to the 2021 spring season.
"The Southern Intercollegiate Athletic Conference (SIAC) made the very difficult decision to extend the suspension of all sports and championship events until the fall of 2020," the conference office press release said. "This decision was based primarily on the overarching concern of all SIAC member institutions regarding the health and safety of our student athletes, coaches, students, employees, fans and other interest groups on campus.
"When SIAC made the first decision last spring to suspend intercollegiate athletics, the conference showed some cautious optimism in the hope that significant progress would be made in the continued spread of the coronavirus."
"Our primary concern is always the health and safety of our student athletes, employees, coaches and fans," said Opio Mashariki, director of athletics. "We also want to follow the example of the conference office regarding the cessation of autumn sports."
The SIAC and Savannah State are following the guidelines of the Centers for Disease Control and Prevention (CDC) to ensure the health and safety of athletes, coaches, employees and staff in preparation for the possible return of the competition in the spring. and fans – top priority. Winter and spring sports are planned as usual.
Savannah State University athletics encourages everyone to observe and be guided by the preventive measures identified and recommended by the CDC
Source link