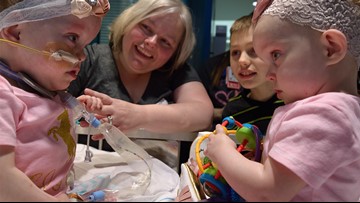 HOUSTON – A former twin was released from the Texas Children's Hospital in Houston, nearly two months after his sister had gone home.
Hope Elizabeth Richards was released after spending 482 days in the hospital. She and her sister, Anna Grace, underwent a seven-hour operation in January to separate them. Anna Grace was released on 2 March.
The Richards, who come from North Texas, say they are grateful for the support and prayers they have received in recent months.
"This is the moment, everything feels real," said Jill Richards. "We are so excited Hope is coming home to Anna and her brothers, and our family is eternally grateful to the doctors, nurses, children's specialists, physical therapists, and many others at Texas Children's who are unbelievably attentive to our precious girls
Hope and Anna were born on December 29, 201
6 at Texas Children's Pavilion for Women. They were connected to her chest and abdomen through her torso and shared a chest wall, a heart lining, liver and diaphragm. They also had a large blood vessel that connected their hearts.
Nearly 75 doctors were involved in their surgery.
A GoFundMe site was created to help the family. Go here to donate.
© 2018 WFAA