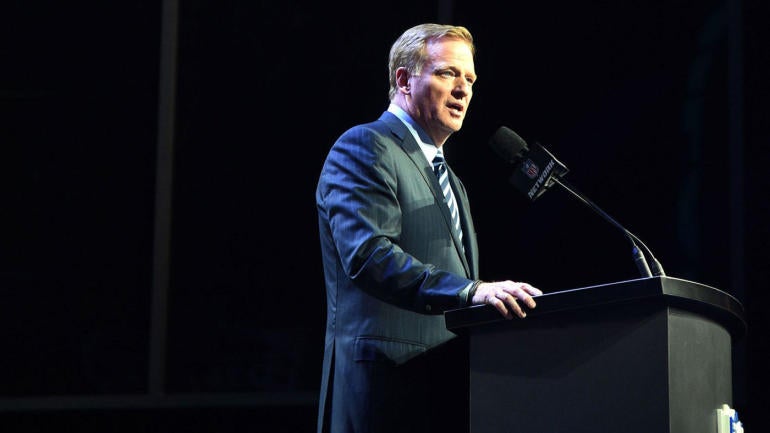 You've seen a lot of fake designs at this point (and here are some more great ones). Most are of the one-round variety, but you've been able to dig out some that go deeper, and even a few that cover all seven rounds. But how many have you seen that the whole seven rounds go and contain trades throughout the design?
Here's what we've done by picking pick-by-pick to determine which teams can decide the three with each of their picks. Day design. In sum, this project combines potential talents, teamwork, potential visits, and reasonable trading to help teams with enough draft capital move for the right man.
First, find my team-by-team mock designs, complete with analysis for each design course. Then you can see the complete 256-Pick bill, with bills trades marked with an asterisk. Finally, I've included a spreadsheet of each dummy trade in my design, including the player teams that got up to vote. (1
9659002)
I joined Will Brinson in the Saturday episode of The Pick 6 podcast to break my seven-round mock design. Topics we cover include a Seahawks trade, the Jets class, and why the Cowboys in Round 1 will not go far. Subscribe: via iTunes | about Stitcher | via TuneIn
Does this have a chance to match what actually happens on the design weekend? Of course not – at least when it comes to certain players. However, I believe that each of these 32 design classes is a realistic scenario for the type of design each team could have.
Let's go.
Note: This mock was originally on April 20.
Team by team billboard
Arizona Cardinals
1
15
Lamar Jackson, QB, Louisville
2
47
Donte Jackson, CB, LSU
3
79
Brian O'Neill, OT, Pittsburgh
3
97
Daurice Fountain, WR, Northern Iowa
Compensator
4
134
Andre Smith, ILB, North Carolina [19659012] Compensator
5
152
Godwin Igwebuike, SS, Northwest [DanielCarlsonKAuburn
by DEN
7
254
Brendan Mahon, G, Penn State
Compensator
19659037] Lamar Jackson has as high a ceiling as any quarterback in the draft, and it would be interesting to see which offensive coordinator Mike McCoy is cooking for the run / pass weapon. McCoy is someone who will try to insult the strength of a quarterback, not the other way around.

Donte Jackson brings speed to Patrick Peterson, and Cornerback is a position the Cardinals need to address early in the draft. O & Neill adds another option where the Cardinals have some uninspiring starters. Fountain is an excellent athlete who could be special under the guidance of Larry Fitzgerald.

Smith gives the defense a potential two-linebacker, plus having two Andre Smiths in the same team. Igwebuike brings more depth to a secondary one who needs it. Carlson could be the best kicker in the class, and Phil Dawson is 43. Mahon can be developed into a potential starter on the road.

Atlanta Falcons

1
26
Trade to Pittsburgh
1
28
Calvin Ridley, WR, Alabama
of PIT
2
58
Braden Smith, G, Auburn
3
90
Da & Shawn Hand, DT, Alabama
[19659024] 4
126
BJ Hill, DT, NC State
5
148
Kevin Toliver, CB, LSU
by PIT / SF [19659023]
200
Kurt Benkert, QB, Virginia
7
244
Nick Bawden, FB, San Diego State
7
256
Grant Haley, CB, Penn State
Compensatory

The Falcons make a small trade back and take on a fifth-hander before taking on Ridley, who will be a Dynamo No. 2 receiver for the offensive should and lately a big he is worth. He would be perfect for a team with a well-established number 1, and if he comes out of the top 20, Ridley could have an offensive-caliber offense that's far more dangerous.

Smith should be a better starting option for the right guard than Brandon Fusco, who is under contract with the Free Agent campaign and whose salary is good for a backup role. The hand is a good option for the 2nd day defensive tackle if the position in round 1 is not addressed. If that's the case, doubling the position with Hill might make sense and give the team a nice turn on the D-line.

With the extra selection in first-round trading, the team in Toliver landed a cornerback with the size and then comes back to depth to defend the slot and a key player in Haley. With their other two Day 3 picks, the Falcons take on a young, viable quarterback and a new defender who has distinguished himself in San Diego State for leading national rushers.

Baltimore Ravens

1
16
Mason Rudolph, QB, Oklahoma State
2
52
Hayden Hurst, TE, South Carolina
3
83
Trade to New Orleans
3
91
Deon Cain, WR, Clemson
by NO [19659024] 4
118
Michael Dickson, P, Texas
5
154
Ade Aruna, DE, Tulane
5 [19659012] 164
Tracy Walker, FS, Louisiana-Lafayette
by NO
6
178
Bradley Bozeman, C, Alabama
by IND
6
190 [19659044] Trade to Indianapolis
6
215
Shaun Dion Hamilton, LB, Alabama
Compensator
7
238 [19659044] Traded to Indianapolis

The Ravens seriously consider quarterback in the first round and high on Rudolph, via our Jason La Canfora, and here they take the overthrow. Cutting off Joe Flacco after the 2018 season would save the team $ 10.5 million, and that number could reach $ 18.5 million if it appears in 2019 after its release in June. Rudolph is clearly in the second rank of the QB candidates enough talent that he will be taken in the first round.

Hurst finally stabilizes the tight end position, and he gives Rudolph a passing game weapon that he can use to grow along with Cain, who could quickly take on the second receiver role behind Michael Crabtree. Before they take over Cain, the Ravens exchange a few spots and get a fifth-knight from New Orleans.

Dickson is the best lancing candidate on the NFL for several years, and he is an ideal candidate for the fourth round for a team with many Day 3 selections. Aruna is a versatile piece for the defense line. Walker is a nice third-party safety star who could be in the starting eleven if Eric Weddle is overpriced in 2019. The Ravens sacrifice their seventh place for Bozeman, another good lineman who can start inside. And in Ozzie Newsome's final draft, the team follows one Alabama player with another in Hamilton, who can serve as the linebacker's center-back.

Buffalo Bills

1
4
Baker Mayfield, QB, Oklahoma
by CLE / HOU
1
12 [19659012] Trade to Cleveland
from CIN
1
22
Isaiah Wynn, G, Georgia
from KC
2
34 [19659013] DJ Moore, WR , Maryland
of NYG
2
53
Darius Leonard, LB, South Carolina State
2
] 56
Trade in New York Giants
by LAR
3
65 [19659018] Trade with New York Giants
by CLE
3
96
Trade to Cleveland [19659011] by PHI
4
121
Auden Tate, WR, Florida State
5
166
Kalen Ballage, RB, Arizona State
by JAC
6
187
Trade to Minnesota
by CIN
6
2 04
Christian Campbell, CB, Penn State
from MIN
19659124] 6
218
Jason Cabinda, LB, Penn State
from MIN

According quarterbacks go 1-2-3, the bills trade up to # 4 by the Browns No. 12 , No. 96, and their 2019 first graders, a selection I think would appeal to the Browns more than No. 22 this year. It's a similar price as the Chiefs paid the bills last year to move from # 27 to # 10 by Patrick Mahomes, and although this is a shorter jump in terms of totals, it's more expensive to get up early in the design. Mayfield has a sneaky chance of being the best QB in this class.

By trading next year, the Bills are free to use No. 22 on Best Guardian Prospects this year outside of Quenton Nelson. The bills go up in the second round by trading # 56 and # 65 to the Giants to D.J. Moore, who will be an instant weapon from the slot and will give Mayfield a target monster out of the gate. After the two trades, the bills are given only a day 2 pick, which they put on a talented linebacker to add to a mediocre unit.

A trade-up for Moore should not stop the crew from continuing to attack their lack of depth at the receiver, so they come back and grab a big weapon in Tate, which could be a factor in the red zone. Ballage gives the running back depth, especially someone who can spell LeSean McCoy in third place if needed, and a potential return man. In the sixth round, the bills exchange before landing two deepest pieces on defense. [196591] 1

24
Jaire Alexander, CB, Louisville
2
39
Justin Reid, FS, Stanford
by CAR
2 [19659042] 55
Trade to Chicago
3
85
Trade to Chicago
by BUF
3 [19659012] 88 [19659012] Rashaad Penny, RB, San Diego State
5
161
Keke Coustee, WR, Texas Tech
6 [19659012197
Marcell Frazier , DE, Missouri
7
234
Taylor Hearn, G, Clemson
by LAC / BUF
7
242 [19659019] Ryan Izzo, TE, State of Florida
The Panthers Seek Early in Design for Help after our Jason La Canfora. I like catching Alexander, a late riser, during the design process, who should immediately join the starting lineup.
The Panthers are the perfect place to board early in the second round for yet another important secondary goal and here they are exchanging # 55 and #85 for Reid, who is a candidate for the first round. Penny improves her runnability and should be a great way to mate with Christian McCaffrey.
Couitee is a nice five-rounder that puts speed in the receiver position and could eventually take over Torrey Smith. Frazier could develop defensively in the end. Hearn brings depth to a position of need following the loss of Andrew Norwell. Izzo will not be a receiving weapon that can take over the line for Greg Olsen, but it's a nice inline tight end.
Chicago Bears
1
8
Quenton Nelson, G, Notre Dame
2
39
Trade with Carolina
[55
Arden Key, DE / LB, LSU
by CAR
3
85
Geron Christian, OT, Louisville
by CAR / BUF
4
105
Shaquem Griffin, LB, UCF
4
115
Breeland Speaks, DE / DT, Ole Miss
to ARI [19659024] 5
145
Tarvarius Moore, FS, Southern Miss
6
181
JC Jackson, CB, Maryland
7 [19659011] 224
Simmie Cobbs Jr., WR, Indiana
The Bears benefit from what may be their best scenario at # 8 with Nelson, a plug and play guardian who was to collect several All-Pro honors in his career, from especially when it gets a little better in pass-blocking.
The Bears swap a third-tier fighter in the second round and get # 55 and #85 for # 39. They use the first of their new Day 2 picks at Key, which has all the potential in the world for one Top edge Edge Rusher despite a down-2017 and off-field red flags. Christian could spare Bobby Massie if he showed himself well in the camp; Otherwise he is key depth in position.
Griffin is an ace special team player who will also help linebackers. Speaks gives the team more depth on the defensive, and Moore is a steal in the fifth. Jackson is in a good corner position in sixth, and Cobbs improves the depth of the receiver behind the team's FA additions.
Cincinnati Bengals
1
21
Josh Jackson, CB, Iowa
by BUF
2
46
Jamarco Jones, OT, Ohio State
3
77 [19651212] Fred Warner, LB, BYU
3
100
Jeff Holland, DE, Auburn
Compensator
4 [19659119] 112
John Kelly, RB, Tennessee
5
151
Marcell Ateman, WR, Oklahoma State
5
158
Kyzir White, SS, West Virginia
by BUF
5
170
Matt Pryor, OT / G, TCU
Compensator
7
249
Mike McCray, LB, Michigan
by NE
7
252
John Atkins, DT, Georgia
Compensator
7
253 [19659136] Arrion Springs, CB, Oregon [19659113] Compensatory
Mike McGlinchey leaves the board early, ie e Bengals revolve around Josh Jackson, a Ballhawk Corner who would be good value for the top 20 If the Bengals have a track record of outlining the corner in the draft, then Jackson could be Darqueze Dennard Insurance if it goes in free agency or as a cheaper alternative to Dre Kirkpatrick across the board.
Considering that the Bengals are loaded with 11 picks, they should pull up when the opportunity presents itself on Day 2 and Day 3. But it just was not in my mockery, so they stopped and made all their picks here, something I doubt on the design weekend. Jones immediately gives an offensive line that she needs help. Warner could take over for Vontaze Borfict if the team decides to move on, and the team later adds more depth to their position in McCray. Holland brings depth to the defensive end rotation.
Kelly is a talented back who could be number 2 behind Joe Mixon. Ateman adds depth to the receiver and serves as an insurance plan for John Ross. White offers a good value in the fifth to come and push Shawn Williams. Pryor brings more O-Line depth and could start down the road. Atkins can compete for a place on the D-line while Springs is a dart throw on the corner.
Cleveland Brown's
1
1
Josh Allen, QB, Wyoming
1
4
Trade to Buffalo
by HOU
1
12
Mike McGlinchey, OT, Notre Dame
by BUF / CIN
1
23
Harold Landry, DE, Boston College
by SEA / NE / LAR
2
33
Maurice Hurst, DT, Michigan
2
35
Trade to Seattle
by HOU
2
64
Trade to Seattle
by PHI
3
96
Genard Avery, LB, Memphis
by BUF / PHI
4
114
Rashaan Gaulden, CB, Tennessee
to GB
5
150
Nick Nelson, CB, Wisconsin
to GB
5
168
to Mark Walton , RB, Miami
from SEA / NE
6
175
Ha to New England
6
188
Jaleel Scott, WR, New Mexico State
from WHAT
6
198
Jullian Taylor, DT, Temple
from NE / LAR
6
210
Joshua Kalu, SS, Nebraska [19659012] from NE / OAK
When I exchanged Allen for Sam Darnold in my previous bill, I felt it just does not look like a browns-y enough. Allen is probably the biggest boom-or-bust prospect in the draft, while Darnold is probably the safest of the top 4 options. What sounds more likely to Cleveland? With their other first-rounder, the Browns are trading the Bills, taking # 12, # 96 and a 2019 first-round pick. It's basically the same package that received the bills to switch from # 10 to # 27 last year and have another team swap for a QB. At # 12, the Browns start the post-Joe Thomas era on the left tackle with McGlinchey.
With all the tips that Cleveland has in the first three rounds (especially after relegation from 4th place), they have the opportunity to get a third first round selection this year. Here this means that we are trading No. 35 and # 64 to Seattle for # 23 (which the Seahawks fetched earlier in a trade with the Patriots) and No. 168. Then they grab Landry, a nice consolation prize for Bradley Chubb earlier, and pair him on the D-line with Hurst at # 33. A front by Myles Garrett, Larry Ogunjobi, Hurst and Landry should be fun, and Taylor's pick later adds more depth to the line.
At the end of the third round, the Browns add Avery, a potential long-term replacement for Jamie Collins, who may not be worth his massive 2019 Cap-Hit. Next comes a slot corner in Gaulden before grabbing another long position. Term option on the corner in Nelson recovering from a torn meniscus. Walton adds another person to the rotation to serve as a pass-catcher from the backfield. After trading in the sixth, the Browns grab an interesting outdoor receiver with size in Scott. Kalu is a versatile defense that can draw on special teams.
Dallas Cowboys
1
19
Leighton Vander Esch, LB, Boise St.
2
43
James Daniels, G, Iowa [19659012] from NE
2
50
Trade to New England
3
81
Michael Gallup, WR, State of Colorado
4
116
Trade to New England
4
137
DeShon Elliott, SS, Texas
Compensator
5 [19659011] 162
Cole Madison, G, Washington State
by TEN
5
171
Trade to Tennessee
Compensator
6
192 [19659019] Trey Quinn, WR, SMU
by OAK / SEA
6
193
RJ McIntosh, DT, Miami
6
208
Darius Phillips, CB , West Michigan
Compensator
7
236
Trade to Tennessee
Receiver seems to be a great need for the Cowboys after the release of Dez Bryant, but they should not feel compelled in the first Round to go there. Vander Esch is an extremely talented all-down linebacker who should take over the Sean Lee role in defense. While this design is about getting talent, there is not much left of linebacker outside the first round.
The cowboys, who benefit from three compensatory picks, can afford to rise for the right people. In the second round, the # 50 and # 116 are traded to ascend for Daniels, who can immediately join the left guard and allow La & El Collins to stay in the right tackle. In the third round, the cowboys grab their receiver for a good price, and Gallup has the potential to get better at the pros.
Elliott improves the safety of the team. After trades No. 171 and No. 236 for No. 162, the Cowboys increase their insides depth with Madison, who could also become a starter if Zack Martin can not be re-signed. Quinn is a potential place competition for Ryan Switzer as Cole Beasley's eventual successor, but cutting Beasley could also save the team $ 3.25 million. McIntosh gives the team an athlete to help depth in the defensive line. Phillips adds depth to cornerback, as well as some return-man experience.
Denver Broncos
1
5
Bradley Chubb, DE, NC State
2
40
Austin Corbett, G / C, Nevada [19659012]
3
71
DJ Chark, WR, LSU
3
99
Isaac Yiadom, CB, Boston College
Compensator [19659023] 4
106
Royce Freeman, RB, Oregon
4
113
Marquis Haynes, OLB, Ole Miss
from WHAT
5 [19659011] 149
Chris Herndon, TE, Miami
from WHAT
5
160
Trade to Houston
by LAR
6
177
Oren Burks, ILB, Vanderbilt
by HOU
6 [19659012] 211
Jester Weah, WR, Pittsburgh
by HOU
With four QBs, the Broncos have made a decision: Bradley Chubb or Saquon Barkley? I've mocked Barkley in the past about her, but in the end, maybe it's too much to pair Chubb with Von Miller to go in a different direction. Shaquil Barrett is a free agent after 2018, and Shane Ray's option should not be picked up. Chubb also gives the team a first-rate pass rusher in case Miller gets too expensive to keep the road. But as long as Chubb and Miller play together, they should be a dynamic pass-hushing duo.
In the second round in Corbett, the Broncos attack an undervalued interior line perspective that could immediately begin at the left guard. Chark is a big and fast weapon for Case Keenum and a potential starter in 2019, depending on what the team does with its payees. Yiadom may initially be a special team ace, who may become a successor to Aqib Talib.
Freeman is a quality # 2 back to pair with Devontae Booker. Haynes will bring more Pass Rush help in the long term and could allow the team to instantly bait with the disappointing Ray. Herndon is another dart throw that could become a starter. At No. 160, the Broncos swap back with Houston before boarding at No. 177 within the linebacker depth in Burks and another large and fast receiver at Weah at # 211.
Detroit Lions
1
20
Derrius Guice, RB, LSU
2
51
Dallas Goedert, TE, South Dakota State
3
82 [19659044] Deal with LA Rams
3
87
Josey Jewell, LB, Iowa
by LAR [19659023] 4
117
Mike White, QB, Western Kentucky
5
153
Hercules Mata & afa, DE, Washington State
6
183
Tyler Conklin, TE, Central Michigan
by LAR / MIA
7
237
Korey Robertson, WR, Southern Miss
Running back is not the lion b After signing LeGarrette Blount is the biggest need, but it's still a problem that it's difficult to pass on the super-talent Guice in 20th place. When the Lions pass it on, it feels like it might fall out of the first round, so they may want to explore a trade of 8-10 picks before they grab it if it stays their top target, finishing 20th stay.
Goedert is a steal at # 50, and he would be a big upgrade over the Luke Willson and Michael Roberts tandem. Before they make their next choice, the Lions exchange a few points and get a sixth. At number 87, they then take Jewell, which is undersize but makes great depths at linebacker.
White gives the team a first-rate opportunity to develop behind Matthew Stafford. Mata & # 39; afa is a little light to defend, but he's talented enough to grab and use special teams while he's waiting to see if he's getting fatter. Conklin is recovering from a serious foot injury, but good enough to shoot a 3-day pick. Robertson is a lottery ticket that helps you gain depth.
Green Bay Packers
1
14
Denzel Ward, CB, Ohio State
2
45
Sam Hubbard, DE / LB, Ohio State
3
76
Anthony Miller, WR, Memphis
3
93
Foley Fatukasi, DE / DT, UConn [19659012] by JAC
4
101
Trade to Jacksonville
by CLE
4
124
Jack Cichy, LB, Wisconsin
by KC / LAR [19659104] 4
133
Trade to Kansas City
Compensator
5
138
Jamil Demby, G, Maine
by CLE
5
172
Trade to Jacksonville
Compensator
5
174
J & # 39; Mon Moore, WR, Missouri
Compensator
6
186
DJ. Reed, CB, Kansas State
6
207
Trade to Kansas City
Compensatory
7
232
Dejon Allen, C, Hawaii
7
239
Trade to Kansas City
by BUF
That Ward falls to 14th place is probably the best scenario for the Packers and he pushes as an immediate leader into an emergency. Adding Ward to Kevin King gives the team two quality young corners for bargain deals in the long run.
Hubbard gives the team Clay Matthews insurance as Edge Rusher. Miller is a great find in the third round to give the team another good receiver to support Davante Adams and Randall Cobb. With eight picks on Day 3, the packers have plenty of room to develop some trade-ups under their new GM, and the first (# 101 and # 172 to Jacksonville) takes them to the third round for a defensive ending up taking over for Muhammad Wilkerson in case he makes a big deal after a season in Green Bay.
The Packers then negotiate two late picks (# 207, # 239) to move up in the fourth round and get a clever inside linebacker who deals with injury problems at college in Cichy. Demby can evolve into a start-up guard in time for the Packers to get rid of another quality lineman too soon, not too late. Moore brings the size that Miller does not have, but he will need work to develop into more than one weapon in the red zone. Reed adds depth to the return game. Allen kann zu einem potentiellen Starter werden, wenn Corey Linsley in ein paar Jahren zu teuer wird.
Houston Texans
3
68
Chukwuma Okorafor, OT, West-Michigan
3
80
Nathan Shepherd, DE, Fort Hays St [19659012] aus SEA
3
98
Parry Nickerson, CB, Tulane
Kompensator
4
103
Dalton Schultz, TE, Stanford
5
160
Jordan Whitehead, FS, Pittsburgh
von DEN / LAR
6
177
Handel nach Denver
6
211
Handel nach Denver
Kompensator
6
214
Kendrick Norton, NT, Miami
Kompensator
7
222
John Franklin-Myers, DE, Stephen F. Austin
Die Texaner warten bis zur dritten Runde darauf Entwurf dank zweier separater Trades, die sie mit den Browns machten (einer, der letztes J ahr für Deshaun Watson aufgestanden war, einer, um Brock Osweiler aus ihren Büchern zu holen). Ihre erste Wahl ist ein Sportgerät, um ihre größten Bedürfnisse zu befriedigen. Schäfer ist J.J. Watt insurance and should develop into a starter down the line. Nickerson is a potential eventual replacement for impending free agent Kareem Jackson.
Schultz can help out tackles as an in-line blocker and he's also solid as a pass-catcher, though not ever likely to be a top receiving weapon. Houston trades No. 177 and No. 211 to move up for Whitehead, who can apprentice under Tyrann Mathieu for a year. Norton and Franklin-Myers improve the team's depth on the defensive line. The Texans are still left with several holes after this draft, but that's going to be the case no matter what.
Indianapolis Colts
1
6
Saquon Barkley, RB, Penn State
from NYJ
2
36
Mike Hughes, CB, UCF
2
37
Billy Price, G/C, Ohio State
from NYJ
2
49
Christian Kirk, WR, Texas A&M
from NYJ/SEA
3
67
Rasheem Green, DE/DT, USC
4
104
Brandon Parker, OT, North Carolina A&T
5
140
Holton Hill, CB, Texas
6
178
Traded to Baltimore
6
190
Deontay Burnett, WR, USC
from BAL
7
221
Skai Moore, LB, South Carolina
7
238 [19659019]Mike Love, DE, South Florida
from BAL
Once four QBs go off the board in the first four picks, the Colts are guaranteed one of Bradley Chubb and Saquon Barkley, and here they land Barkley, one of the best running back prospects in recent memory. Marlon Mack is a fine lead back, but he's no Barkley.
The Colts land three excellent talents in the second round, starting with Hughes, who can be an instant factor at corner and in the return game. Price suffered a partially torn pec during the predraft process but should still be ready to start at guard early. Kirk should immediately help from the slot. Green can take over the starting end role from Denico Autry in 2019 and be an interesting rotational pass-rusher in the meantime.
Parker is a potential option to start at right tackle, and the Colts should make protecting the QB a focus. Hill could easily outplay his Day 3 status but comes with character red flags. The Colts trade down in the sixth round before taking another receiver in Burnett. Moore is a medical question mark who the rebuilding Colts can afford to be patient with. Love is an interesting depth option on the defensive line.
Jacksonville Jaguars
1
29
Courtland Sutton, WR, SMU
2
61
Ronnie Harrison, SS, Alabama
3
93
Traded to Green Bay
4
101
Mark Andrews, TE, Oklahoma
from GB/CLE
4
129
Kenny Young, LB, UCLA
5
172
Toby Weathersby, G, LSU
from GB
6
203
Kentavius Street, DE/DT, NC State
7
230
Levi Wallace, CB, Alabama
from CIN
7
247
Riley Ferguson, QB, Memphis
The Jaguars are fortunate enough to watch other potential suitors pass up Sutton and allow him to drop to No. 29. He should quickly become the team's No. 1 receiver while scratching that Moncrief-type itch for a big target for Blake Bortles. If he gets singled up regularly with teams stacking the box against Leonard Fournette, watch out.
Harrison is a nice value late in the second round, and he could end up taking over for Barry Church in 2019, as cutting the veteran would clear his entire $6.25 million off the cap. The Jaguars then trade out of the third round, getting the first pick of Day 3 (No. 101) and a fifth-rounder (No. 172). Andrews is another pass-catching weapon to play behind new No. 1 tight end Austin Seferian-Jenkins. Young gives the team an option for a third linebacker after Paul Posluszny's retirement.
Weathersby is an experienced right tackle who could be developed as a versatile reserve lineman. Street tore his ACL but is a worthy IR stash. Wallace is as hard a worker you'll find in the seventh round as a former walk-on-turned-contributor for the Alabama defense. Ferguson is a practice-squad option who could potentially develop into a No. 2 QB.
Kansas City Chiefs
2
54
Tyrell Crosby, OT/G, Oregon
3
78
Anthony Averett, CB, Alabama
from WAS
3
86
Dorance Armstrong, OLB, Kansas
4
122
Christian Sam, LB, Arizona State
4
124
Traded to Green Bay
from LAR
4
133
Antonio Callaway, WR, Florida
from GB
6
196
Skyler Phillips, G/C, Idaho State
6
207
Troy Apke, FS, Penn State
from GB
7
233
Jordan Lasley, WR, UCLA
from ARI
7
239

Michael Joseph

CB, Dubuque
from GB/BUF
7
243
Jordan Akins, TE, UCF
from TEN
The Chiefs are left waiting until Day 2 thanks to last year's trade-up for Patrick Mahomes. With a franchise QB and star running back in place along with the signing of Sammy Watkins to give Mahomes a third quality passing-game weapon after Tyreek Hill and Travis Kelce, the team loads up on defense early and often here, but not before adding an offensive lineman in Crosby who could compete to start at guard or serve as a key reserve at multiple positions.
Averett is a fast corner who could step in quickly as a starter on the outside. Armstrong gives the team a quality option at rush linebacker with Tamba Hali gone and Dee Ford recovering from a back injury. The Chiefs then add help at inside linebacker with Sam, who gives the team needed depth behind Anthony Hitchens and Reggie Ragland.
After trading down with their second fourth-rounder to pick up two late picks (No. 207, No. 233), the Chiefs land Callaway, a big talent with big off-field red flags, hoping to again catch lightning in a bottle at the position. Phillips is a great find in the sixth who should help interior depth immediately on the line. Apke proved incredibly fast at the combine for a safety (4.34 40-yard dash) and should factor in on special teams. Lasley is another character-red flag wild card to gamble on late. Joseph will have to prove he can compete in the NFL but is a nice gamble for a team that lacks depth at corner. Akins is an old prospect who can be a nice downfield weapon and potential stylistic backup to Travis Kelce if he can stick.
Los Angeles Chargers
1
17
Da'Ron Payne, DT, Alabama
2
48
Jessie Bates, FS, Wake Forest
3
84
Will Richardson, OT, NC State
4
119
Nyheim Hines, RB, NC State
5
155
Tegray Scales, LB, Indiana
6
191
Matthew Thomas, LB, Florida State
7
251
Aaron Evans, G, UCF
Compensatory
The Chargers use No. 17 on a player that will immediately help their pass rush and could also be a tough player to handle in pass-rushing situations, especially considering the talent the defense has on the ends. Corey Liuget is suspended to open the year, so Payne should be in for all the work he can handle early.
Bates addresses the hole that remains in the secondary after the departure of Tre Boston. Richardson can compete to start at right tackle, where the team needs an upgrade. Hines is a scatback who could be lethal in small doses. Scales and Thomas bring talent to a linebacker group that's proven to be a rare weakness for this defense. Evans will try to stick as a depth piece on the line.
Los Angeles Rams
3
82
Ogbonnia Okoronkwo, OLB, Oklahoma
from DET
3
87
Traded to Detroit
4
111
Micah Kiser, ILB, Virginia
from MIA
4
135
Quenton Meeks, CB, Stanford
from NYG
4
136
Traded to Washington
from NE
5
142
Scott Quessenberry, G/C, UCLA
from WAS/DEN
6
176
Joe Ostman, OLB, Central Michigan
from NYG
6
183
Traded to Detroit
from MIA
6
194
Dane Cruikshank, DB, Arizona
from DET
6
195
Timon Parris, OT/G, Stony Brook
from BUF
7
231 [19659019]Phillip Lindsay, RB, Colorado
from WAS
The Rams are left waiting until the third round after the trade that brought Brandin Cooks out west. With an excellent rush linebacker in range, they sacrifice No. 183 to move up a few spots and grab Okoronkwo, who has the chance to develop into a star under Wade Phillips. Kiser adds more talent inside at linebacker after the team traded away Alec Ogletree. Meeks should be tried at corner initially but could be benefited from a move to safety.
The Rams trade back from No. 136 to pick up a seventh-rounder, then take a potential starting guard in Quessenberry. Ostman brings another rotational option at rush linebacker and a special-teams option, and while there are no stars at the position for the Rams, a group of Matt Longacre, Samson Ebukam, Okoronkwo and Ostman is enough to get by with.
Cruikshank is another special-teams weapon who might be developed into a starter at safety. Parris brings more depth on the offensive line. Lindsay is a great value in the seventh and could end up a factor on an offense that doesn't have much depth at running back.
Miami Dolphins
1
11
Tremaine Edmunds, LB, Virginia Tech
2
42
Taven Bryan, DT, Florida
2
60
Mike Gesicki, TE, Penn State
from PIT
3
73
Traded to Pittsburgh
4
123
Traded to Pittsburgh
from CLE/CAR
4
131
Luke Falk, QB, Washington State
from PHI/NE
6
209
Darrel Williams, RB, LSU
from LAR/KC
7
227
Javon Wims, WR, Georgia
from SF
7
229
Sean Welsh, G/C, Iowa
The Dolphins would surely love to land a Baker Mayfield or Josh Rosen, but in this mock the to p QBs go 1-2-3-4. So they pivot to taking the ultra-athletic Edmunds, who has the upside to be one of the best linebackers in the game. He'll slot in next to Raekwon McMillian as the team's top linebackers, and the Dolphins could look to trade Kiko Alonso for help at other positions or a late pick.
In the second round, the Dolphins snatch up a potential first-round talent in Bryan, who should take over for Ndamukong Suh as a starter from Day 1. Rather than wait and hope Gesicki gets to them in the third round, Miami trades No. 73 and No. 123 to move into the end of the second round and get him. Gesicki, like Edmunds, is insane athletically, and he should be an immediate force in the passing game.
Falk isn't likely to prove a worthy starter at quarterback, but he should be a better No. 2 option long-term than Brock Osweiler. Williams and Wims provide depth at skill positions on offense, while Welsh could back up all three spots on the interior of the offensive line.
Minnesota Vikings
1
30
Frank Ragnow, G/C, Arkansas
2
62
Uchenna Nwosu, OLB, USC
3
94
Dante Pettis, WR, Washington
5
157

Alex Cappa

OT, Humboldt State
from NYJ/DAL
5
167
Traded to New York Jets
6
187
Davontae Harris, CB, Illinois State
from BUF/CIN
6
204
Traded to Buffalo
6
213
Ike Boettger, G, Iowa
Compensatory
6
218
Traded to Buffalo
Compensatory
7
225
Traded to New York Jets
from DEN
The Vikings mak e bolstering the offensive line the key focus of this draft, starting with Ragnow. He should start immediately at center or guard, and while this pick could be perceived as a bit of a reach, he could quickly emerge as a leader on the offensive line.
Nwosu is Anthony Barr insurance in case a long-term deal can't be worked out, and he'll immediately serve as quality depth for a linebacker group that has a strong starting unit but not much behind them. Pettis could wind up being a steal late in the third round as a Week 1 punt returner who could be a worthy slot receiver by next season.
The Vikings trade their seventh-rounder to move up in the fifth and grab Cappa, an intriguing small-school prospect who could compete to start at right tackle or kick inside to guard. Minnesota then trades up again, sacrificing No. 218 to move up 17 spots for Harris, a defensive back with great size who could develop into a starter at cornerback or safety. With their last pick, the Vikings add even more depth on the offensive line.
New England Patriots
1
18
Marcus Davenport, DE, UTSA
from SEA
1
23
Traded to Seattle
from LAR
1
31
Kolton Miller, OT, UCLA
2
43
Traded to Dallas
from SF
2
50
Lorenzo Carter, OLB, Georgia
from DAL
2
63
Kyle Lauletta, QB, Richmond
3
95
Traded to Seattle
4
116
Duke Ejiofor, DE, Wake Forest
from DAL
6
175
Akrum Wadley, RB, Iowa
from CLE
6
198
Traded to Cleveland
from LAR
6
210
Traded to Cleveland
from OAK
7
219
Siran Neal, CB, Jacksonville State
from CLE
After trading Brandin Cooks to land the No. 23 pick, the Patriots package that selection with No. 95 to get ahead of the Lions and nab Marcus Davenport, the second-best pass-rusher in this draft. He could rotate with Trey Flowers and Adrian Clayborn initially as he gets acclimated to the NFL, giving the Patriots a massively upgraded pass rush for 2018. With their other first-rounder, the Patriots grab a replacement for Nate Solder at left tackle in Miller.
With No. 95 gone in the deal to move up for Davenport, the Patriots trade back in the second round and pick up a fourth-rounder so they aren't shut out of Rounds 3-5. After the move, they pick up Carter to improve their talent at linebacker. At the end of the second round, Lauletta should be the perfect QB to come in and mold into Tom Brady's backup.
With the added fourth-rounder, the Patriots land more defensive line help in Ejiofor, making the defensive front seven a priority in this draft. The Patriots then swing another deal to move up in the sixth round for Wadley, an undersized back who should be a weapon as a receiver. Neal is a dart throw at cornerback who might end up sticking at safety.
New Orleans Saints
1
27
Will Hernandez, G, UTEP
3
83
Ian Thomas, TE, Indiana
from BAL
3
91
Traded to Baltimore
4
127
Deadrin Senat, DT, South Florida
5
139
Jalyn Holmes, DE, Ohio State
from NYG
5
147
Traded to N.Y. Giants
from MIA
5
164
Traded to Baltimore
6
189
Joel Iyiegbuniwe, LB, Western Kentucky
from ARI
6
201
Traded to N.Y. Giants
7
245
Greg Senat, OT, Wagner
Guard is hardly the biggest need for the Saints , but they did have Hernandez in for a private workout, and he should be a starter in the NFL for a long time. Hernandez provides insurance with Andrus Peat recovering from ankle surgery, and he should definitely have a starting spot locked up by 2019.
The Saints get tired of waiting on Day 2, giving No. 164 to Baltimore to move up eight spots for Thomas, an underrated tight end in this class behind the top three names. He should be a well-rounded player with the ability to grow as a blocker. The fourth round brings the first of two Senats for the Saints, with Deadrin improving the depth on the defensive line.
The team wants to address their defensive end rotation, and here they do it with Holmes in Round 5. He could grow into a quality rotational piece. Iyiegbuniwe helps at a position that doesn't have quality depth, and he can be a factor on special teams right away. Greg Senat will try and develop into a swing tackle.
New York Giants
1
2
Sam Darnold, QB, USC 
2
34
Traded to Buffalo
2
56
Sony Michel, RB, Georgia
from BUF/LAR
3
65
Orlando Brown, OT, Oklahoma
from BUF/CLE
3
66
Kemoko Turay, OLB, Rutgers
3
69
Duke Dawson, CB, Florida
from TB
4
108
Tony Adams, G/C, NC State
from TB
5
139
Traded to New Orleans
5
147
Kylie Fitts, DE/LB, Utah
from NO/MIA
6
201
Justin Jones, DE, NC State
from NO
The Giants land their quarterback at No. 2 with Darn old, who will be prepped to take over for Eli Manning in 2019. Considered the most pro-ready QB prospect in the draft by many, Darnold could also take the field in the second half of his rookie year if the Giants are going nowhere.
With the rebuild on, the Giants trade down from No. 34 to pick up two important selections, using the first on a new feature back in Michel. He's not Saquon Barkley, but he's a nice value outside the top 50. Now with three picks at the top of the third round, the Giants grab a right tackle in Brown, a 3-4 rush linebacker in Turay and a capable slot cornerback in Dawson.
In the fourth round, the Giants pick up an interior lineman who can battle for a starting spot with a strong showing in camp. The team then turns its remaining pick into two by trading down again. The Giants then draft another rush linebacker to improve depth in their new scheme, and a 3-4 end to also add to the team's depth.
New York Jets
1
3
Josh Rosen, QB, UCLA
from IND
3
72
Equanimeous St. Brown, WR, Notre Dame
4
107
Durham Smythe, TE, Notre Dame
5
157
Traded to Minnesota
from DAL
5
167
Leon Jacobs, OLB, Wisconsin
from MIN
6
179
Bilal Nichols, DE, Delaware
7
225
Chase Edmonds, RB, Fordham
from MIN/DEN
7
235
Marquez Valdes-Scantling, WR, South Florida
from SEA
The Jets start by landing their franchise QB, and my guess is that they'll opt for Rosen over Baker Mayfield. The types of "red flags" he's had to deal with during the draft process reek of teams trying to push him down so they can draft him. The three inches he has on Mayfield are about the margin with which I have Rosen as the No. 3 pick.
The Jets paid a big price to get to No. 3, and that means waiting until No. 72 to take St. Brown, a tall receiving weapon to help the team's depth chart at receiver. Next up is Smythe, who will help blocking as an inline tight end and is a solid pass catcher.
Before picking in the fifth round, the Jets trade back to add another seventh-round pick, They then take Jacobs, who will look to develop into a rotational edge rusher, and Nichols, who could help replace Muhammad Wilkerson. In the seventh, the team adds a couple more skill-position depth pieces in Edmonds, an excellent FCS runner who dealt with leg issues last year, and Valdes-Scantling, who has the height and speed to dominate if he's coached properly.
Oakland Raiders
1
10
Roquan Smith, WLB, Georgia
2
41
James Washington, WR, Oklahoma State
3
75
Tim Settle, NT, Virginia Tech
4
110
Chad Thomas, DE, Miami
5
146
Jaryd Jones-Smith, OT, Pittsburgh
from SEA/OAK
5
159
Traded to Seattle
from NE/CLE/KC
5
173
Bo Scarbrough, RB, Alabama
Compensatory
6
185
JK Scott, P, Alabama
6
212
Traded to Seattle
Compensatory
6
216
Allen Lazard, WR, Iowa State
Compensatory
6
217 [19659019]Eddy Pineiro, K, Florida
Compensatory
7
228
Kahlil McKenzie, DT, Tennessee
The Raiders have a ton of picks to give Jon Gruden the players he wants, and taking the draft's premier linebacker at No. 10 would give a huge boost to the defense. Smith gives defensive coordinator Paul Guenther his Vontaze Burfict, minus the character issues.
Washington gives the offense some depth behind their top two receivers and also serves as Jordy Nelson insurance. Settle is a massive force on the defensive line and would be a great value in the third round. Thomas has the tools to succeed, and he could develop into a key member of the pass-rush rotation.
The Raiders trade up in the fifth to land Jones-Smith, who could wind up taking over as starter at right tackle with the right development. The team grabs a couple cheap options for special teams in Scott and Pineiro, and a potential red-zone weapon in Lazard, in the sixth. With their final pick, the Raiders grab Reggie McKenzie's son to compete for a roster spot.
Philadelphia Eagles
1
32
Isaiah Oliver, CB, Colorado
4
130
P.J. Hall, DT, Sam Houston State
from MIN
4
132
Jaylen Samuels, TE, NC State
5
169
Tarvarus McFadden, CB, Florida State
6
206
Justin Watson, WR, Penn
7
250
Justin Jackson, RB, Northwestern
from SEA/NE/PHI
I wouldn't be shocked if the Eagles trade down from No. 32 (maybe with Buffalo?), but after the team quickly moved on from Daryl Worley and his off-field issues, cornerback could be a great position to target with the talent expected to be available in the late-first, early-second range. Oliver gives the team long-term insurance in case Ronald Darby isn't re-signed, and he has the upside to be one of the league's top corners.
Without the tradedown, the Eagles sit and wait until the end of the fourth round to pick up Hall, an incredible FCS defensive lineman who could develop into a much cheaper starting option than Timmy Jernigan down the line. Samuels is an intriguing chess piece for Doug Pederson to move around the formation.
McFadden adds more depth at corner, and he might benefit from some development on the practice squad. Watson is another practice-squad player who could develop into something more with the right coaching. Jackson is a wild card who can compete for the No. 3 role at running back.
Pittsburgh Steelers
1
26
Rashaan Evans, ILB, Alabama
from ATL
1
28
Traded to Atlanta
2
60
Traded to Miami
3
73
Derrick Nnadi, DE/DT, Florida State
from MIA
3
92
M.J. Stewart, CB, North Carolina
4
123
Armani Watts, S, Texas A&M
from MIA/CLE/CAR
5
148
Traded to Atlanta
from SF
5
165
Marcus Allen, SS, Penn State
7
220
Trevon Young, OLB, Louisville
from NYG
7
246
Richie James, WR, Middle Tennessee State
If Evans makes it to No. 27, the Steelers will have to worry about the Saints swiping him. It's worth giving up a fifth-round pick to jump a couple spots and land the much-needed inside linebacker.
In the second, they make up for sacrificing one pick and trading back 13 spots before taking Nnadi, a sack machine in college who can compete for snaps on the defensive line. Stewart is a versatile defensive back who should quickly develop into a starter somewhere.
The Steelers keep attacking the defense on Day 3, picking up two safety prospects in Watts and Allen for depth and special teams potential. Watts could end up developing into the best option at free safety. Young provides some depth at rush linebacker. The team's first and only offensive pick ends up being James, a small slot option who could be dangerous with the ball in space.
San Francisco 49ers
1
9
Minkah Fitzpatrick, FS/CB, Alabama
2
59
Jerome Baker, OLB, Ohio State
from NO
3
70
Harrison Phillips, DT, Stanford
from CHI
3
74
Martinas Rankin, G/C, Mississippi State
4
128
DaeSean Hamilton, WR, Penn State
from PIT
5
143
Dorian O'Daniel, ILB, Clemson
from NYJ
6
184
Tony Brown, CB, Alabama
7
223
Troy Fumagalli, TE, Wisconsin
from MIA/TB
7
240
Tre Flowers, FS, Oklahoma State
from KC
The 49ers are a rare team that doesn't make a trade in my mock. In the first round they snap up Fitzpatrick, a slot corner/free safety who can move around the defensive formation and have success in a fluid role if the team wants to use him creatively.
Baker addresses an area of need at linebacker and should start immediately. Phillips is a great value in the third round who could get a lot of snaps early. Rankin helps boost the team's talent at guard. Hamilton adds depth at receiver and could develop into a quality secondary option in the passing game.
O'Daniel will help the team move on from Reuben Foster if it chooses to give up on the recent first-round pick. Otherwise, he makes for nice insurance. Brown in a fast corner who should excel on special teams and could be a key piece in the secondary eventually. Fumagalli and Flowers are solid players who could stick in camp.
Seattle Seahawks
1
18
Traded to New England
1
23
Traded to Cleveland
from NE/LAR
2
35
Carlton Davis, CB, Auburn
from CLE/HOU
2
64
Kerryon Johnson, RB, Auburn
from CLE/PHI
3
95
Joseph Noteboom, OT, TCU
from NE
4
120
Tyquan Lewis, DE/DT, Ohio State
5
141
Terrell Edmunds, FS, Virginia Tech
from HOU
5
146
Traded to Oakland
from OAK
5
156
Colby Gossett, G, Appalachian State
from PHI/SEA
5
159
Poona Ford, DT, Texas
from OAK/NE/CLE/KC
5
168[19659045]Traded to Cleveland
from NE
6
212
Dylan Cantrell, WR, Texas Tech
from OAK
7
226
Will Dissly, TE, Washington
from NYJ
7
248
Natrell Jamerson, SS, Wisconsin
from MIN
The Seahawks get busy in Round 1, first trading No. 18 to the Patriots for No. 23 and No. 95, then shipping No. 23 to the Browns along with No. 168 for No. 35 and No. 64. That gives the Seahawks three picks on Day 2, and they use the first on a cornerback in Davis who should be a great scheme fit. Johnson gives the team a legitimate feature back to take pressure off Russell Wilson.
Noteboom has the chance to start right away for a team that needs an upgrade at right tackle. Lewis could try to be a Michael Bennett-lite for the Seahawks, playing end on early downs before kicking inside. Edmunds would be a great value in the fifth, and he could be developed into Earl Thomas's successor.
The Seahawks trade down with their next pick, then use their two remaining fifth-rounders on depth for both lines. Cantrell gives the team more depth at receiver after losing Paul Richardson. Dissly can contribute as a blocker and provide depth at tight end. Jamerson should be a nice special-teams player who will try to develop into a capable NFL safety.
Tampa Bay Buccaneers
1
7
Derwin James, SS, Florida State
2
38
Connor Williams, OT, Texas
4
102
Nick Chubb, RB, Georgia
from NYG
5
144
Avonte Maddox, CB, Pittsburgh
6
180
Trenton Thompson, DT, Georgia
6
202
Dimitri Flowers, FB, Oklahoma
from PIT
7
255
Justin Lawler, DE, SMU
Compensatory
James gives the Bucs defense a fantastic talent to build around in the secondary, and he'll be the impact player at strong safety they didn't get in the failed T.J. Ward addition. The scary thing is that he still has room to grow into a better player.
Williams gives the team Demar Dotson insurance, but if he reaches his potential, he could easily wind up usurping Donovan Smith as Jameis Winston's blind-side blocker. At worst, he can kick inside and be a capable guard. Chubb gives the team much-needed talent at running back.
Maddox is small but fast with plus intangibles. Thompson boosts the defensive line rotation, which should have excellent depth inside. Flowers can serve as insurance for Alan Cross, who underwent sports hernia surgery this offseason. Lawler adds more depth at defensive end.
Tennessee Titans
1
25
Josh Sweat, OLB, Florida State
2
57
Malik Jefferson, ILB, Texas
3
89
Andrew Brown, DE, Virginia
4
125
Wyatt Teller, G, Virginia Tech
5
162
Traded to Dallas
5
171
Tre'Quan Smith, WR, UCF
from DAL
6
199
Ito Smith, RB, Southern Miss
7
236
Stephen Roberts, SS, Auburn
from DAL
The Titans start by taking a late riser in the draft process in Sweat, who will get a year to grow into a more-complete outside linebacker before taking over a starting job in 2019. Jefferson adds talent at inside linebacker after the loss of Avery Williamson. He could also emerge as a starter down the road.
Brown improves depth on the defensive line and could be vicious as a pass-rusher in nickel formations. Teller continues the team's emphasis on competition at guard this offseason, joining Quinton Spain, Xavier Su'a-Filo and Kevin Pamphile in the race to start.
After trading back in the fifth round to pick up a seven-round selection, the Titans land a nice value in Tre'Quan Smith who can compete for a reserve receiver role. Ito Smith becomes the leader for the RB3 role in camp, and he could do some damage as a pass-catcher if Dion Lewis can't stay healthy. Roberts can compete for a roster spot as a special-teams ace and backup safety.
Washington Redskins
1
13
Vita Vea, NT, Washington
2
44
Ronald Jones II, RB, USC
4
109
Mason Cole, G/C, Michigan
from DEN/SF
4
136

Desmond Harrison

OT, West Georgia
from LAR/NE
5
142
Traded to L.A. Rams
from DEN
5
163
Kameron Kelly, CB, San Diego State
from DEN/ATL
6
205
Quin Blanding, SS, Virginia
from CLE/NE
7
231
Traded to L.A. Rams
7
241
Cedrick Wilson, WR, Boise State
from LAR
Washington starts by landing a premier run-stuffer in Vea, and he's shown enough as a pass-rusher that he has the potential to be a three-down playe r if coached up. No. 13 might be a little high for that type of player, but he has the chance to be special and should be a good fit in Washington.
Jones comes in to form a nice tandem with Chris Thompson, as neither are good bets to handle a massive amount of touches but both should wow with lesser workloads. Cole and Harrison bring much-needed depth to the offensive line, with Cole having a great chance to start early and Harrison serving as important depth behind two recovering tackles. The Rams end up trading a seven-rounder to move up for Harrison on Day 3. 
Kelly could try and land a key role as a corner or end up being a long-term starter at safety. Blanding brings depth at safety as well. Wilson brings depth at receiver and could grow into an eventual role in three wide sets if coached up.
Entire mock draft
1
CLE
Josh Allen, QB, Wyoming
2
NYG
Sam Darnold, QB, USC 
3
NYJ (f/IND)
Josh Rosen, QB, UCLA
4
BUF (f/CLE)*
Baker Mayfield, QB, Oklahoma 
5
DEN
Bradley Chubb, DE, NC State
6
IND (f/NYJ)
Saquon Barkley, RB, Penn State
7
TB
Derwin James, SS, Florida State
8
CHI
Quenton Nelson, G, Notre Dame
9
SF
Minkah Fitzpatrick, FS/CB, Alabama
10
OAK
Roquan Smith, WLB, Georgia
11
MIA
Tremaine Edmunds, LB, Virginia Tech
12
CLE (f/BUF)*
Mike McGlinchey, OT, Notre Dame
13
WAS
Vita Vea, NT, Washington
14
GB[19660215]Denzel Ward, CB, Ohio State
15
ARI
Lamar Jackson, QB, Louisville
16
BAL
Mason Rudolph, QB, Oklahoma State
17
LAC
Da'Ron Payne, DT, Alabama
18
NE (f/SEA)*
Marcus Davenport, DE, UTSA
19
DAL
Leighton Vander Esch, ILB, Boise St.
20
DET
Derrius Guice, RB, LSU
21
CIN (f/BUF)
Josh Jackson, CB, Iowa
22
BUF (f/KC)
Isaiah Wynn, G, Georgia
23
CLE (f/SEA)*
Harold Landry, DE, Boston College
24
CAR
Jaire Alexander, CB, Louisville
25
TEN
Josh Sweat, DE, Florida State
26
PIT (f/ATL)*
Rashaan Evans, ILB, Alabama
27
NO
Will Hernandez, G, UTEP
28
ATL (f/PIT)*
Calvin Ridley, WR, Alabama
29
JAC
Courtla nd S utton, WR, SMU
30
MIN
Frank Ragnow, G/C, Arkansas
31
NE
Kolton Miller, OT, UCLA
32
PHI
Isaiah Oliver, CB, Colorado
33
CLE
Maurice Hurst, DT, Michigan
34
BUF (f/NYG)*
D.J. Moore, WR, Maryland
35
SEA (f/CLE)*
Carlton Davis, CB, Auburn
36
IND
Mike Hughes, CB, UCF
37
IND (f/NYJ)
Billy Price, G/C, Ohio State
38
TB
Connor Williams, OT, Texas
39
CAR (f/CHI)*
Justin Reid, FS, Stanford
40
DEN
Austin Corbett, G/C, Nevada
41
OAK
James Washington, WR, Oklahoma State
42
MIA
Taven Bryan, DT, Florida
43
DAL (f/NE)*
James Daniels, G/C, Iowa
44
WAS
Ronald Jones II, RB, USC
45
GB
Sam Hubbard, DE/LB, Ohio State
46
CIN
Jamarco Jones, OT, Ohio State
47
ARI
Donte Jackson, CB, LSU
48
LAC
Jessie Bates, FS, Wake Forest
49
IND (f/SEA)
Christian Kirk, WR, Texas A&M
50[19660215]NE (f/DAL)*
Lorenzo Carter, OLB, Georgia
51
DET
Dallas Goedert, TE, South Dakota State
52
BAL
Hayden Hurst, TE, South Carolina
53
BUF
Darius Leonard, LB, South Carolina State
54
KC
Tyrell Crosby, OT/G, Oregon
55
CHI (f/CAR)*
Arden Key, DE/LB, LSU
56
NYG (f/BUF)*
Sony Michel, RB, Georgia
57
TEN
Malik Jefferson, ILB, Texas
58
ATL
Braden Smith, G, Auburn
59
SF (f/NO)
Jerome Baker, OLB, Ohio State
60
MIA (f/PIT)*
Mike Gesicki, TE, Penn State
61
JAC
Ronnie Harrison, SS, Alabama
62
MIN
Uchenna Nwosu, DE/LB, USC
63
NE
Kyle Lauletta, QB, Richmond
64
SEA (f/CLE)*
Kerryon Johnson, RB, Auburn
[19660215]
65
NYG (f/BUF)*
Orlando Brown, OT, Oklahoma
66
NYG
Kemoko Turay, OLB, Rutgers
67
IND
Rasheem Green, DE/DT, USC
68
HOU
Chukwuma Okorafor, OT, Western Michigan
69
NYG (f/TB)
Duke Dawson, CB, Florida
70
SF (f/CHI)
Harrison Phillips, DT, Stanford
71
DEN
D.J. Chark, WR, LSU
72
NYJ
Equanimeous St. Brown, WR, Notre Dame
73
PIT (f/MIA)*
Derrick Nnadi, DE/DT, Florida State
74
SF
Martinas Rankin, G/C, Mississippi State
75
OAK
Tim Settle, NT, Virginia Tech
76
GB
Anthony Miller, WR, Memphis
77
CIN
Fred Warner, LB, BYU
78
KC (f/WAS)
Anthony Averett, CB, Alabama
79
ARI
Brian O'Neill, OT, Pittsburgh
80
HOU (f/SEA)
Nathan Shepherd, DE/DT, Fort Hays St
81
DAL
Michael Gallup, WR, Colorado State
82
LAR (f/DET)*
Ogbonnia Okoronkwo, OLB, Oklahoma
83
NO (f/BAL)*
Ian Thomas, TE, Indiana
84
LAC
Will Richardson, OT, NC State
85
CHI (f/CAR)*
Geron Christian, OT, Louisville
86[1 9459104]KC
Dorance Armstrong, DE/LB, Kansas
87
DET (f/LAR)*
Josey Jewell, LB, Iowa
88
CAR
Rashaad Penny, RB, San Diego State
89
TEN
Andrew Brown, DE/DT, Virginia
90
ATL
Da'Shawn Hand, DE/DT, Alabama
91
BAL (f/NO)*
Deon Cain, WR, Clemson
92
PIT
M.J. Stewart, CB, North Carolina
93
GB (f/JAC)*
Foley Fatukasi, DE/DT, UConn
94
MIN
Dante Pettis, WR, Washington
95
SEA (f/NE)*
Joseph Noteboom, OT, TCU
96
CLE (f/BUF)*
Genard Avery, LB, Memphis
97
ARI
Daurice Fountain, WR, Northern Iowa
98
HOU
Parry Nickerson, CB, Tulane
99
DEN
Isaac Yiadom, CB, Boston College
100
CIN
Jeff Holland, DE, Auburn
101
JAC (f/GB)*
Mark Andrews, TE, Oklahoma
102
TB (f/NYG)
Nick Chubb, RB, Georgia
103
HOU
Dalton Schultz, TE, Stanford
104
IND
Brandon Parker, OT, North Carolina A&T
105
CHI
Shaquem Griffin, LB, UCF
106
DEN
Royce Freeman, RB, Oregon
107
NYJ
Durham Smythe, TE, Notre Dame
108
NYG (f/TB)
Tony Adams, G/C, NC State
109
WAS (f/DEN)
Mason Cole, G/C, Michigan
110
OAK
Chad Thomas, DE, Miami
111
LAR (f/MIA)
Micah Kiser, LB, Virginia
112
CIN
John Kelly, RB, Tennessee
113
DEN (f/WAS)
Marquis Haynes, OLB, Ole Miss
114
CLE (f/GB)
Rashaan Gaulden, CB, Tennessee
115
CHI (f/ARI)
Breeland Speaks, DE/DT, Ole Miss
116
NE (f/DAL)*
Duke Ejiofor, DE, Wake Forest
117
DET
Mike White, QB, Western Kentucky
118
BAL
Michael Dickson, P, Texas
119
LAC
Nyheim Hines, RB, NC State
120
SEA
Tyquan Lewis, DE/DT, Ohio State
121
BUF
Auden Tate , WR, Florida State
122
KC
Christian Sam, LB, Arizona State
123
PIT (f/MIA)*
Armani Watts, S, Texas A&M
124
GB (f/KC)*
Jack Cichy, LB, Wisconsin
125
TEN
Wyatt Teller, G, Virginia Tech
126
ATL
B.J. Hill, DT, NC State
127
NO
Deadrin Senat, DT, South Florida
128
SF (f/PIT)
DaeSean Hamilton, WR, Penn State
129
JAC
Kenny Young, LB, UCLA
130
PHI (f/MIN)
P.J. Hall, DE/DT, Sam Houston State
131
MIA (f/PHI)
Luke Falk, QB, Washington State
132
PHI
Jaylen Samuels, TE, NC State
133
KC (f/GB)*
Antonio Callaway, WR, Florida
134
ARI
Andre Smith, ILB, North Carolina
135
LAR (f/NYG)
Quenton Meeks, CB, Stanford
136
WAS (f/LAR)*
Desmond Harrison, OT, West Georgia
137
DAL
DeShon Elliott, SS, Texas
138
GB (f/CLE)
Jamil Demby, G, Maine
139
NO (f/NYG)*
Jalyn Holmes, DE, Ohio State
140
IND
Holton Hill, CB, Texas
141
SEA (f/HOU)
Terrell Edmunds, FS, Virginia Tech
142
LAR (f/WAS)*
Scott Quessenberry, G/C, UCLA
143
SF (f/NYJ)
Dorian O'Daniel, ILB, Clems on[1 9660280]144
TB
Avonte Maddox, CB, Pittsburgh
145
CHI
Tarvarius Moore, FS, Southern Miss 
146
OAK (f/SEA)*
Jaryd Jones-Smith, OT, Pittsburgh
147
NYG (f/NO)*
Kylie Fitts, DE/LB, Utah
148
ATL (f/PIT)*
Kevin Toliver, CB, LSU
149
DEN (f/WAS)
Chris Herndon, TE, Miami
150
CLE (f/GB)
Nick Nelson, CB, Wisconsin
151
CIN
Marcell Ateman, WR, Oklahoma State
152
ARI
Godwin Igwebuike, SS, Northwestern
153
DET
Hercules Mata'afa, DE, Washington State
154
BAL
Ade Aruna, DE, Tulane
155
LAC
Tegray Scales, LB, Indiana
156
SEA (f/PHI)
Colby Gossett, G, Appalachian State
157
MIN (f/NYJ)*
Alex Cappa, OT, Humboldt State
158[19660189]CIN ( f/BUF)
Kyzir White, SS, West Virginia
159
SEA (f/OAK)*
Poona Ford, DT, Texas
160
HOU (f/DEN)*
Jordan Whitehead, FS, Pittsburgh
161
CAR
Keke Coutee, WR, Texas Tech
162
DAL (f/TEN)*
Cole Madison, G, Washington State
163
WAS (f/DEN)
Kameron Kelly, CB, San Diego State
164
BAL (f/NO)*
Tracy Walker, FS, Louisiana-Lafayette
165
PIT
Marcus Allen, SS, Penn State
166
BUF (f/JAC)
Kalen Ballage, RB, Arizona State
167
NYJ (f/MIN)*
Leon Jacobs, OLB, Wisconsin
168
CLE (f/SEA)*
Mark Walton, RB, Miami
169
PHI
Tarvarus McFadden, CB, Florida State
170
CIN
Matt Pryor, OT/G, TCU
171
TEN (f/DAL)*
Tre'Quan Smith, WR, UCF
172[19660189]JAC (f/GB)*[19660215]Toby Weathersby, G, LSU
173
OAK (f/DAL)
Bo Scarbrough, RB, Alabama
174
GB
J'Mon Moore, WR, Missouri
175
NE (f/CLE)*
Akrum Wadley, RB, Iowa
176
LAR (f/NYG)
Joe Ostman, OLB, Central Michigan
177
DEN (f/HOU)*
Oren Burks, LB, Vanderbilt
178
BAL (f/IND)*
Bradley Bozeman, C, Alabama
179
NYJ
Bilal Nichols, DE, Delaware
180
TB
Trenton Thompson, DT, Georgia
181
CHI
J.C. Jackson, CB, Maryland
182
ARI (f/DEN)
Daniel Carlson, K, Auburn
183
DET (f/LAR)*
Tyler Conklin, TE, Central Michigan
184
SF
Tony Brown, CB, Alabama
185
OAK
JK Scott, P, Alabama
186
GB
D.J. Reed, CB, Kansas State
187
MIN (f/BUF)*
Davontae Harris, CB, Illinois State
188
CLE (f/WAS)
Jaleel Scott, WR, New Mexico State
189
NO (f/ARI)
Joel Iyiegbuniwe, LB, Western Kentucky
190
IND (f/BAL)*
Deontay Burnett, WR, USC
191
LAC
Matthew Thomas, LB, Florida State
192
DAL (f/OAK)
Trey Quinn, WR, SMU
193
DAL
R.J. McIntosh, DE/DT, Miami
194
LAR (f/DET)
Dane Cruikshank, DB, Arizona
195
LAR (f/BUF)
Timon Parris, OT/G, Stony Brook
196
KC
Skyler Phillips, G/C, Idaho State
197
CAR
Marcell Frazier, DE, Missouri
198
CLE (f/NE)*
Jullian Taylor, DT, Temple
199
TEN
Ito Smith, RB, Southern Miss
200
ATL
Kurt Benkert, QB, Virginia
201
NYG (f/NO)*
Justin Jones, DE, NC State
202
TB (f/PIT)
Dimitri Flowers, FB, Oklahoma
203
JAC
Kentavius Street, DE/DT, NC State
204
BUF (f/MIN)*
Chris Campbell, CB, Penn State
205
WAS (f/CLE)
Quin Blanding, SS, Virginia
206
PHI
Justin Watson, WR, Penn
207
KC (f/GB)*
Troy Apke, FS, Penn State
208[19660215]DAL
Darius Phillips, CB, Western Michigan
209
MIA (f/LAR)
Darrel Williams, RB, LSU
210
CLE (f/NE)*
Joshua Kalu, SS, Nebraska
211
DEN (f/HOU)*
Jester Weah, WR, Pittsburgh
212
SEA (f/OAK)*
Dylan Cantrell, WR, Texas Tech
213
MIN
Ike Boettger, G, Iowa
214
HOU
Kendrick Norton, NT, Miami
215
BAL
Shaun Dion Hamilton, LB, Alabama
216
OAK
Allen Lazard, WR, Iowa State
217
OAK
Eddy Pineiro, K, Florida
218
BUF (f/MIN)*
Jason Cabinda, LB, Penn State
219
NE (f/CLE)
Siran Neal, CB, Jacksonville State
220
PIT (f/NYG)
Trevon Young, OLB, Louisville
221
IND
Skai Moore, LB, South Carolina
222
HOU
John Franklin-Myers, DE, Stephen F. Austin
223
SF (f/MIA)
Troy Fumagalli, TE, Wisconsin
224
CHI
Simmie Cobbs Jr., WR, Indiana
225
NYJ (f/MIN)*
Chase Edmonds, RB, Fordham
226
SEA (f/NYJ)
Will Dissly, TE, Washington
227
MIA (f/SF)
Javon Wims, WR, Georgia
228
OAK
Kahlil McKenzie, DT, Tennessee
229
MIA
Sean Welsh, G/C, Iowa
230
JAC (f/CIN)
Levi Wallace, CB, Alabama
231
LAR (f/WAS)*
Phillip Lindsay, RB, Colorado
232
GB
Dejon Allen, C, Hawaii
233
KC (f/ARI)
Jordan Lasley, WR, UCLA
234
CAR (f/BUF)
Taylor Hearn, G, Clemson
235
NYJ (f/SEA)
Marquez Valdes-Scantling, WR, South Florida
236
TEN (f/DA L )*
Stephen Roberts, SS, Auburn
237
DET
Korey Robertson, WR, Southern Miss
238
IND (f/BAL)*
Mike Love, DE, South Florida
239
KC (f/GB)*
Michael Joseph, CB, Dubuque
240
SF (f/KC)
Tre Flowers, FS, Oklahoma State
241
WAS (f/LAR)
Cedrick Wilson, WR, Boise State
242
CAR
Ryan Izzo, TE, Florida State
243
KC (f/TEN)
Jordan Akins, TE, UCF
244
ATL
Nick Bawden, FB, San Diego State
245
NO
Greg Senat, OT, Wagner
246
PIT
Richie James, WR, Middle Tennessee State
247
JAC
Riley Ferguson, QB, Memphis
248
SEA (f/MIN)
Natrell Jamerson, SS, Wisconsin
249
CIN (f/NE)
Mike McCray, LB, Michigan
250
PHI (f/SEA)
Justin Jackson, RB, N orthwestern
251
LAC
Aaron Evans, G, UCF
252
CIN
John Atkins, DT, Georgia
253
CIN
Arrion Springs, CB, Oregon
254
ARI
Brendan Mahon, G, Penn State
255
TB
Justin Lawler, DE, SMU
256
ATL
Grant Haley, CB, Penn State
*Indicates mock trade
Mock trades
BUF
No. 4 (QB Mayfield)
CLE
No. 12, 96, 2019 first
NE
No. 18 (DE Davenport)
SEA
No. 23, 95
CLE
No. 23 (DE Landry), 168
SEA
No. 35, 64
PIT
No. 26 (LB Evans)
ATL
No. 28, 148
BUF
No. 34 (WR Moore)
NYG
No. 56, 65
CAR
No. 39 (FS Reid)
CHI
No. 55, 85
DAL
No. 43 (G Daniels)
NE
No. 50, 116
MIA
No. 60 (TE Gesicki)
PIT
No. 73, 123
LAR
No. 82 (OLB Okoronkwo)
DET
No. 87, 183
NO
No. 83 (TE Thomas)
BAL
No. 91, 164
GB
No. 93 (DE Fatukasi)
JAC
No. 101, 172
GB
No. 124 (LB Cichy)
KC
No. 133, 207, 239
WAS
No. 136 (OT Harrison)
LAR
No. 142, 231
NO
No. 139 (DE Holmes)
NYG
No. 147, 201
OAK
No. 146 (OT Jones-Smith)
SEA
No. 159, 212
MIN
No. 157 (OT Cappa)
NYJ
No. 167, 225
HOU
No. 160 (FS Whitehead)
DEN
No. 177, 211
DAL
No. 162 (G Madison)
TEN
No. 171, 236
NE
No. 175 (RB Wadley)
CLE
No. 198, 210
BAL
No. 178 (C Bozeman)
IND
No. 190, 238
MIN
No. 187 (CB D.Harris)
BUF
No. 204, 218
require.config({"baseUrl":"https://sportsfly.cbsistatic.com/fly-824/bundles/sportsmediajs/js-build","config":{"version":{"fly/components/accordion":"1.0","fly/components/alert":"1.0","fly/components/base":"1.0","fly/components/carousel":"1.0","fly/components/dropdown":"1.0","fly/components/fixate":"1.0","fly/components/form-validate":"1.0","fly/components/image-gallery":"1.0","fly/components/iframe-messenger":"1.0","fly/components/load-more":"1.0","fly/components/load-more-article":"1.0","fly/components/load-more-scroll":"1.0","fly/components/loading":"1.0","fly/components/marketing-slider":"1.0","fly/components/modal":"1.0","fly/components/modal-iframe":"1.0","fly/components/network-bar":"1.0","fly/components/poll":"1.0","fly/components/search-player":"1.0","fly/components/social-button":"1.0","fly/components/social-counts":"1.0","fly/components/social-links":"1.0","fly/components/tabs":"1.0","fly/components/video ":"1.0","fly/libs/easy-xdm":"2.4.17.1","fly/libs/jquery.cookie":"1.2","fly/libs/jquery.throttle-debounce":"1.1","fly/libs/jquery.widget":"1.9.2","fly/libs/omniture.s-code":"1.0","fly/utils/jquery-mobile-init":"1.0","fly/libs/jquery.mobile":"1.3.2","fly/libs/backbone":"1.0.0","fly/libs/underscore":"1.5.1","fly/libs/jquery.easing":"1.3","fly/managers/ad":"2.0","fly/managers/components":"1.0","fly/managers/cookie":"1.0","fly/managers/debug":"1.0","fly/managers/geo":"1.0","fly/managers/gpt":"4.2","fly/managers/history":"2.0","fly/managers/madison":"1.0","fly/managers/social-authentication":"1.0","fly/managers/tealium":"1.0","fly/utils/data-prefix":"1.0","fly/utils/data-selector":"1.0","fly/utils/function-natives":"1.0","fly/utils/guid":"1.0","fly/utils/log":"1.0","fly/utils/object-helper":"1.0","fly/utils/string-helper":"1.0","fly/utils/string-vars":"1.0","fly/utils/url-helper":"1.0","libs/jshashtable":"2.1","libs/select2":"3.5.1 " ,"libs/jsonp":"2.4.0","libs/jquery/mobile":"1.4.5","libs/modernizr.custom":"2.6.2","libs/velocity":"1.2.2","libs/dataTables":"1.10.6","libs/dataTables.fixedColumns":"3.0.4","libs/dataTables.fixedHeader":"2.1.2","libs/dateformat":"1.0.3","libs/waypoints/infinite":"3.1.1","libs/waypoints/inview":"3.1.1","libs/waypoints/jquery.waypoints":"3.1.1","libs/waypoints/sticky":"3.1.1","libs/jquery/dotdotdot":"1.6.1","libs/jquery/flexslider":"2.1","libs/jquery/lazyload":"1.9.3","libs/jquery/maskedinput":"1.3.1","libs/jquery/marquee":"1.3.1","libs/jquery/numberformatter":"1.2.3","libs/jquery/placeholder":"0.2.4","libs/jquery/scrollbar":"0.1.6","libs/jquery/tablesorter":"2.0.5","libs/jquery/touchswipe":"1.6.18","libs/jquery/ui/jquery.ui.core":"1.11.4","libs/jquery/ui/jquery.ui.draggable":"1.11.4","libs/jquery/ui/jquery.ui.mouse":"1.11.4","libs/jquery/ui/jquery.ui.position":"1.11.4","libs/jquery/ui/jquery.ui.slider":"1.11.4","libs/jquery/ui/jqu er y.ui.sortable":"1.11.4","libs/jquery/ui/jquery.ui.touch-punch":"0.2.3","libs/jquery/ui/jquery.ui.autocomplete":"1.11.4","libs/jquery/ui/jquery.ui.accordion":"1.11.4","libs/jquery/ui/jquery.ui.tabs":"1.11.4","libs/jquery/ui/jquery.ui.menu":"1.11.4","libs/jquery/ui/jquery.ui.dialog":"1.11.4","libs/jquery/ui/jquery.ui.resizable":"1.11.4","libs/jquery/ui/jquery.ui.button":"1.11.4","libs/jquery/ui/jquery.ui.tooltip":"1.11.4","libs/jquery/ui/jquery.ui.effects":"1.11.4","libs/jquery/ui/jquery.ui.datepicker":"1.11.4"}},"shim":{"liveconnection/managers/connection":{"deps":["liveconnection/libs/sockjs-0.3.4"]},"liveconnection/libs/sockjs-0.3.4":{"exports":"SockJS"},"libs/setValueFromArray":{"exports":"set"},"libs/getValueFromArray":{"exports":"get"},"fly/libs/jquery.mobile-1.3.2":["version!fly/utils/jquery-mobile-init"],"libs/backbone.marionette":{"deps":["jquery","version!fly/libs/underscore","version!fly/libs/backbone"],"exports":"Marionette"},"fly/libs/underscore-1.5.1":{"exports":"_"},"fly/libs/backbone-1.0.0":{"deps":["version!fly/libs/underscore","jquery"],"exports":"Backbone"},"lib s/ jquery/ui/jquery.ui.tabs-1.11.4":["jquery","version!libs/jquery/ui/jquery.ui.core","version!fly/libs/jquery.widget"],"libs/jquery/flexslider-2.1":["jquery"],"libs/dataTables.fixedColumns-3.0.4":["jquery","version!libs/dataTables"],"libs/dataTables.fixedHeader-2.1.2":["jquery","version!libs/dataTables"],"https://sports.cbsimg.net/js/CBSi/app/VideoPlayer/AdobePass-min.js":["https://sports.cbsimg.net/js/CBSi/util/Utils-min.js"]},"map":{"*":{"facebook":"https://connect.facebook.net/en_US/sdk.js","facebook-debug":"https://connect.facebook.net/en_US/all/debug.js","google":"https://apis.google.com/js/plusone.js","google-platform":"https://apis.google.com/js/client:platform.js","google-csa":"https://www.google.com/adsense/search/async-ads.js","google-javascript-api":"https://www.google.com/jsapi","google-client-api":"https://apis.google.com/js/api:client.js","gpt":"https://www.googletagservices.com/tag/js/gpt.js","recaptcha":"https://www.google.com/recaptcha/api.js?onload=loadRecaptcha&render=explicit","recaptcha_ajax":"https://www.google.com/recaptcha/api/js/recaptcha_ajax.js","twitter":"https://p latf orm.twitter.com/widgets.js","mpx":"libs/tpPdk","tealium":"//tags.tiqcdn.com/utag/cbsi/cbssportssite/prod/utag.js","taboola":"https://cdn.taboola.com/libtrc/cbsinteractive-cbssports/loader.js","sharethrough":"https://native.sharethrough.com/assets/tag.js","newsroom":"https://c2.taboola.com/nr/cbsinteractive-cbssports/newsroom.js","adobe-pass":"https://sports.cbsimg.net/js/CBSi/app/VideoPlayer/AdobePass-min.js","video-utils":"https://sports.cbsimg.net/js/CBSi/util/Utils-min.js"}},"waitSeconds":300});