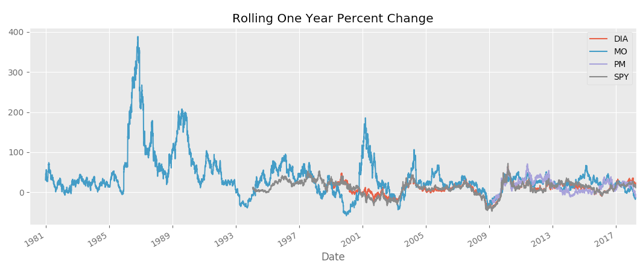 The past few days have been tough for investors holding Altria (NYSE: MO), Philip Morris (NYSE: PM) and other tobacco related companies. Altria and Philip Morris have fallen 18.23% and 18.40% since the beginning of the year, while the S & P 500 has fallen only 0.40% (including dividends). This decline has depressed returns for both companies to around 5% of their historic high.
MO's big returns are no secret to investors, but we often forget how volatile those returns have been over the years. I created this 1980 graph, which shows the annual percentage change for MO and PM, as well as the S & P 500 ETF (NYSEARCA: SPY) and the Dow Jones Industrials ETF (NYSEARCA: DIA).
As you can see, MO often has violent movements, though less recently.
Many investors see the recent pain as a buying opportunity. On the surface PM looks even better than the better buy because of its higher yield, but there is more in the story. Before we move on, if you're looking for income and little else, then PM is the better buy right now because it has the higher dividend yield. If you are after compounding and do not need the income today, read on.
Dividends are only one way for companies to return capital to shareholders. Share repurchases and debt repayment are the others. As companies repurchase stocks and settle debts, they increase their stake in the business, which is a positive sign. A simple measure called shareholder yield can give us a better idea of ​​how a company shares cash with shareholders.
Shareholder Yield
I calculate the shareholder yield using 12-month data sourced from SEC filings and aggregated by Intrinio. The formula is pretty simple:
Dividends paid + Share repurchases + Debt repayment – Issued shares – Issued bonds = Net shareholder return / market capitalization = shareholder return
With these data MO has a shareholder return of 7.1% and PM of 2.1 %. That's a big difference, and it's a big personal influence on why I bought more Altria last week when I started a new position at PM. Now I will break down the numbers for each one.
Over the past twelve months, Altria has paid $ 4.807 billion in dividends, repurchased $ 2.917 billion worth of stock, issued no shares, and has not repaid $ 47 million in issuance. Net cash returned to shareholders was $ 7.771 billion. With a market capitalization of 108 billion US dollars, this results in a shareholder return of 7.1%. Altria has the higher return thanks to its debt repayment and share buybacks.
Philip Morris is very different; In the past twelve months, it has paid $ 6.515 billion in dividends, repurchased shares, issued no shares, repaid $ 4.738 billion in debt, and spent $ 8.484 billion. It hurts here; In the past twelve months, they have returned $ 2.769 billion to shareholders, and with a market capitalization of $ 130 billion, we only have a return of 2.1 percent.
Altria has made large share buybacks and repurchased $ 8.5 billion in stock since 2011 at an average cost of $ 44. It will approve an additional $ 1 billion, which it expects to be completed by the end of this year. Philip Morris was not that important on share buybacks and does not intend to buy shares in the foreseeable future. I am not starting with a 'share buyback is good / bad' argument here, but buybacks have their place as a tax efficient way to return capital to shareholders.
Go with MO
I was about to buy something on the fence, but after looking at it, I decided to stay with MO. As a core company in my Roth IRA, it does not really matter to me what happens to the price in the short-term, and the higher return should result in a larger recharge over time. The death of big tobacco has been greatly exaggerated.
Disclosure: I am / we are long MO.
I wrote this article myself, and it expresses my own opinions. I do not receive any compensation for it (except from Alpha search). I have no business relationship with a company whose warehouse is mentioned in this article.