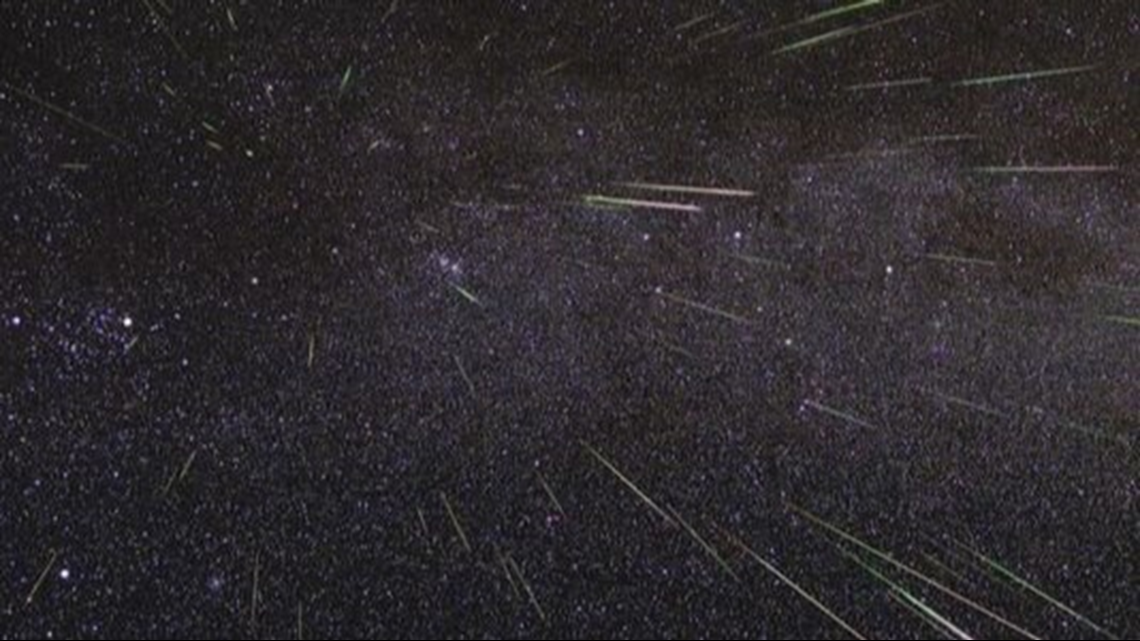 SPOKANE, Wash. – This is the second time in my life that I have seen such a bright meteorite in the night sky. And I was in the right place at the right time, looking in the right direction.
When I went home from work at midnight in Spokane, Washington on Thursday night (because my car just had a flat tire, for example), I saw the A astronomical spectacle, sometimes referred to as a "fireball," flashes over one part of the western sky deep into the depths. It only took about three seconds. No time to take pictures, but I tweeted about the experience a minute later.
I was not the only one. Some from Washington and British Columbia also saw the meteor flying over the sky.
Events like this happen when a slightly larger meteor or space debris falls into the Earth's atmosphere and breaks up in flames due to strong frictional forces. You may have seen one of the many annual meteor showers, such as the Perseids, which peaked earlier this month. That is the same. But those who are so bright usually justify a pretty cool reaction.
Has anyone figured it out? I have not found any, but I checked KREM's security cameras and weather cameras and they were not pointing in the right direction at the moment. As I said, three seconds is too fast to pull out the phone and take a picture. If there was anything, it was probably some sort of security or dash camera.
RELATED: NASA Selects Alabamas & # 39; Rocket City & # 39; s; for the job as Lunarwoman
RELATED: Idaho woman becomes first female F-35B pilot
RELATED: Touchdown! Astronomers have just found a football-shaped planet
(function () { var modules; var suppressModules = document.getElementById (& # 39; tegna_loadmodulesscript & # 39;). getAttribute ('data-suppress-modules' === & # 39; true & # 39 ;; true wrong;
if (suppressModules) { modules = [ 'alert-bar', 'error', 'page', 'grid', 'desktop-header', 'toolbar', 'weather-summary', 'navigation', 'throbber', 'utils', 'tegna-utils', 'fitted-headline', 'tracking', 'progress', 'tealium', 'live-indicator', 'taboola', 'ad' ] } else { modules = [ 'error', 'page', 'grid', 'desktop-header', 'toolbar', 'weather-summary', 'navigation', 'video', 'throbber', 'utils', 'fitted-headline', 'forecast', 'article', 'continuous-scroll', 'sharing', 'gallery', 'radar-gallery', 'forecast', 'article-crosspromo', 'featured-videos', 'chapter-slider', 'pollen', 'olympics-live-stream', 'three-day-outlook', 'current-weather', 'search-results', 'tracking', 'chapter-progress', 'progress', 'countdown-clock', 'longform-explore', 'media-gallery', 'social-sharing', 'weather-alerts', 'weather-interactive-radar', 'closings', 'tealium', 'alert-bar', 'cookie', 'sticky-sharing', 'live-indicator', 'sharethrough', 'taboola', 'elections', 'just-for-you', 'just-for-you-li', 'olympics-tv-listings', 'headline-list-with-abstract', 'text-only-headline-list', 'story-snapshot-with-abstract', 'snapshot', 'story-snapshot', 'special-content-headline-list', 'notfound', 'linked-image', 'article-recirculation', 'linked-image-with-title', 'newsletter-signup', 'linked-image-with-title', 'newsletter-signup-multiple', 'live-videos', 'breaking-news', 'weather-alerts', 'closings', 'media-gallery-alt', 'alert-center-menu', 'trending-list', 'toc', 'featured-radars', 'searchbox', 'hot-races', 'recirculation', 'photo', 'video-youtube', 'newsletter' ]; } / * var modules = [ 'error', 'desktop-header', 'navigation', 'page', 'grid', 'toolbar', 'video', 'throbber', 'utils', 'tegna-utils', 'continuous-scroll', 'gallery', 'tracking', 'tealium', 'sharethrough', 'datasphere', 'iframe', 'photo', 'video-youtube', 'newsletter-signup', 'newsletter-signup-multiple', 'ad' ]
Function inArray (needle, haystack) { var count = haystack.length; for (var i = 0; i <count; i ++) { if (haystack [i] === needle) {return true; } } return it incorrectly; }
var moduleElements = document.querySelectorAll (& # 39; [data-module] & # 39;); for (var i = 0; i <moduleElements.length; ++ i) { (function () { var thisModuleName = moduleElements [i] .getAttribute (& # 39; data module & # 39;); if (! inArray (thisModuleName, modules)) { modules.push (thisModuleName); } }) (); }
console.log (& # 39; ===== loading modules: & # 39 ;, modules); * / require.config ({ & # 39; baseUrl & # 39 ;: & # 39; / & 39 ;, & # 39; deps & # 39 ;: modules, "WaitSeconds": 30, & # 39; bundle & # 39 ;: { modules }, & # 39; path & # 39 ;: { & # 39; jquery & # 39 ;: & # 39; scripts / jquery-3.1
.1.min & # 39 ;, # Jwplayer #: content / player / jwplayer.js? version = 3.13.1 & # 39 ;, & # 39; modules & # 39 ;: & # 39; views / dist / scripts / modules.min.js? version = 3.13.1 & # 39 ;, & # 39; facebook & # 39;: https: //connect.facebook.net/en_US/all&#39 ;, & # 39; twitter & # 39; https: //platform.twitter.com/widgets&#39 ;, Sl slick #: content content / libs / slick / slick.min #, #Dotdotdot #: content / libs / dotdotdot / jquery.dotdotdot.min # & # 39; jqueryui & # 39 ;: & # 39; views / lib / jquery-ui / jquery-ui.min & # 39 ;, & # 39; comscore & # 39;: content / libs / comscore / comscore.min & # 39 ;, & Stickyfill & # 39; content / libs / stickyfill / stickyfill.min & # 39 ;, & # 39; youtube & # 39;: & # 39; https: //www.youtube.com/iframe_api? Noext & # 39; }, & # 39; shim & # 39 ;: { & # 39; Facebook & # 39;: { & # 39; export & # 39 ;: & # 39; FB & # 39; }, & # 39; twitter & # 39 ;: { "Exports": "twttr" }, & # 39; Youtube & # 39 ;: { "Exports": "YT" }, & # 39; jwplayer & # 39 ;: ['jquery'], & # 39; jqueryui & # 39 ;: { & # 39; deps & # 39 ;: ['jquery'] }, "Slick": ['jquery'], "Dotdotdot": ['jquery'] } }); }) ();
Source link