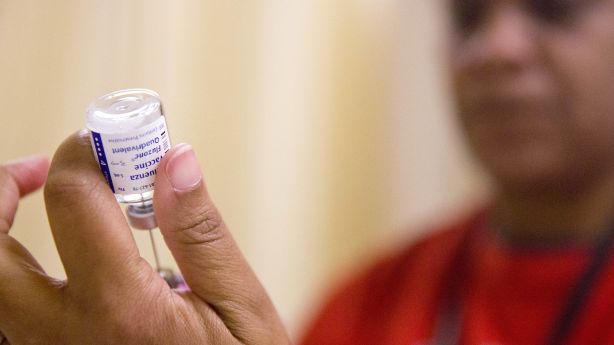 SALT LAKE CITY – A health technology company that makes smart thermometers says Utah is "the worst in the nation," but the Department of Health in Utah can not confirm that the hive state is the best place for the flu. [19659002] "We do not deny it's going up and we'll probably see more cases in the coming weeks, but we're definitely not as sick as they report," said Becky Ward, a health educator in the Utah Department of Health reports flu-like symptoms to the United States Centers for Disease Control and Prevention.
She has confirmed that two children in Utah have died this season, one of which was recently due to influenza.
San Kinsa, Francisco, reported Thursday that thermometer use, body temperatures and other symptoms automatically reported in Utah are reported in Utah.
However, the CDC actually reports a "low" flu activity in Utah. In other states, Colorado, California, Alabama, Georgia and other countries, it's much higher. According to the CDC's last weekly report, Idaho, Nevada and Arizona report that the number of diseases is in circulation.
The latest government reports show that 61
Utahns have been treated with influenza since October 1, when the Utah Department was there. In general, Health begins monitoring the highly contagious respiratory disease. Most of these cases, according to Ward, are in older Utahns and others with other health impairments.
The Ministry of Health and the CDC are tracking flu-related deaths in children under 18 years of age. Neither gives names or other identifying information about the child patients.
So far this season, there have been a total of eight pediatric influenza-related deaths in the country, two of which were in Utah, Ward said. However, the CDC has not yet registered the recent child death due to the flu in Utah.
H1N1, the swine flu strain that plagued and infected thousands of people in 2009, is the most popular strain in the country and in Utah. Ward reports that some areas reported H3N2.
In the entire flu season 2017/18 65 percent of the Utahns were vaccinated against influenza, according to the Ministry of Health. The vaccine, Ward said, has always included protection against H1N1, and even if a vaccinated person puts on another strain, the symptoms may be less severe due to their choice of vaccine.
"We have not noticed any of this (the vaccine is not effective this year," she said.)
Influenza usually peaks during the holidays, with high rates persisting in February as people tend to frequent during the winter season Stay in confined spaces.
In addition to vaccination, it's important to wipe shared areas and avoid as many crowds as possible, and it's also important for people to take care of themselves, including maintaining the hydration and the rest they provide
"Influenza is on the increase," Ward said, "and we're likely to see more cases across the US and Utah."
Kinsa thermometer company reported 5.7 percent of the population on Thursday of Utah, over 182,400 people, suffer from flu-like symptoms, it is reported that Salt Lake City is "hit hardest in Utah."
Kins a has collected more than 10 million anonymous temperature readings – an average of 40,000 a day during the flu season last year – allowing real-time outbreaks across the country to be tracked by examining the data collected on where fever and other symptoms appear.
Nationally, 4.4 percent of the US population is sick, Kinsa said on Thursday, with Utah being the sickest, Florida second, and New Mexico third.
Flu vaccinations are available throughout Utah in October, but Ward said if a person has not had one, "it's not too late."
"Just get vaccinated," she said. The health department encourages anyone 6 months old to receive a flu shot every year.
To find a provider nearby, visit vaccinefinder.org.
Symptoms of the flu include fever, cough, sore throat and runny or stuffy nose, muscle aches or pains, headache and / or general fatigue according to the CDC. It can last up to two weeks and cause complications in people with underlying conditions, especially asthma and other chronic conditions.
While the influenza season typically peaks between December and February each year, influenza data is collected by the Utah Health Department in May.
×
Related Stories
Source link