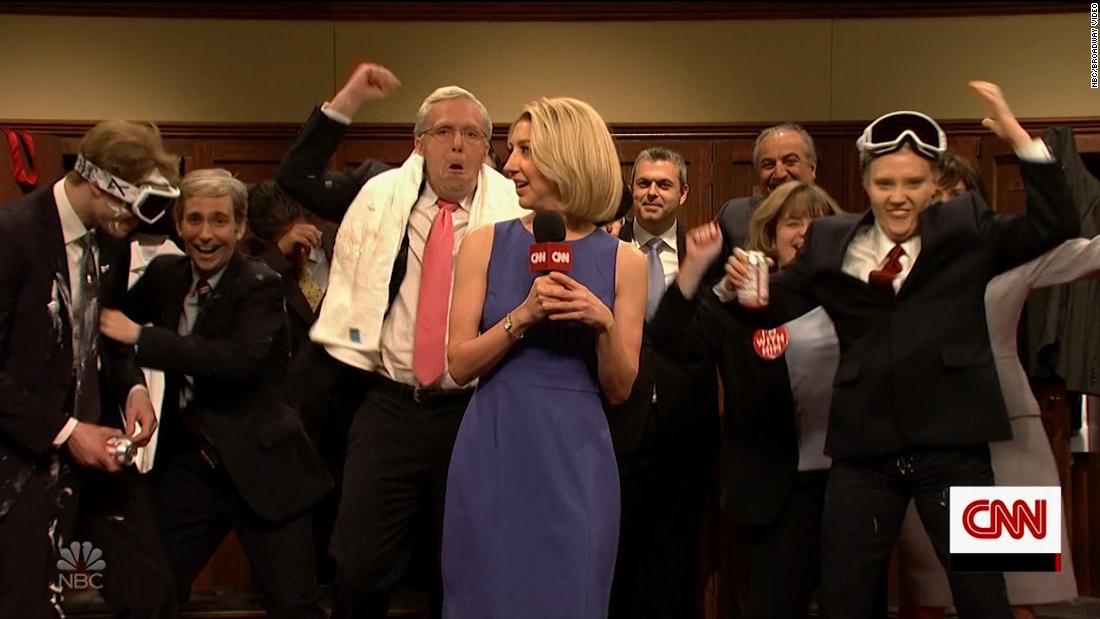 The NBC sketch series wasted no time in responding to the excitement and disappointment of the Senate members on Saturday. The second episode of the show's 44th season featured Kenan Thompson as CNN's Don Lemon in a live report starring Heidi Gardner as political chief correspondent Dana Bash.
Gardner's bash stood in the "locker room" of the Republicans when they interviewed several Senate members who celebrated the vote on Saturday.
"Republicans read the mood of the country, we could say that people really wanted Kavanaugh," said Beck Bennett in his role as Senate Majority Leader Mitch McConnell.
"Everyone is pumped up ̵
1; from white men over 60 to white men over 70," he added.
Viewers have also caught Kate McKinnon resume her role as Senator Lindsey Graham and give Gardner's Bash a "Kavanaugh World Champion" hat.
"We've worried a lot of women today, but I'm not getting pregnant. I do not care," said McKinnon's Graham.
And they also picked up the demonstrators who ransacked Capitol Hill to disrupt the Senate's confirmation vote and run into the doors of the Supreme Court.
"They were there for us all week cheering in front of our offices," McKinnons Graham said.
"I'm sorry, do you think they were fans?" Gardner's bash asked her.
"Oh yeah, sure, and I know they agree, because they call me, too," McKinnons Graham replied.
The sketch also mocked an oppressed minority leader in Senate Chuck Schumer during another interview.
"Well, my doctor thinks it could be sciatica," Alex Moffat said as Schumer.
"Well, the Dems have lost one more, we thought we would do better this time than the Anita Hill hearing It was white, but Brett Kavanaugh was also white, and we were completely surprised," he added added.
The cold ended with the Republicans, who looked like beer, all splattering each other to celebrate Kavanaugh.
"Let's keep this horny male energy in the middle!" McKinnons Graham said:
Source link