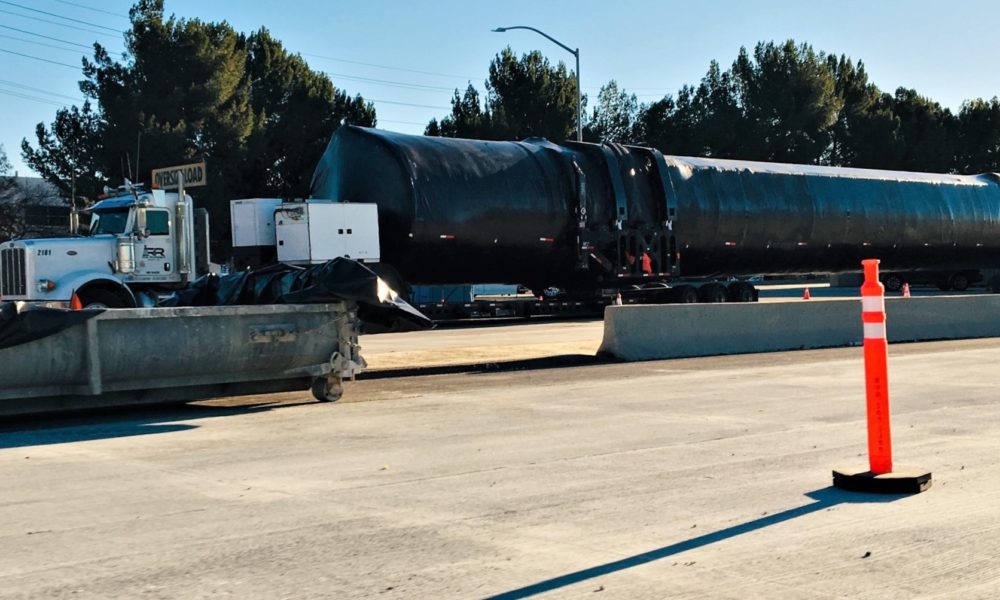 A SpaceX Falcon 9 was released from the company's Hawthorne, California factory on January 22nd, signifying a likely shipment of the flight-proven rocket that will help launch Canada's trio of Radarsat Constellation Mission satellites.
Delayed from mid-February to early March 2019 after an unplanned landing anomaly the Falcon 9 Vandenberg Air Force Base (VAFB) helps to narrow down the rocket likeliest to launch the Canadian Space Agency's (CSA) radar satellite constellation.
It seems a first stage is headed north to Vandenberg AFB, possibly for the RadarSat launch scheduled for next month https://t.co/fTSEJLsb1

p // cc: @ 13ericralph31

– You're Going For Staging (@GoForStaging) January 23, 2019
Do the Booster Shuffle!
Falcon 9 B1050 to land (albe in the Atlantic Ocean last December, the imminent launch of two heavy-duty Falcon heavy missions, and the thus far schedule-orbital launch debut of Crew's Dragon, SpaceX's fleet of available boosters – all flight-proven
B1050's future is uncertain after suffering a smashed interstage and soaking in salt water for several days, while B1051 is officially assigned to Crew Dragon's orbital launch debut, known as Demo-1 (DM-1). Falcon 9 B1052 and B1053 are unknown quantities and B1054 which is expended after a high-value US Air Force launch, ie SpaceX's final mission of 2018. It's probably safe to bet that B1052, B1053, and B1055 will be the next three boosters to support a Falcon Heavy launch (or two), currently NET March and April 2019. All three of these Falcon Heavy (FH) boosters have completed static fire tests in Texas and both side boosters have arrived at SpaceX's Florida facilities within the last ~ 6 weeks. [19659008] A Falcon Heavy side booster was spotted eastbound in Arizona on November 10th. (Reddit – beast-sam)