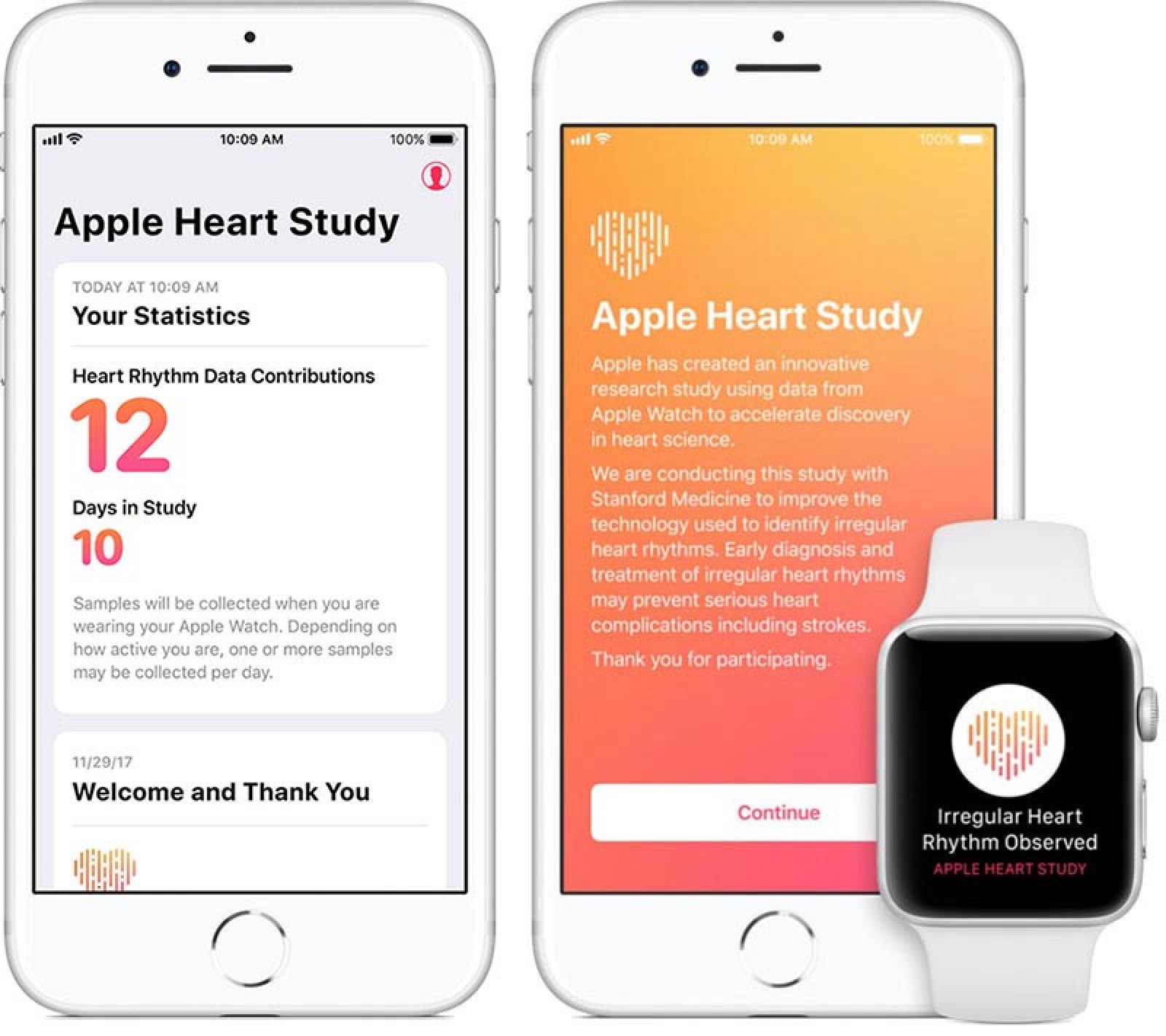 Stanford Medicine today released the results of the Apple Heart Study, which began in 2017. This is the third time that data has been published from the study (via
Reuters
and
CNBC
).
The goal of Stanford's and Apple's study was to determine if the Apple Watch detects atrial fibrillation, which can be an indicator of serious heart problems. The researchers wanted to find out how well the "Apple Watch" works and if its use is safe.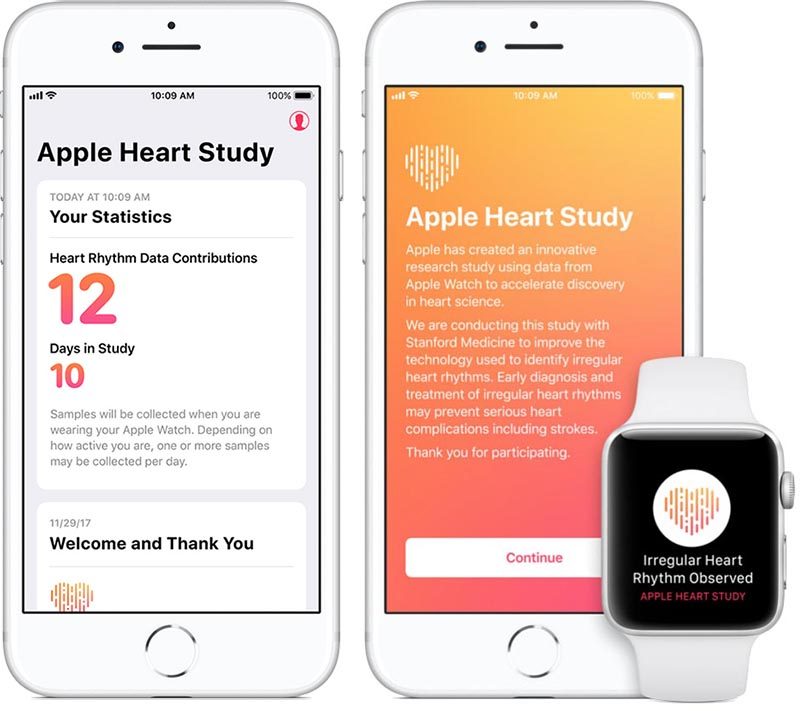 A total of 419,297 people in the US participated in the study and 0.52 percent of participants (2,1
61 people) received irregular heart rhythm notification for 117 days. Individuals who received a notification were sent ECG patches for further monitoring for heart problems, but many remained unanswered.
Of the 450 people who returned the patches of analysable data, atrial fibrillation was present in 34% of respondents and 35% of those aged 65 and over. Of those who had an irregular reading and returned a patch, 84 percent of subsequent reports were classified as atrial fibrillation.
Among participants who were reported to have an irregular heart rate, the positive predictive value was 0.84 (95% CI, 0.76 to 0.92) for monitoring atrial fibrillation on the ECG, with subsequent notification of an irregular pulse and 0.71 (97.5% CI, 0.69 to 0.74) for monitoring atrial fibrillation on the ECG simultaneously with a subsequent irregular tachogram. Of the 1376 registered respondents who returned a 90-day survey, 57% contacted healthcare providers outside the study. There were no reports of serious side effects related to apps.
According to researchers, the low number of warnings in the study indicates that the device does not cause excessive false positives in healthy people wearing the watch.
In some cases, the atrial fibrillation detected by the "Apple Watch" was still at an early stage of development, and it did not occur frequently enough for the patch tests to detect what was more common in younger participants.
The study eventually revealed that the "Apple Watch" can detect atrial fibrillation. The Stanford cardiologist and co-author of the study, dr. Mintu Turakhia said the study as a whole was a success, especially when it came to determining how many people received heart-related notifications from "Apple Watch" and what these types of notification mean to patients, doctors, insurers and more.
Dr. Daniel Cantillon, a Cleveland cardiologist who was not involved, said Reuters that the technology was promising, but more than half of participants under the age of 40 were a low-risk group for atrial fibrillation, leading to Concerns about a healthy anxiety led people.
A New York-based cardiologist told CNBC that there is a danger that "Apple Watch" will find young people with early signs of atrial fibrillation that the medical community can not treat. "We just do not understand the atrial fibrillation in the 35-year-old otherwise healthy person," he said.
Wessler treats patients who have visited him based on data from the Apple Watch, and expects these types of visits to increase in the future. Wessler believes it is important to find the right population at risk of using these tools rather than providing them to a mainstream audience.
Overall, the study has been beneficial, showing the potential for large-scale trials using a variety of remote patient monitoring technologies without the need for on-the-spot visits. Since the beginning of this study in 2017, no new "Apple Watch" models have been used to perform ECG measurements. Instead, the standard heart rate sensor was used.
The full Apple Heart Study published by Stanford Medicine can be found in the New England Journal of Medicine.