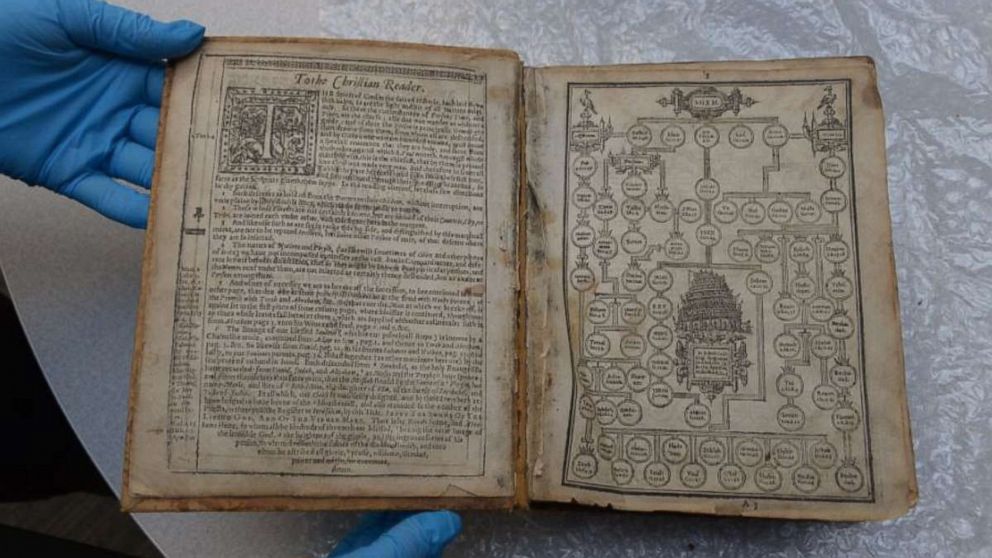 What a two-year wait for a 400-year-old Bible.
The Carnegie Library in Pittsburgh unwrapped its Geneva Bible, dating back to 1615, on Thursday, two years after it was stolen. The Bible was recovered in the Netherlands – purchased by the American Pilgrim Museum in Leiden – and sent to the U.S. in a small metal box and tucked in a decidedly post-17th century invention: bubble wrap.
PHOTO: A stolen Geneva Bible, dating to 1615, which was recovered in.
Pittsburgh's Carnegie Library on Thursday, April 25, 2019. "/>
FBI Pittsburgh
"This Bible is more than a piece of evidence in a case," FBI Special Agent in Charge Robert Jones said at a press conference. "It is a priceless artifact of many faiths."
There were a total of 288 rare, historical books either stolen or damaged at the Carnegie Library, according to the Allegheny County District Attorney's Office.
Gregory Priore, and a bookseller, John Schulman, who allegedly conspired with him, according to The New York Times.
Allegheny County District Attorney Stephen Zappala commended the museum's owner for being "an honest person" and contacting authorities.
PHOTO: A Stolen Geneva Bible, dating to 1615, which was recovered in the Netherlands and returned to Pittsburgh's Carnegie Library on Thursday, April 25, 2019. "/>
FBI Pittsburgh