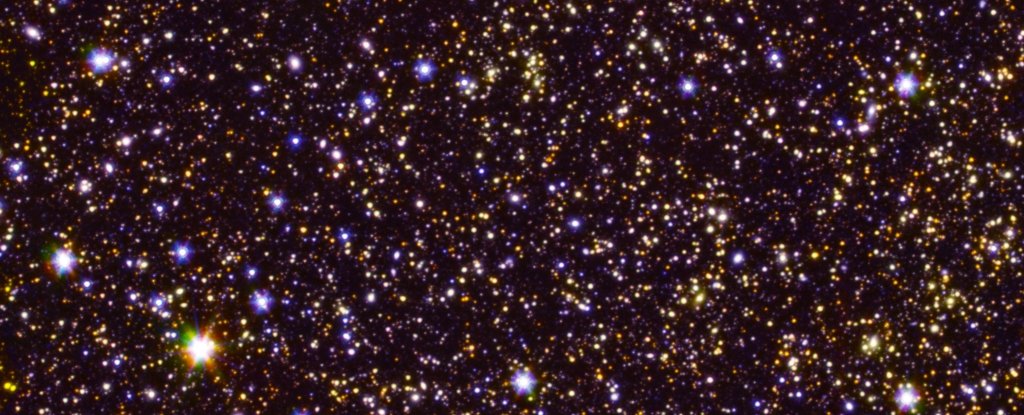 The universe did not start as we see it today and shines with light. For the first 500 million years, it was a murky, neutral, hydrogen-filled darkness. Then something began to excite the hydrogen with radiation, to ionize – and lo and behold was light.
We do not know what ultimately made the first ultraviolet light shine. But recent observations from NASA's Spitzer Infrared Space Telescope have just given us a pretty clear indication. In the vastness of the early Universe, strange galaxies were spotted, far brighter than expected.
It was quite difficult to put together these early years, but the epoch of reionization is pretty well established.
Immediately after the Big Bang, the universe was a sort of dark, hot "primordial soup" on a cosmic scale that expanded rapidly.
As the universe expanded, it cooled and caused protons and neutrons to combine to form ionized hydrogen atoms. About 240,000 to 300,000 years after the Big Bang, these hydrogen atoms attracted electrons and formed neutral hydrogen.
But only when gravity contracted the first stars and galaxies in this dim, hydrogen-filled void did the starlight shine as ultraviolet, gamma, and x-rays collided with neutral hydrogen, shedding it from electrons, and ionizing it.
One billion years after the Big Bang, the universe was transparent and sparkling.
But how? Given the neutral hydrogen in the universe at that time, it would have required a great deal of radiation to produce light, and it is unclear what could be present in sufficient quantity to produce such radiation. Would newborn stars have been enough? Shining galaxies? Still undiscovered quasars or a combination of all three?
"This is one of the biggest open questions in observational cosmology," said astronomer Stephane De Barros of the University of Geneva. "We know it happened, but what caused it, these new findings could be a great clue."
In a special round of observation trying to find the answer, Spitzer spent hundreds of hours staring at two separate regions of the night sky. At over 1
3 billion light years away – just 730 million years after the Big Bang – 135 galaxies were observed, very different from those near us.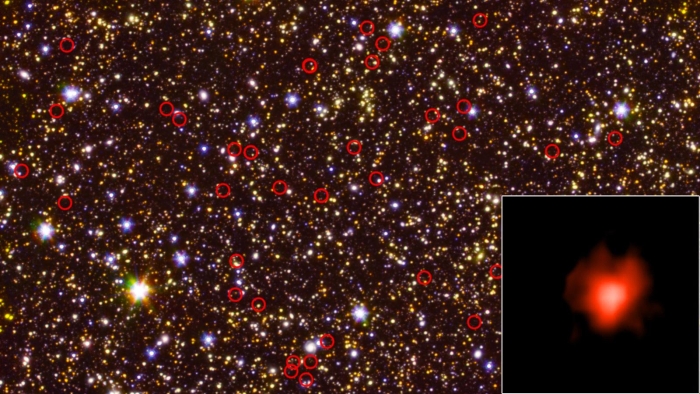 (NASA / JPL-Caltech / ESA / Spitzer / P.Oesch / S.De Barros / I.Labbe)
Above: View of the sky above the sky, showing faint, distant galaxies in red. Insertion shows the light collected by a weak galaxy during a long observation period.
As expected from galaxies in the early Universe, they are very poor in heavy elements that are forged in blasting processes and therefore were not forged in large quantities until some generations of stars and lived had died.
Instead, these galaxies are dominated by young, hot, massive stars made up mainly of hydrogen and helium – although traces of heavier elements suggest that they were not the first generation of the universe of stars.
The galaxies are particularly bright infrared wavelengths, which arise through the interaction between ionizing radiation and hydrogen and oxygen gases. These galaxies could have contributed to the epoch of reionization.
"For more than 10 years, together with Hubble and Spitzer, we've been studying some of the earliest and most distant known galaxies," said astronomer Garth Illingworth of UC Santa Cruz. [19659006] "Our latest Spitzer result shows how different these early galaxies differ from those at later times, and shows our sample as a key element in providing insight into how galaxies have so efficiently reionized the Universe."
Of course these other factors – individual stars, incredibly bright quasars – may have contributed as well. The epoch of reionization was not just a single event, and then there was BOOM, light was there; It was more like the slow lifting of a curtain, a process that went on for hundreds of millions of years. So it probably involves more than one factor.
The Spitzer Space Telescope was introduced in 2003 and has made amazing advances in infrared astronomy. NASA's next infrared telescope, WFIRST, is currently under development and is expected to be launched in 2025.
One of their main tasks is to further illuminate the epoch of reionization since many of these early universe galaxies are strongest in infrared wavelengths. But the James Webb Space Telescope, Hubble's successor, will also crack.
"These results from Spitzer are certainly another step in solving the mystery of cosmic reionization," said astronomer Pascal Oesch of the University of Geneva.
"We now know that the physical conditions in these early galaxies are very different from those of today's galaxies, and it will be the task of the James Webb Space Telescope to pinpoint the exact reasons."
The investigation has revealed in the monthly announcements published by the Royal Astronomical Society .
Source link