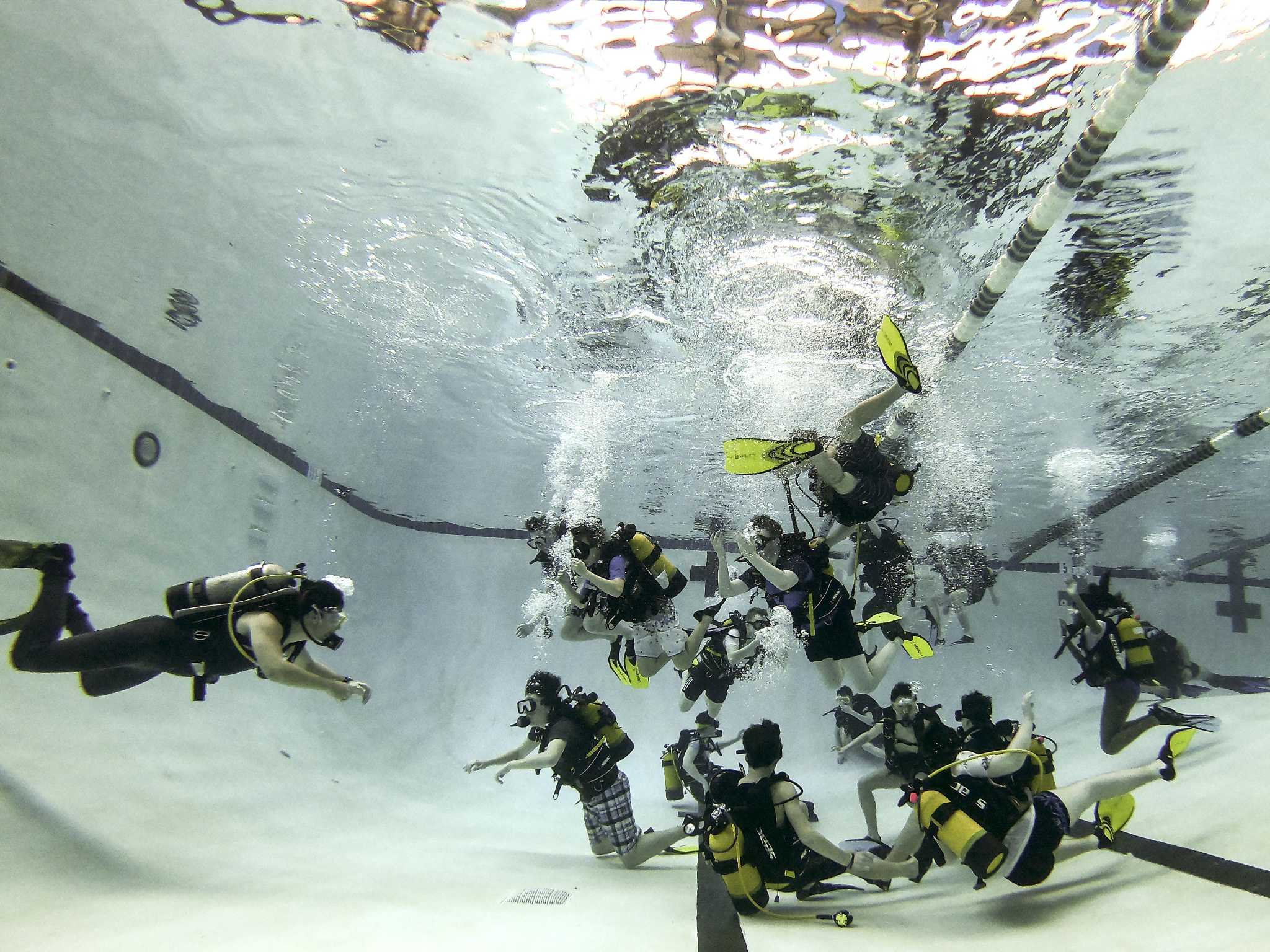 Photo: Brett Coomer, Associate / Houston Chronicle

Zena Caldman slipped into a white space suit next to the 6.2 million gallon pool, and NASA staff made sure everything was sealed.
It was barely 8:30 in the morning, but the bright-eyed Caldman was about to spend six to eight hours in the pool, known as the Neutral Buoyancy Lab, as part of her astronaut training.
At least 20 feet above them in the visitor's gallery, a group of high school students – usually moaning at such an early hour – were just as bright-eyed as they saw the novice astronaut suit.
They had a perfect view of what much is hard to see on the ground: in the 40-foot deep basin was a replica of the International Space Station, which provided the astronauts with a spacewalking exercise because of their similarity to weightlessness.
A particularly dizzy boy puzzled as the process unfolded.
Translator
To read this article in one of Houston's most spoken languages, click the button below.
"I apply," he said.
It is precisely the reactionaries hoping for a five-day program from the Space Center University students at the Johnson Space Center, which has recently been expanded to middle school students and high school students. Similar to the Space Camp in Alabama, the JSC Camp exposes students to the rigors of astronaut training, as well as science, technology, engineering and math (STEM) fields that could land them a job at NASA one day.
They conduct experiments, go behind the scenes in the Johnson Space Center and even get a chance to dive.
The program, which began in 2000, brings students from all over the world to Houston every year. With the extension to high school students, participation in this program has almost doubled to 2,000 this year.
"It's exciting to see the growth of the program," said Kaci Heins, education manager at the Museum of Houston Space Center. "We try early to inspire the next generation of explorers by showing them that they are doing exactly what they are doing across the street." Modest Beginnings
Houston Space Center, typically associated with visitors He spoke countless languages ​​and was a ghost town when the group of 36 high school students from Britain and France strolled to their front doors earlier this month.
It was the fourth of five days of the group that participated in the program. So far, they had built mini-Mars habitats, a launchable rocket, and a cryocapsule to allow egg-stronauts – made of eggs – minus 321 degrees Celsius protect, a temperature that would not reach the astronaut on Mars.
It was only 7:30, but there was no yawning in sight as the students prepared for the most exciting of the five-day program. On this day they received a crash course in diving, a key component for participants 15-18.
The diving experience is the best way to show them what it's like to be an astronaut – which is the goal of the whole program, said Dave Brown, the museum's education program coordinator.
Originally, the five-day program was limited to students aged 15-18 years and 50 weeks a year, although officials usually fill only 26-28 weeks. The programs for 11- to 14-year-olds were supplemented this year with activities aimed at a younger audience.
In addition to building rockets, habitats and scuba diving – activities for which all NASA astronauts must be certified – students also meet astronaut and tour NASA facilities in Houston, such as Mission Control and the Neutral Buoyancy Lab.
Emily Rowe, an 18-year-old from the UK who participated in the early April group, found the STEM activities most beneficial. She dreams of being a mechanical engineer after college, and the program "is just another MINT building block on the way to my goal."
Depending on the number of enrolled students per week and whether hotel, transportation and food are included, program costs range from $ 675 to $ 1,046. Students can apply in groups or as individuals on the Museum's website. Some scholarships are available.
"We try to inspire them earlier, so they can learn which courses are in high school and show them the way, then they're on their way," said Heins. 19659070] Astronaut Course
Already in early April, the air in the Williams Pool building was thick with moisture and chlorine.
The aluminum walls are rusting, the paint peeling off and the grandstands are old and crumbling. The pool had clearly seen decades of use.
But it does not have to be nice to help the men and women who are sent into space to certify the diving equipment. Since 2008, NASA Williams Pool, a 20-minute drive from Johnson Space Center, has been using astronaut training ground. Each astronaut must be a certified diver to make spacewalks at the Neutral Buoyancy Laboratory [19659070] Using a combination of flotation equipment and weights, space agency officials can make the area look like weightlessness, so that the astronauts seem to "float" underwater. The name – Neutral Buoyancy lab – refers to a condition in which an object can sink as easily as it can float, according to NASA data.
Although astronauts can still feel the weight of their suits – unlike in weightlessness – some tasks are easier or heavier than in space, the pool "is currently the best available way for astronauts to work spacewalks, NASA says.
About an hour after the astronaut, Caldman made her rounds in the Space Center basin. Students took part in a scuba diving course taught by a former lab diver.
The screams and splash of diving fins echoed throughout the building as they laboriously learned to breathe underwater through their oxygen masks and to hold themselves close to the bottom of the pool.
Despite their best efforts, some fought only through the mouth, while others continued to float to the surface. But finally, the students were ready for the next step: putting together PVC pipes underwater, an activity that gave them a sense of what it's like to work in weightlessness.
"We wanted to get as close as we could see in space, in a four-foot-deep chlorinated pool," Brown said.
For Andrew Paterson, a 21-year-old instructor for the British group, diving activity once again showed he was an astronaut, which he wanted to do.
The Space Center University, he said, "showed me that I wanted to go forward … and focus on things I had to do to become an astronaut."
alex.stuckey @ chron.com
twitter.com/alexdstuckey