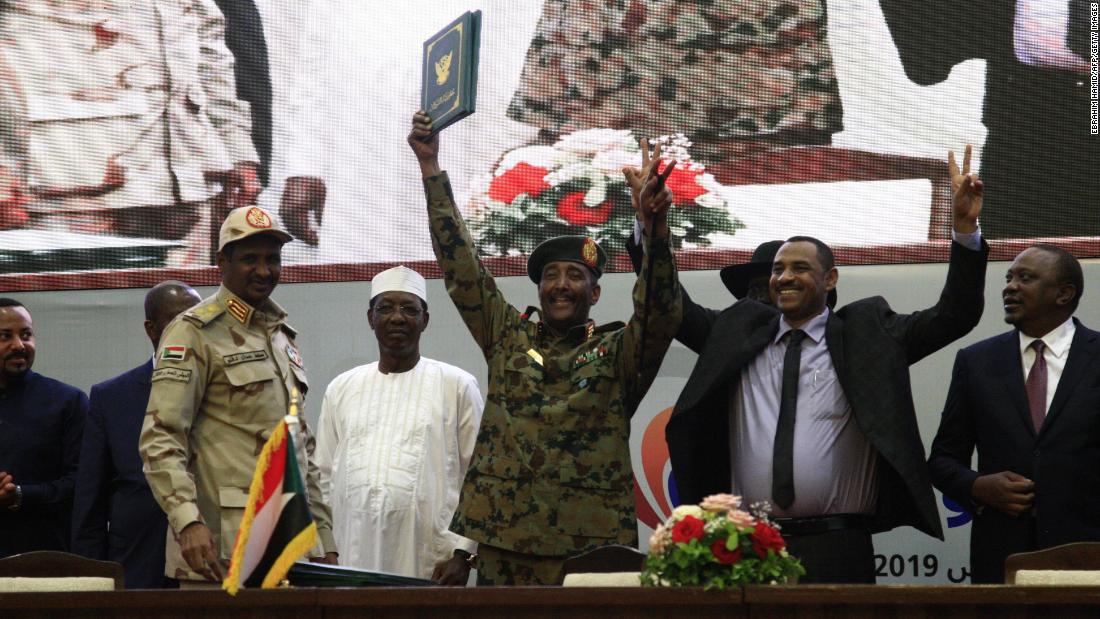 The election of a fearsome commander at the signing table and the absence of women who played a crucial role in the protest movement show that there are still obstacles in the way of Sudan's road to full democracy.
The agreement follows protests that overthrew 75-year-old dictator Omar al-Bashir and ended his 30-year reign over the country in northeastern Africa.
Under Bashir's iron grip, an entire generation grew up in the shadow of the war, where the danger of torture in infamous "ghost houses" was never far away and press freedom did not exist.
Following his fall, the Transitional Military Council (TMC) intervened and announced a three-year transitional period.
However, demonstrators continued to call for civilian rule and on Saturday thousands of people flocked to the capital to celebrate its historic signing.
The choice of signatories in the agreement on the division of power was full of symbolism.
The opposition – the Sudanese Professional (SPA) – proposed Ahmed Al-Rabee, a schoolteacher who earns around $ 33 a month, a symbol of the economic plight of professionals in the midst of institutional corruption in Sudan.
In the meantime, TMC introduced the head of his paramilitary Rapid Support Forces (RSF), General Mohamed Hamdan Dagalo – simply known as Hemedti.
The dreaded commander, who was Bashir's former right-hand man in the bloody Darfur conflict, has persecuted numerous assaults on demonstrators – including on June 3, when more than 100 people were killed in front of the capital's headquarters.
When Hemedti left the signing, He was surrounded by protesters singing, "blood for blood, we will not accept blood money," CNN told eyewitnesses.
Hemedti has also provided Sudanese forces to the Saudi Arabian-led coalition fighting in Yemen. And the presence of Saudi Foreign Minister Adel al-Jubeir at the signing signals that the Gulf State of Hemedti will give in his homeland.
Saudi Arabia and the United Arab Emirates In fact, among the first nations to recognize the TMC rule, billions of dollars in donations were made to support the military, even as the protests continued.
Fighting for freedom
The eagerly awaited signing was also notable for those who were not there. Sudanese women played a key role in the protest movement – estimated to make up to 70% of the demonstrators – and yet lacked signing of the agreement.
A CNN investigation found that this was a systematic attempt by soldiers to reach targets. Demonstrators who were taken to secret detention centers were photographed nude and, in some cases, raped.
Protesters swore to continue their fight for justice. Mohammad Naji Al-Assam is a 29-year-old physician and spokesman for the opposition party Forces for Freedom and Change (FFC). He said an independent committee will investigate the atrocities against Sudanese that stretched out until Bashir came to power. It did not work. "src-mini =" // cdn.cnn.com/cnnnext/dam/assets/190517110834-02-sudan-female-protesters-file-small-169.jpg "src-xsmall =" // cdn.cnn.com /cnnnext/dam/assets/190517110834-02-sudan-female-protesters-file-medium-plus-169.jpg "src-small =" http://cdn.cnn.com/cnnnext/dam/assets/190517110834- 02-sudan-female-protesters-file-large-169.jpg "src-medium =" // cdn.cnn.com/cnnnext/dam/assets/190517110834-02-sudan-female-protesters-file-exlarge-169 .jpg "src-large =" // cdn.cnn.com/cnnnext/dam/assets/190517110834-02-sudan-female-protesters-file-super-169.jpg "src-full16x9 =" // cdn.cnn .com / cnnnext / dam / assets / 190517110834-02-sudan-female-protesters-file-full-169.jpg "src-mini1x1 =" // cdn.cnn.com/cnnnext/dam/assets/190517110834-02- sudan-female-protesters-file-small-11.jpg "data-demand-load =" not-loaded "data-eq-pts =" mini: 0, xsmall: 221, small: 308, medium: 461, large: 781 "/>