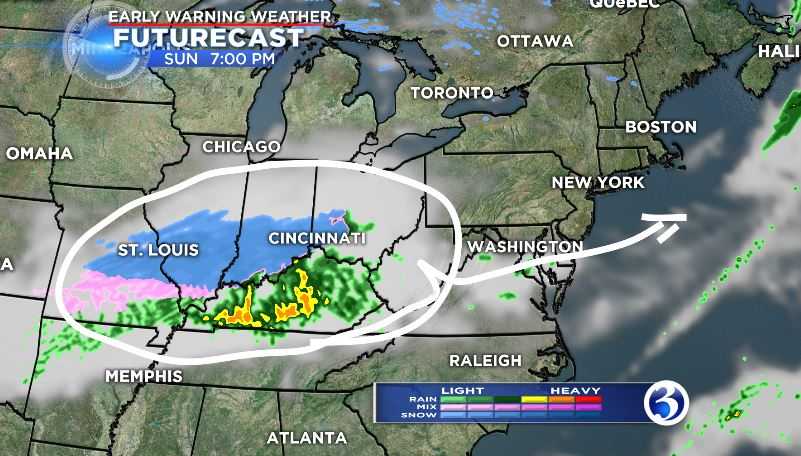 HARTFORD, CT (WFSB) –

Saturday is the last day of March and the weather is sunny and pleasant.
"We have a lot of sunshine in the weather forecast for today and it will be mild," said Mike Cameron, the Channel 3 meteorologist
Cameron said the highs would be on Saturday in the mid-to-upper 50s. A southwesterly breeze gets stronger in the afternoon.
Easter Sunday will have seasonal temperatures, with heights in the 50s. Cameron said there will be a rain shower in the morning, and even a snow shower could be seen in the Litchfield Hills. Expect clouds in the morning and mostly sunny skies in the afternoon.
"We could start with a small cloud cover, and maybe even a few showers," Cameron said. Monday morning could bring particularly light snowfall in southern Connecticut, Cameron said. Skies will become clear in the afternoon and heights will be in the upper 40s for most of the state.
"Some models say the snow misses Connecticut, some models say Connecticut is dazzled by it," said Cameron.
Tuesday could be to Cameron with a wintry mix or rain. The air will be cool and the temperatures will be in the 40s.
Wednesday will bring showers and maybe even a chance for some thunder. Cameron said he expects the showers to end in the afternoon. The cloud cover will dissipate and the sky will be partly sunny with highs around the 60-degree mark.
Chillier air will enter Connecticut on Wednesday and nighttime temperatures will fall below the 30 degree mark. Thursday will be cold and windy, Cameron expects heights in the '40s with wind-chilled temperatures in the' 20s and '30s.
Friday could bring some light snow, but Cameron said the rainfall in the afternoon will turn to rain with highs in the upper 40s.
Copyright 201

8 WFSB (Meredith Corporation). All rights reserved.
Source link