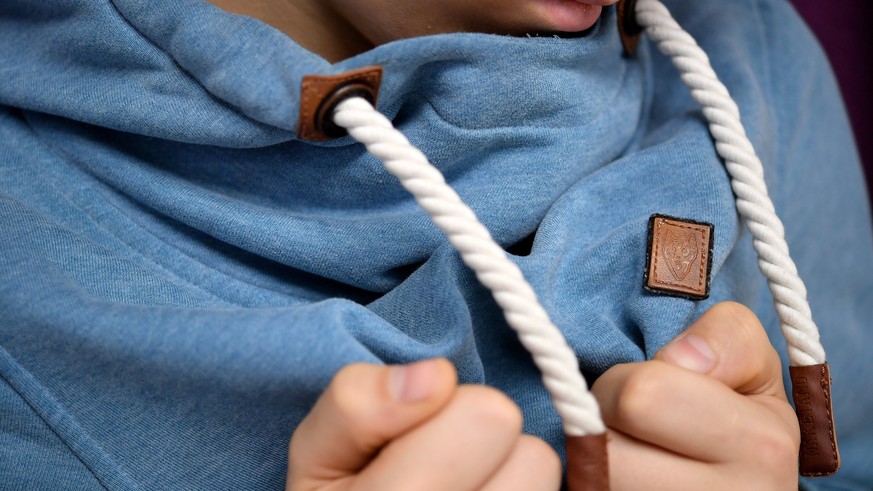 Naketano sweatshirt. Image: EPA / EPA
Successful fashion label before the end: The dirty fight for Naketano
The sudden end of the cult brand Naketano is still a mystery. The founders are silent. But the trigger could be the complaint of a former partner who, for the first time, has his say.
One day in the fall of 2016, Thomas Meier suspected that he had been scammed. Meier wandered through the Hamburg Zoo and noticed: Here, people everywhere in Naketano's sweaters are running around. He guessed: The Naketano fashion label is making a lot of money – and he should have missed a good deal.
Meier is an entrepreneur and really means different. Without him – he says – there would not be the success of Naketano. For seven years he was co-owner of the company, helped the founders to contact the banks and guaranteed some of the millions. At the end of 2013, Meier left Naketano as a partner. Exactly at that time, the fashion label became really successful.
"First, it was my job to secure funding, and then they wanted me out," says Meier about the two founders Sascha Peljhan and Jozo Lonac. Would have been fed with a much too low sum.Meier is wrongly mistaken and wants his share of shareholders again.That's why he sued his two former trading partners in May 2017 before the regional court from Essen
Six months later, Naketano manufacturers announced the end of the label.Meier believes that his complaint is a reason for this: A buyer would find it difficult, as long as the legal dispute over the property n & # His suspicion: Now Peljhan and Lonac are driving the fashion label against the wall.Although his trial was successful and he was recovering his share, there would not be much left of the The current collection for 2018 is the last one, informed Naketano In January purpose & # 39;. the fashion industry, with its deadlines ordering and delivery long, traders begin long to seek alternatives, insiders and men of & # 39; business.
Thick cords are the distinctive feature of Naketano "
Meier is tall and slender, almost lanky and has distinctive gray hair. He is sitting in his lawyer's office. He has in a thick file the files at Naketano in front of him. In front of Meier, his laptop is on the table. "I do not manage any processes, I always try to agree," he says. He had long wondered if he should go in public. "It's not revenge," says Meier. Instead, he feels a "deep disappointment".
The 50-year-old man is from a family of entrepreneurs and runs a medium-sized business in the automotive supply industry. And Meier is the financier of the young founders. He is fascinated by entrepreneurs who have a good idea, who are willing to make decisions, who trust something and who can manage risk. Just like a guy Meier said in the ten years younger Sascha Peljhan discovered. The two met at the turn of the millennial friends. "A busy guy, big numbers, nerves of steel, very hardworking, very economical," Meier describes.
Meier financed Peljhan's business projects and was delighted to see how much his business was under control. In 2004 Peljhan founded with Jozo Lonac the fashion brand Naketano. The industry is disputed, the start was difficult, the company needed money. In 2006, Meier joined Naketano as a shareholder through one of his companies with 12,500 euros. He owned a third of the company.
He negotiated contacts with banks, granted guarantees – the highest of which was more than 1.2 million euros. Meier gave private loans to the two young entrepreneurs, so that they could put money into the business. In the financial crisis of 2008, a bank announced the loan. Meier helped get a new loan from another bank. "Without me, the bankrupt would have been," he says.
Business Meier gave freedom to the founders of Naketano. He did not control the number of the two directors, he said. "I saw myself as a mentor." And he has almost always had good experiences with this attitude.
But when Meier noticed the many porters of Naketano in the autumn of 2016 at the Hamburg Zoo, he felt that he should have looked more closely. ,
Aggravation on sale
In 2012, Naketano made a surplus of 100,000 euros. Meier congratulated Peljhan in January 2013 by e-mail. He asked in his answer if Meier could imagine selling his Naketano shares. There are prospects. From then on, Peljhan did not give up, Meier said. And because a private good relationship was important to him, he did not lock himself in.
Inquiries to Peljhan and Lonac about his company and his lawyer went unanswered. Their view of things can only be reproduced on the basis of their lawyers' briefs. In it, they explain, Meier had in 2012 for his own account to sell his shares.
Meier had never had any closer contact with Jozo Lonac, Sascha Peljhan in his opinion, it was friendship. He was even invited to Peljhan's wedding. Meier trusted him.
Peljhan and Lozac prepared a report to determine the value of the company. As a result, Naketano was worth about 4.2 million euros as of 31.12.2012. On this basis, Meier and Peljhan negotiated the sale price.
Screenshot of the Naketano Online Shop
He crunched between the two. Meier did not want to accept a price below one million euros, according to his statements. He flips through an email from September 2013 on the documents. Peljhan was disappointed because Meier wanted to "make the most of it". Peljhan demanded clarity until the end of September, if Meier sells. Otherwise, he and Lonac wanted to stop after the spring delivery with Naketano. It was a threat, Meier said today. Peljhan and Lonac announce in court documents an announcement "for informational purposes."
Then Peljhan suggested in his mail "a fixed purchase price of one million euros plus the distribution of the entire net income for 2013" before. Meier investigated how high the 2013 pre-tax profit would be. The answer by mail: "maybe 1.2 – 1.3". This refers to millions of euros.
Shortly after, they agreed: The purchase price of Meier's shares Naketano was set at one million euros, he got a consulting contract of more than 160,000 euros . In addition, a profit sharing of 300,000 euros. He relied on Peljhan's calculation, Meier said. He even spoke again to Naketano, he said. On September 27, 2013, Meier signed a guarantee of 1.25 million euros. Naketano needed money for an order in China.
December 16, 2013 Meier, Peljhan and Lonac met at the notary's office. On 31.12.2013 Meier resigned as a partner at Naketano.
The subject Naketano was then checked for him – until the zoo's visit. Meier became suspicious. He reviewed the 2013 and 2014 financial statements and compared the figures with those of the Naketano review notice of July 2013. While the expert estimated sales of 9 million euros in 2013, Naketano actually bought back 15.5 million euros
Meier also noted extreme differences in earnings. The report provided a pre-tax profit of 859,000 euros for 2013. According to this estimate, the net result would have remained 600,000 euros, calculated Meier. In fact, the surplus was 1.53 million euros. For 2014, the experts estimated the profit before tax at 981,000 euros. The final result was then even six million euros.
Meier was counting: He would then have for 2013 a profit share of 510,000 euros instead of the 300,000 cashed cashed.
"Sascha is a great businessman, he can not say he did not know it," says Meier in the face of the discrepancy – at the latest when the notary was appointed in December 2013 Peljhan and Lonac knew that the actual figures would be much higher than expected in the report, says Meier.
Peljhan and Lonac, for their part, allege that they would have concealed numbers, according to their arguments in the documents Instead, they point to Meier's negligence, as Peljhan had already announced a pre-tax pre-tax profit for 2013 of between 1.2 and 1.3 million euros in September. after the report – which was created in July 2013 and that Meier also existed – it could have been deduced that it had been calculated with a pre-tax profit lower than 859,000 euros .Their argument is therefore: to blame oneself if Meier then did not notice and addressed the best development.
The clothes are soon under a new name?
In the fashion industry, some of the goods are ordered months in advance called). According to industry experts, fashion manufacturers can already estimate very well the pre-order figures at the beginning of a year because the business will work. According to Naketano's note, customers ordered the goods for the fall / winter season from January to March. Delivery is from June to September. In summer, the goods will be ordered accordingly for the next spring season. In addition, customers can reorder the goods during the year (called post-order in the industry).
Meier accuses Peljhan and Lonac of having refused the arbitrator the 2013 order numbers. He argues that the 44% reorganization quota in 2012 should have taken into account the replenishment orders planned for the 2013 profit planning.
Peljhan and Lonac dismiss the charge that they kept numbers at the shelter. According to their lawyer, on July 24, 2013, two days before the publication of the expert report, they sent a company valuation report with a turnover of 5.3 million euros and a list of orders of 2.4 million euros to the expert. "Other orders did not exist for 2013," he says.
Meier's claim for a higher profit share is also rejected by Peljhan and Lonac. Rationale: 300,000 euros were fixed at a flat rate.
"In court, the question now is whether Peljhan and Lonac, as directors of Naketano, would have been obliged to give Meier more details before concluding the notarial act of purchase. December forecast higher than in the current September earnings forecast – and if this forecast is to be updated later, by mid-December, it should have been clear that the September exceeded. "
The entrepreneur disputes in his lawsuit the transfer of shares agreement. If Meier had succeeded, he would be retroactively considered a shareholder from December 2013 – and should be involved in success accordingly.
"I wanted an explanation," says Meier.But in personal interviews Peljhan avoided.The entrepreneur and his former pupil sat in court last October. Han did not want to be involved in a comparison, Meier said. He, in turn, had to accept the judge's question why he did not look at the books himself when he was a shareholder of Naketano.
"Maybe I'm naive," Meier says. But now, he does not want to stay with the feeling that he's being dragged across the table. He does not care about money. He has already earned a lot more on Naketano, as he did with the 12,500 euros for his actions, Meier said. Now he is concerned about morality and justice.
The other side sees it from the court documents as follows: Meier was simply unhappy about having poorly negotiated.
In April, former trading partners were in court. In fact, a verdict should already have been made last year. But then the court did another oral hearing. Meier considers that it is a good sign in itself. He believes that even Peljhan and Lonac consider a verdict in his favor possible – and so have decided the end of Naketano.
But what could be the calculation behind this? Meier thinks that the founders of Naketano do not give up their product so easily. Maybe the wide-brimmed pullovers and thick leather cords will soon appear under a new name – without the owner Meier on board.
Strange Things From The Internet You Can Buy
You May Also Be interested In: [19659048] Coop Launches 200 Nestlé Products On The Shelves – For A Specific Purpose
Retailer Gets Extra Products like Thomy mayonnaise, Maggi seasoning and Buitoni pizzas. The goal: more favorable buying conditions.
Coop increases the pressure on Nestlé's western Swiss food multinational. "We can confirm that Coop will not order any other products until further notice," spokesman Urs Meier said. More than 200 Vevey Group products are involved. An inspection in Coop stores reveals that many Thomy products such as mayonnaise or tomato puree are missing, as well as Maggi seasonings or Buitoni pizzas.
The fundamentals of climbing are the negotiations between Nestlé and …