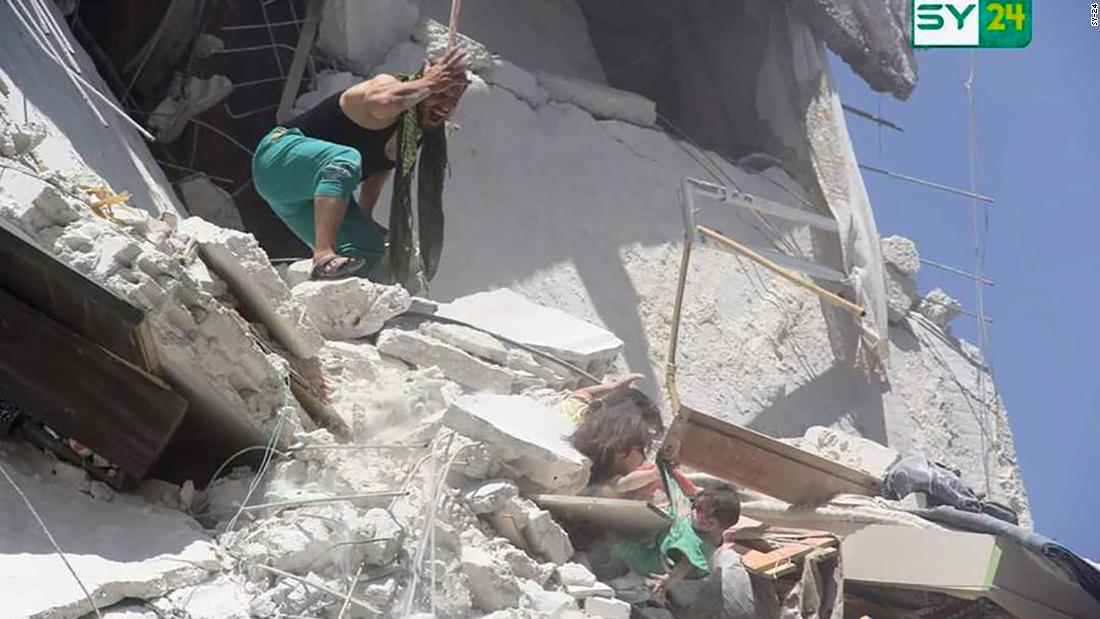 This desperate moment is captured in a grainy image taken by local media activist group SY24 Wednesday in the Syrian city of Ariha in the province of Idlib. It shows the consequences of an airstrike by the Syrian government, which is supported by Russia. Not pictured is her mother, who died in the attack.
In recent days, numerous civilians have been victims of Russia's government-backed offensive to regain control of northwestern Syria. Last week, nearly 100 civilians died in similar bombings, according to White Helmets, a volunteer rescue team also known as Syrian Civil Defense.
Over the past two months, the Syrian government has reinforced air strikes on Idlib and surrounding areas ̵
1; the last remaining areas being controlled by the opposition. According to the Syrian Observatory for Human Rights, hundreds of thousands of civilians have been killed and tens of thousands displaced.
According to regional organizations, recent weeks have been particularly deadly for children. In the province of Idlib, more children have been killed in the past four weeks than in 2018, Save the Children and its partner organization Hurras Network said in a statement released Wednesday.
At least 33 children were killed since June 24, compared with 31 children killed in 2018.
"The current situation in Idlib is a nightmare, and the injuries we see are horrific," said Sonia Khush, director of Save the Children Syria, in a press release. "It's clear that once again children were killed and injured in indiscriminate attacks."
Save the Children estimates that at least 400 people have died since the escalation of violence in late April, including 90 children.
"Mr Trump, please stop listening to the shots Stop stopping to kill those innocent people," said a Syrian-American woman, Rania Kisar, in an emotional Facebook video earlier this week , After an air raid in the city of Maarat al-Numan, she was in the midst of rubble and said, "Please, America, please do something," before she sobbed.
CNN has asked the White House for a comment.
Last week, UN Head of Humanitarian Affairs Mark Lowcock warned the United Nations Security Council that "attacks on civilians and civilian infrastructure must stop immediately".
Local hospitals have closed for fear of attack and 94 schools are being used as shelters. according to the United Nations.
"These attacks are not just demanding innocent lives," said Lowcock. "They are also depriving thousands of civilians of basic health care, even as the fighting for them increases," he added, calling the attacks on civilian infrastructure "horrific."
Since 2011, more than 5.6 million people have fled Syria, millions more have fled Syria and, according to the latest UN figures, have internally been displaced as hope for peace and normality fades.