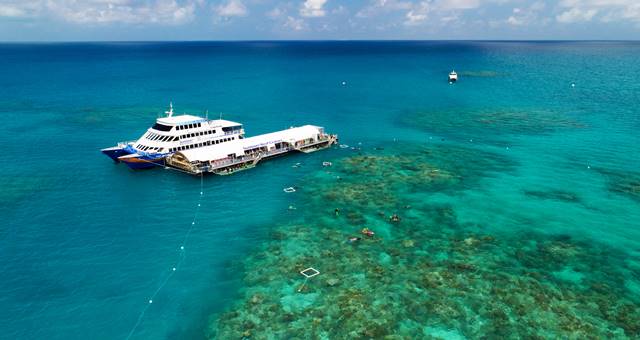 The first venue on the Great Barrier Reef opened in Cairns, offering tailor-made corporate events and private parties in the middle of the Coral Sea.
Sunlover Funlover is an event and entertainment product featuring a high-speed catamaran and the outer Great Barrier Reef Pontoon, which can be customized to fit any function and can accommodate more than 300 guests.
Sunlover Reef Cruises and Hideouts Hotel Cairns Group General Manager Sharon Sheldrake said the unique offsite venue was the only tourist infrastructure on Arlington Reef so guests felt as if they had the Great Barrier Reef to themselves.
"Sunlover Funlover offers the opportunity to choose the event theme, timing and entertainment year-round to create the ultimate Instagram-worthy event," she said.
"Imagine you are tweeting your business meeting with nothing but the Great Barrier Reef in the background?
" Start your event the moment you find yourself or leave Cairns with a comedian who play a live set, or get to know the reef during the 90-minute boat ride.
"Choose an indigenous theme with a welcome to country upon arrival at the pontoon, a presentation on what the reef means to its traditional owners and entertainment by an indigenous band.
" Snorkeling, glass bottom boat tours, the underwater observatory , Fish Feeding and Touch Tanks Are All Included and Extras Including Diving and Scenic Helicopter Rides
"Our first Sunlover fun event is Diving Divas, a charity event that will feature the PADI Women's Dive Day on Saturday, July 28th Fashion Parade, Synchronized Swimming, Live Band, Head and Hand Massage and Special Guest Straw No Founder Molly Steer
"Sunlover Funlover has been developed as an innovative, highly entertaining Great Barrier Reef experience with the utmost respect for our precious marine environment. "