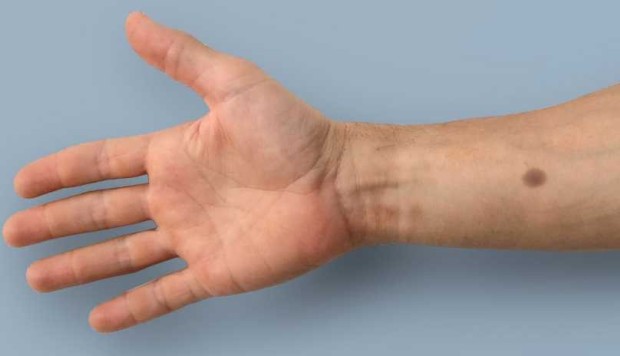 Swiss scientists have developed an experimental skin implant that darkens like a mole when it detects subtle changes in the body that could be an early warning sign of cancer, according to a study published Wednesday.
The implant, or "biomedical tattoo," as researchers call it, has been tested on laboratory animals, lasts for about a year, and identifies the four most common cancers: prostate, lung, colon, and breast cancers.
It works by responding to the level of calcium in the blood that rises when a tumor develops. About 40 percent of cancers could be discovered theoretically in this way, say researchers.
"The biomedical tattoo recognizes all hypercalcemic cancers at a very early, asymptomatic stage," says lead author Martin Fussenegger, professor at the Department of Biosystems Science and Engineering at ETH Zurich
Faster, cheaper MRI offers a new option for breast examination Hong Kong start-up
"When blood calcium levels remain high for long periods of time, the calcium sensor in the biomedical tattooing cells produces an enzyme called tyrosinase, which converts the amino acid into the black skin pigment melanin."
When the wearer notices that the Darker spot, they should consult a doctor about the cause of the change and determine if or what treatment is justified says. "Early detection significantly increases the chances of survival."
"Today, people usually go to the doctor only when the tumor causes problems, but unfortunately it's often too late at this point."
The implant was applied to mice with cancerous tumors causing hypercalcaemia or to tumors that do not affect the calcium blood level tested.
During a 38-day experiment, the tattoos were only on the skin of hypercalcemic mice, which showed no disease symptoms.
More research and funding is needed to advance to clinical trials in humans, and the process could take a decade, says Fussenegger.
A paper description of the prototype has been published in the journal Science Translational Medicine
AFP
Japan is set to test the world's first urine test Recognizing Cancer
A Japanese company plans to conduct the world's first experiment to test urine samples for cancer, which would greatly facilitate screening for the fatal disease.
Hitachi, an engineering and IT conglomerate, developed the basic technology to detect breast or colon cancer from urine samples two years ago.
Testing of the method using 250 urine samples is now being started to see if room temperature samples are suitable for analysis, says Hitachi spokesman Chiharu Odaira.
When this method is put into practice, it is much easier for people to test for cancer because there is no need to go to a blood test to a medical organization, "he says.
It is Intended (19659002) A study published earlier this year has shown that a new blood test is promising if eight different types of tumors are discovered before they spread elsewhere in the body [19659005] How a simple eye test can save your life, and five Tips to Improve Your Health and Vision
Usual diagnostic methods for breast cancer consist of a mammogram, followed by a biopsy when a risk is detected.
Screening is usually cond via a stool test and a colonoscopy for patients carried out at high risk.
Hitachi technology focuses on the detection of waste in urine samples identified as biome arker – a naturally occurring substance that can be used to identify a specific disease.
The process aims to improve the early detection of cancer, save lives and reduce medical and social costs.
The experiment will start this month through September in cooperation with the University of Nagoya in central Japan.
The technology used in the 2020s, "says Odaira.
AFP
New Alzheimer's Definition Delays Research into Illness
When to Dementia Thinking Most People Automatically Also Think About Alzheimer's Disease According to a new definition of Alzheimer's, the two terms are no longer considered interchangeable.
The new definition is part of a new framework for the study of Alzheimer's disease The Alzheimer's Association and the US National Institute on Aging was developed and published.
"Alzheimer's disease is one of the causes of dementia," says Dr. Clifford Jack Jnr, radiologist of the Mayo Clinic and Alzheimer's researchers "It's the most common cause, but it's certainly not the only cause. And that has led to great confusion.
Alzheimer's affects about 44 million people around the world and more than 100,000 Hong Kong residents, but is still poorly understood and there are no effective treatments for research despite billions.
The "Dementia Tsunami" and Why Hong Kong is unwilling to cope with the expected increase in cases as the population ages
Alzheimer's is now being diagnosed by assessing symptoms and cognitive behavior associated with the disease, but, says Jack, that may be misleading for research
In the new framework, an Alzheimer's diagnosis is based not on symptoms but on signs of neuropathology, in particular, finding plaque – caused by a naturally occurring protein called beta-amyloid that accumulates in the brain – by a protein called Tau, which blocks communication between neurons, for diagnosis.
This can be done using biomarkers Follow found in the cerebrospinal fluid or by imaging in the brain.
The change is significant, says Jack.
"What we are saying is that symptoms are a consequence of the disease, not the definition of the disease, people can have pathology in the brain and be symptom-free, they still have the disease, even though they have no symptoms have the pathology, they have the disease, "he explains.
How to prevent dementia with lifestyle changes, including giving up smoking, exercising and finding friendship
Jack says changing the definition enables research to target patients so clinically will be more effective. It can enable researchers to diagnose Alzheimer's disease before a patient has symptoms, and enable scientists to develop treatments that stop Alzheimer's disease before symptoms develop and improve patients' quality of life.
He compares this shift with the treatment of heart disease by health care providers. 19659002] "The best way to treat cardiovascular disease is to wait for an asymptomatic statin person, you know, for 20, 30 years, as opposed to that person has a stroke or heart attack, and then try to deal with that, "he says. "Only by biologically defining the disease in this way can one identify treatments that prevent the onset of symptoms."
He and the other scientists releasing the framework hope that he will create a common language for researchers in medicine
"By using biomarkers to determine who actually enters clinical trials – the will lead to faster development and identification of treatments "
AFP / TNS