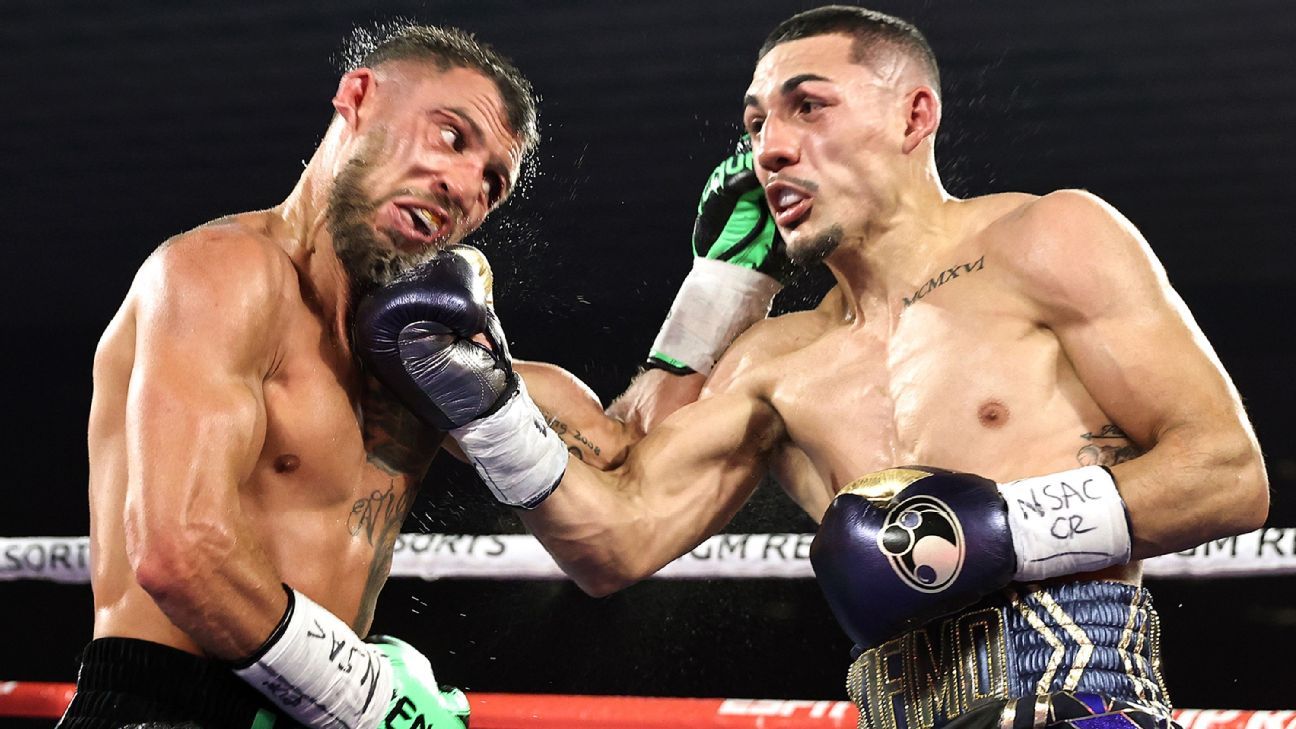 We have a new easy king. At just 23, Teofimo Lopez became the undisputed lightweight world champion by dethroning Vasiliy Lomachenko over 12 tense rounds on Saturday night at the MGM Grand Conference Center in Las Vegas.
Lopez is the youngest fighter to become a four-belt champion since the WBO was founded in 1
988.
After a strong start, Lopez overcame a late Lomachenko rally and won 116-112, 119-109 and 117-111.
The fight was dominated early on by boxing by Lopez, who controlled the center of the ring with his trained left hand and then hit Lomachenko with well-placed body shots that caused the smaller boxer to back down.
Lopez (16-0, 12 KOs) built a big lead on the scorecards when he was able to counter the graceful moves of Lomachenko (14-2, 10) behind that shot. For most of the first half of the fight, Lomachenko only moved around the ring and did very little offensive. It was clear that Lopez's technical acumen and demeanor were grossly underestimated. For long stretches of the fight, he actually overtook the master boxer.
But Lomachenko did not give up without a fight. As the fight entered the late stage, feeling that he was staying behind, Lomachenko began increasing the pressure and closing the gap with Lopez. He hit him with quick, laser-like left hands that slowed Lopez's swing. In his credit, Lomachenko put together a late rally in the championship laps.
"I think in the first half of the fight he got more rounds than me, but in the second half of the fight I took over," said Lomachenko. "I was a lot better."
However, if Lopez needed a belated explanation, it was made in the 12th and final round. Despite Lopez's father saying he won the fight in the final round, Lopez kept the pressure on and moved his hand, landing several significant power shots that stopped Lomachenko on his trail. Only a clash of heads that cut a cut over Lopez's left eye stopped the tide.
"I'm a fighter," said Lopez after the fight for the 12th round. "I have to dive deep. I knew he was coming. I didn't know if they had him on the scorecards or not, and I love to fight. I can hit too. I don't care man. I'll take one to give one. That makes a true champion. I find a way to win. "
That round was a late call for excellence by a young man who fulfilled the fate of his outspoken father and prophesied that his son would not only win a world title by his 15th fight, but also overthrow a boxer considered many draw the best in sport from his 16th.
Source link