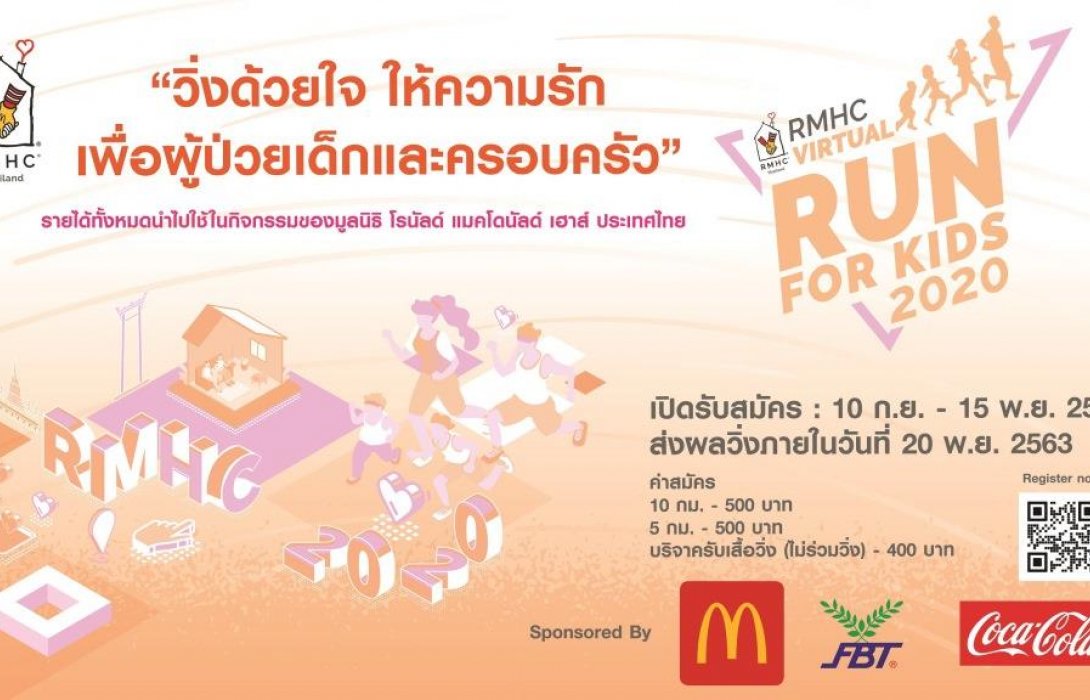 Saturday 19th September 2020
The Ronald McDonald House Thailand Foundation invites you to run with love for patients, children and families. Experience a new way of running with the 'RMHC Virtual Run for Kids 2020' charity run activity Enjoy a virtual run You can manually set the date, time, location and distance. By recording the results with the watch or the application or on the treadmill, convenience and safety reduce the risk of a COVID-19 epidemic. This event marks the sixth year in a row of the annual RMHC Mini Marathon Run for Kids. All proceeds will be used to finance the foundation's activities. In supporting young patients and families for a better life through 3 main projects of the foundation:
1
. Ronald McDonald's House Project for the Family of Pediatric Patients Providing Temporary Housing for families of critically ill pediatric patients free of charge 24 hours a day, able to care for up to 58,400 pediatric families per year and care for more than 22,000
2. Ronald McDonald Mobile Dental Car Unit under the program. "Good Health Under His Majesty the King's Umbrella" Offers Dental Services In terms of treatment and prevention, an average of 6,600 children in the wilderness provide more than 34,000 dental exams per year.
3. The construction and improvement of the common room for children. To public hospitals and children's homes. There are currently 36 rooms nationwide. Serves an average of 340,000 pediatric patients per year.
Interested parties can apply for a charity run from September 10 to November 15, 2020 as follows:
1. Apply for a donation of 500 baht for a distance of 10 kilometers, receive 1 souvenir shirt, E-BIB, 2 sets of McDonald's vouchers worth more than 1,000 baht, and receive a commemorative coin and an e-certificate when the Results completed successfully.
2. Distance 5 km. Apply for a donation of 500 baht. Receive 1 souvenir shirt, E-BIB, 1 set of McDonald's vouchers worth more than 500 baht. The results were successfully completed.
3. Donate to support the foundation's projects If you do not participate in the 400 baht run, McDonald's will give you 1 commemorative T-shirt and a special voucher totaling more than 500 baht
Participants can submit their results through the website by November 20, 2020, when the team has already reviewed the results of the run. The team delivers souvenirs according to the conditions of use. Starting December 1, 2020, you can apply at https://www.runlah.com/events/rmhc20 For more details, click www.facebook.com/rmhcthailand Learn about the application and contact the Run La team at 081-818-6155.