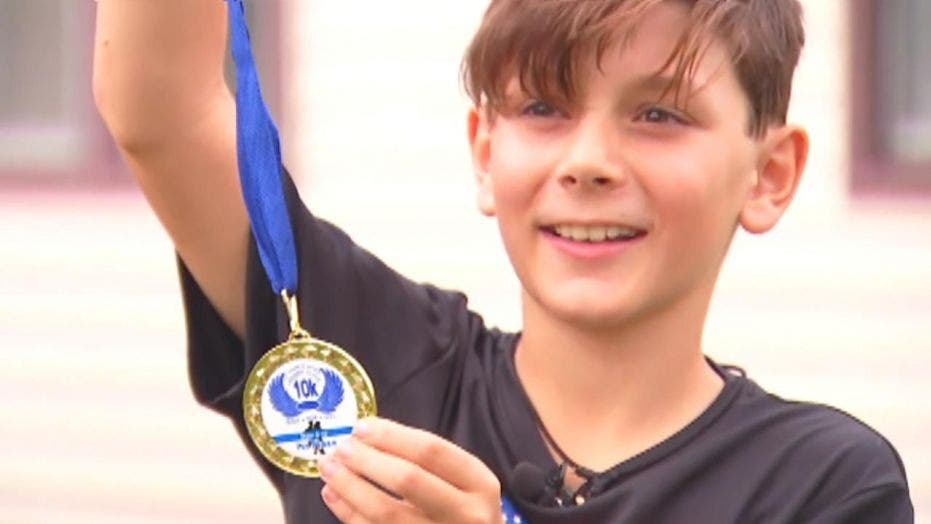 He took a wrong turn but still won.
A 9-year-old boy won a 10-km race in Minnesota last month after missing a corner in a separate 5-kilometer race and ended up racing one race on the much longer circuit.
"I thought, & # 39; This is a really long 5-kilometer route." This is not as usual, "said Kade Lovell of St. Cloud opposite FOX9.
MASSACHUSETT'S WIFE MISTAKENLY UP FOR HALF MARATHON IN THE BRITISH TOWN WITH THE SAME NAME AS IN THE US CITY
On September 21, Kade launched in Sartell, Minnesota, with the St. Francis Franny Flyer 5K.
A woman told him to keep going as he neared the 5km turn. Despite his confusion, he told the St. Cloud Times.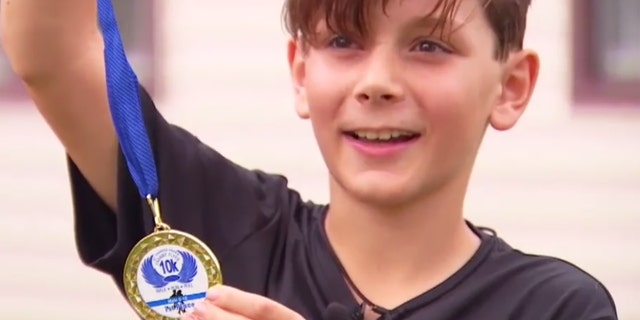 "A lady told me to go straight ahead, so I went straight on," he told the newspaper.
When he did not cross the finish line of the 5K, his mother Heather Lovell said she thought her son had a day off. But when he did not show up, her concern grew and she began to search for him on the 5 km stretch.
IAAF WAY WITH THE TERM "FASTEST LOSER": REPORT
"I thought maybe he has a bad race, it happens, no big deal, then these other kids come by … I thought, 'He should be ahead of them.' Then I thought, maybe he's hurt, maybe he got lost, maybe it could get worse … who knows, "she said to FOX9.
Heather Lovell said she "roared" when no one saw her son when she asked someone she could find if they had seen her son. Eventually, she was able to track him down after a spectator called her brother-in-law, who was in the 10km race, to let him know there was a "small kid in the 10km race that was doing really well ".
CLICK HERE FOR THE NEW FOXBUSINESS.COM
When Kade's mom found him, he was all alone and told FOX9 that she thought he was in the 10K race landed last place.
But race organizers told Kade's mother that he took first place. She thought they meant in his age group, but he was actually the first place overall. He finished in just over 48 minutes – one minute faster than the 40-year-old woman who finished second.
"I accidentally won it and they practiced for a long time, I was just real, I was surprised I did that," Kade told FOX9.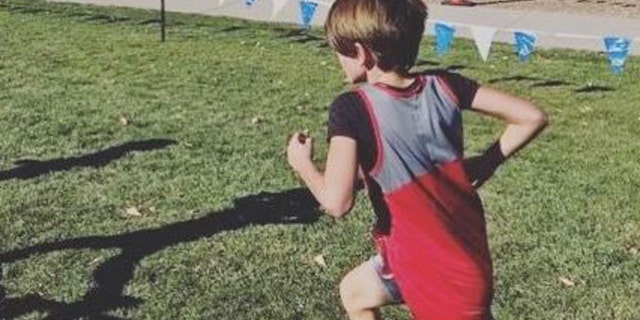 Kade's mother said the 9-year-old had been running since he was 18 months old. "He pretty much ran away," she said. At the age of 6, he started running a cross country club. He currently practices at least three times a week, running two to six miles at a time.
"I like wasting my energy and stuff and sprinting and just walking," Kade told FOX9.
CLICK HERE FOR THE FOX NEWS APP
Following his accidental victory, Kade ran another 5-km race sponsored by the Jacob Wetterling Resource Center – which he also won Olympic Games with plans to compete in Wisconsin again this year.
"I'm glad it turned out I could not have asked for a better way than it turned out because I was scared of excitement and he was doing well," his mother told FOX9.
The Associated Press contributed to this report.