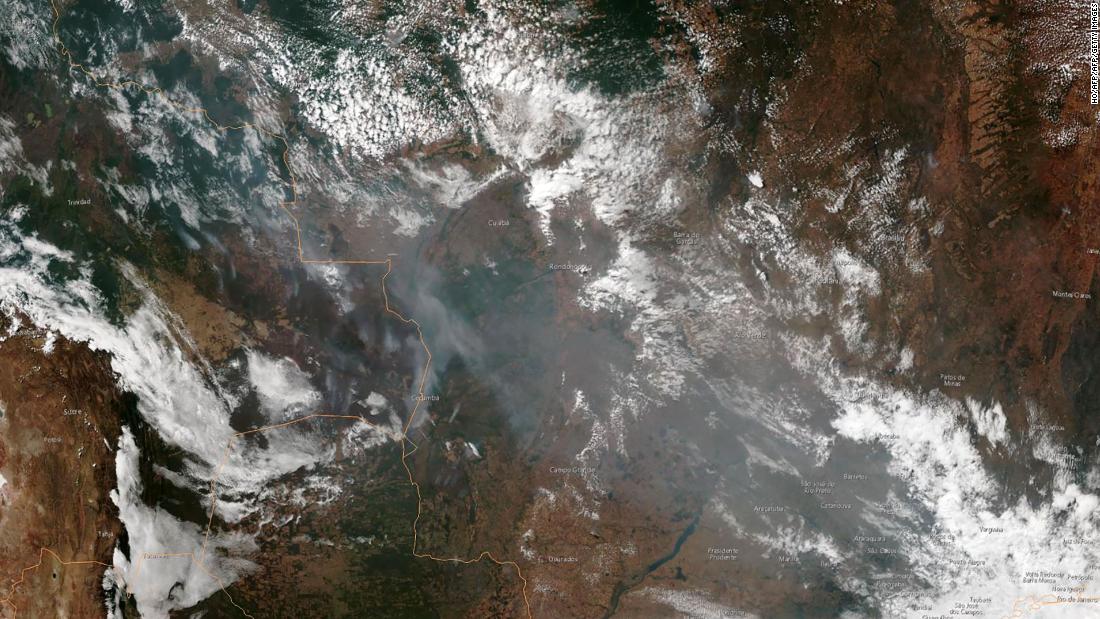 The vast majority of fires were laid by lumberjacks and ranchers to clear land for livestock. The practice is on the rise, encouraged by Jair Bolsonaro, Brazil's populist pro-business president, who is supported by the country's so-called "beef caucus".
While this may be the usual business for Brazilian cattle breeders, the rest of the world is looking horrified.
For those who wonder how they can help save the rainforest known as "the lungs of the planet" to produce about 20% of the world's oxygen, the answer may be simple. Eat less meat.
It's an idea that Finland has already flown. On Friday, the Minister of Finance of the Nordic country called on the European Union "to urgently examine the possibility of banning Brazilian beef imports because of the fires in the Amazon".
Brazil is the world's largest exporter of beef, accounting for nearly 20% of total world exports, according to the US Department of Agriculture (USDA), a figure that could increase in the coming years.
Last year saw 1.64 million tons of beef shipped – the highest volume in history – and $ 6.57 billion in revenues, according to the Brazilian Beef Exporters Association (Abiec) than 30 Brazilian meat packing companies are affiliated.
The growth of the Brazilian beef industry is partly due to strong demand from Asia – mainly from China and Hong Kong. These two markets accounted for nearly 44% of all beef exports from Brazil, according to USDA 2018.
A trade agreement signed in June between the South American Mercosur bloc and the European Union could open even more markets for the Brazilian beef packaging industry.
Antônio Camardelli, head of Abiec, said after the announced agreement that the pact could help Brazil gain access to potential new markets such as Indonesia and Thailand while increasing sales with existing partners. like the EU. "A deal of this magnitude is like an invitation card for talks with other countries and trading blocs," Camardelli told Reuters in July.
Once the deal is implemented, a 20% levy on beef imports into the EU will be levied.
] But on Friday, Ireland said it was ready to block the deal, unless Brazil took action on the Amazon.
In a statement, Irish Prime Minister Leo Varadkar described the attempt by "Orewellian" Bolsonaro to blame environmental groups for the fires. Varadkar said Ireland will monitor Brazil's environmental measures to see if the two-year Mercosur deal is to be blocked.
He added that Irish and European farmers could not be advised to use less pesticides and respect biodiversity in trade agreements with countries that were not subject to "sound environmental, labor and product standards".
In June, the Irish Farmers' Association called on Ireland not to ratify the agreement, as its terms would penalize European beef farmers.
According to the Organization for Economic Co-operation, the Brazilian beef industry is expected to continue to expand, supported by natural resources, availability of grassland and global demand and development (OECD).
And this growth is accompanied by high environmental costs.
The Brazilian Space Exploration Center (INPE) announced this week that the number of fires in Brazil is 80% higher than last year. More than half of them are located in the Amazon and are a disaster for the environment and local ecology.
Alberto Setzer, a senior scientist at INPE, told CNN that burning from small-scale farming practices to new deforestation can reach out to mechanized people and modern agribusiness projects.
Farmers wait until the dry season to burn and clear land so their cattle can graze, but this year's destruction has been described as unprecedented. Environmentalists blame Bolsonaro for this upswing, which, according to its own information, has encouraged ranchers, farmers and loggers to use and burn the rainforest as unpunished as ever.
Bolsonaro has rejected the allegations of responsibility for the fires, but there seems to be a significant shift on the move.
And if rainforest salvage is not enough to convince carnivores not to eat Brazilian beef anymore – the greenhouse gas emissions caused by livestock could be high.
Beef accounts for 41% of farmyard GHG emissions, accounting for 14.5% of total global emissions. And methane – the greenhouse gas that cattle produce from both sides – is 25 times stronger than carbon dioxide.
In an alarming report from the United Nations Intergovernmental Panel on Climate Change (IPCC) last year, it said we could change our diet to make 20% of our efforts to prevent global temperatures from being 2 ° C above pre-industrial levels Level rise. Namely, to eat less meat.
Nevertheless, according to the Organization for Economic Co-operation and Development (OECD) and the Food and Agriculture Organization of the United States, worldwide consumption of beef will continue to increase in the next decade (FAO).
A joint report has predicted that global output would increase by 16% between 2017 and 2027 to meet demand.
Most of this expansion will take place in developing countries like Brazil.
This has been contributed by CNN's Arnaud Siad report from London.
Source link