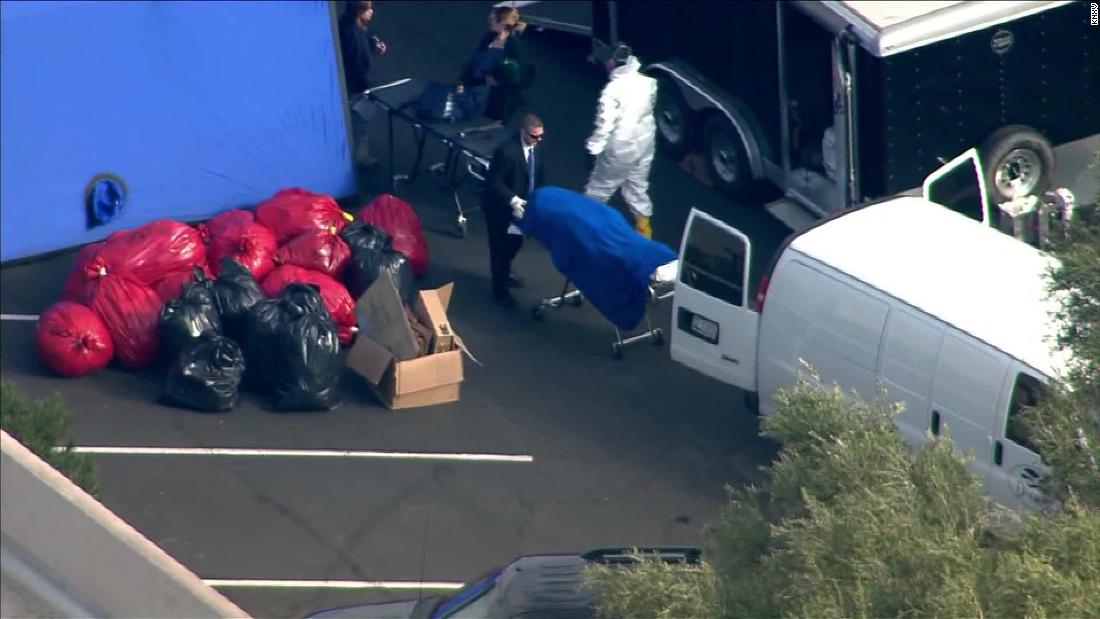 However, when the federal authorities raided the Arizona Resource Center in January 2014, they made a terrible discovery: stacked corpses, buckets full of body parts and other disturbing scenes, details recently revealed as a The Former FBI Agent made a statement of claim.
Thirty-five relatives of people whose bodies were to be donated for scientific research between 2010 and 2014 have sued officials who worked at the Biological Resource Center in Maricopa County or its facility in Illinois.
The grim discoveries were detailed in a civil lawsuit filed for the first time in 2015. It has been changed several times and is on trial this fall in front of a court in Phoenix. It is alleged that officials deceived relatives who had donated the remains of their relatives, and the company had conspired for reasons of profit on traffic and body parts.
In January 201
4, the federal authorities went through the now-closed facility for a week and made terrible discoveries.
In a statement released in May, Mark Cwynar, a deputy special agent at the FBI office in Phoenix, said that during the raid, he identified body parts found in all parts of the facility, including many in freezers, without a label. He says he saw a bucket full of heads, arms and legs.
A torso has had its head removed, and a smaller head has been fixed in "Frankenstein style," he says. The torso was hung on a wall, it said in the lawsuit.
The relatives who sued the company said they "mutilate and desecrate these bodies so they can sell the corpses and body parts to enrich themselves."
The plaintiffs have ticked a box labeled "No, I do not authorize Biological Resource Centers to use this legacy for such special non-medical projects," only to find that the bodies were used years later for other purposes.
The bodies were sold according to the complaint to the Ministry of Defense.
"These bodies were literally used as crash-test dummies, meaning that they were used in experiments that exposed them to destructive forces, such as impacts, accidents, ballistic injuries, and explosions." for an investigation by the Arizona Attorney General. The plaintiffs acquired the information by a request for public documents, it is said in the lawsuit.
In 2016, according to the army, Reuters reviewed "heavily edited forms or forms signed and approved by a BRC representative." Reuters reports that it is the army's policy not to use corpses if a donor does not authorize use in military research.
The plaintiff said he had clarified his wishes.
Troy Harp, one of the plaintiffs, shared with CNN: In the Biological Resource Center, he was very clear that the remains of mother and grandmother should be used for scientific research, perhaps in a lab where students of could learn the remains.
"Not for a morbid dissecting Frankenstein party," said Harp.
Now he wonders if the company really sent him their cremated ashes.
"We do not even know who we have in our boxes, none of us do," he said.
His mother suffered from severe arthritis and spent 25 years in a wheelchair. Harp said the hospice facility where she was staying had transferred him to the Biological Resource Center. She died in 2013, a year after the death of Harp's grandmother.
Attorney Michael Burg said that it was about people never being allowed to agree on how the bodies were allegedly used.
"This is a terrible situation where these vulnerable people are being exploited," he said.
CNN tried several times to call Stephen Gore, the former owner and operator of the company, for comment, but has not received any feedback yet. He pleaded guilty to illegally controlling a company in 2015 and was reportedly sentenced to four years in prison.
Other defendants in the lawsuit include the man who ran a similar facility at the Illinois Biological Resource Center, the Deputy Medical Director at that location, and two businesses that have done business with the Biological Resource Center.
CNN was unable to ask any of the defendants or their lawyers to comment.
The lawsuit seems to be settled in the fall. The lawyers will return to court on August 13 for a status conference. The trial is expected to begin on October 21, as online court records show.
Mayra Cuevas of CNN contributed to this report.
Source link