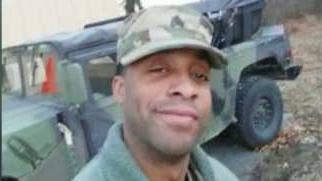 The body of a National Guard was found Tuesday in a river in Maryland, two days after he was missing, when he tried to rescue a woman and her cat during devastating flash floods sweeping through Ellicott City.
Howard County police said the body of Eddison Hermond, 39, in the Patapsco River, lay directly across from the Baltimore County line. Hermond was seen around 17:20. Sunday, near the La Palapa restaurants on Main Street, said the Howard County police.
"Rescue workers have been searching for buildings and waterways in the area since the flood, and there have been no reports of missing persons," the police said.
Hermond is a sergeant assigned to Camp Fretterd in Reisterstown, Maryland. He joined the Maryland Army National Guard in 2009 after spending more than a decade in the Air Force.
Kate Bowman told the Baltimore Sun that Hermond, a member of the National Guard and Air Force veteran, was trying to rescue her when he was "washed away."
"I could hardly see anything and could hardly hear anything," Bowman, 41
, told the newspaper. "He went over the edge to try to get to me, and he was washed away."