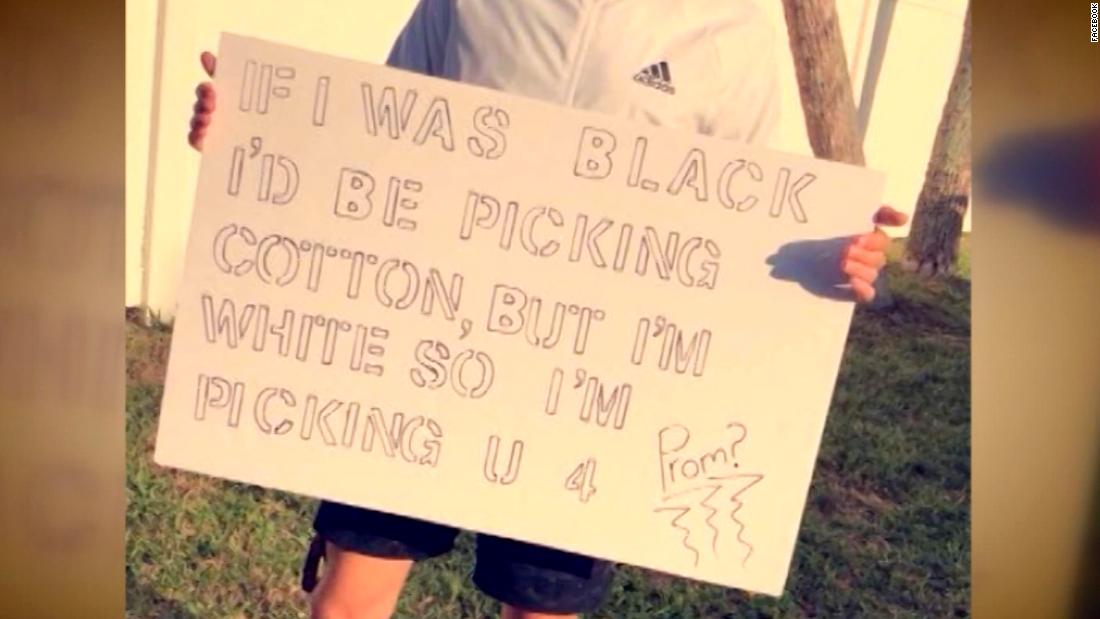 A senior citizen of Riverview High School in Sarasota, Florida, recently decided to ask a girl to graduate school by holding up a sign.
It was written, "If I were black, I would pick cotton, but I'm white, so I'll get you 4 prom?"
An image of the unidentified student with the sign was in social Media releases – where people love subtle discussions about the race lead – over the weekend. It sparked outrage immediately when someone asked Snapchat, "Whooo said that was alright?"
The school did not think it was alright. The acting director, Kathy Wilks, sent a letter to her parents on Monday saying that the school was investigating and "absolutely does not approve or endorse the message in this post," said CNN member WFLA.
The Sarasota County School District also weighed. It sent counselors to Riverview High School if the students wanted to talk about the controversy and said it would work with civil rights groups like the NAACP to develop a forum for talking about race.
"Many who have seen the post … are understandably angry at its content and comments," the school district said in a statement. "This incident remains an ongoing investigation and any disciplinary action and recommendations will be made.
" Although this message is the opinion of a student, we take the matter of race relations and school safety seriously and look forward to working with our students and these External groups have a meaningful and informative dialogue and curriculum on this important national issue.
The sign of the Annunciation also caught the attention of the local NAACP chapter that condemned its message.
It must be said to the student body that this type of behavior is not tolerated on any of our campuses throughout the school district, and if this will be the case, there will be serious consequences, "said Trevor Harvey, president of NAACP's Sarasota chapter, tells WFLA.
The student who made the indictment's sign has since posted an apology on social media, according to WFLA.
Riverview Gymnasium s ROM is scheduled for May 5.
Riverview student Erin Williams, who posted a photo of the sign on Facebook, found the Annunciation a joke that went too far.
"I think it was something he thought was going to be funny, but it's not," said Williams, who's black to WFLA. "This is a good thing to talk about, because you have to recognize something to change it, and then you have to keep it that way," she added.
Source link