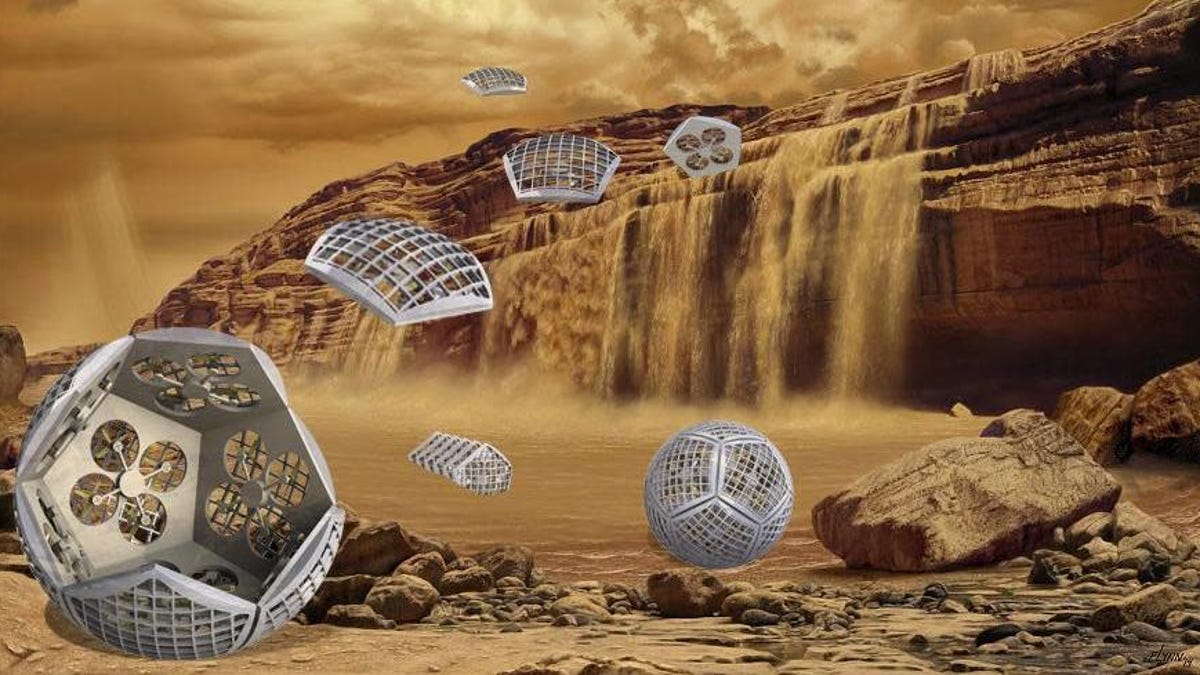 Why send a robot to explore a world when you can send a whole bunch at once? This is the idea behind NASA's highly conceptual shapeshifter – a modular, transforming, self-assembling robot that can deploy multiple smaller machines Advanced Concepts (NIAC) program that encourages researchers to explore new creative avenues to find further words. The morphing bot is designed and built by robotist Ali Agha and his staff from Stanford University and Cornell University in the NASA Jet Propulsion Lab (19459011) according to a JPL of NASA (19459011).
This amphibious robot is still in the embryonic stage of development. However, if the concept proves to be viable, the machine could be used to study the dynamic environment on Saturn's moon Titan, the only object in the world. A solar system other than Earth that harbors a liquid on the surface when it comes to lively, oil-like liquid methane.
So far, the first tests of Shapeshifter are promising. Currently, the 3D-printed prototype can move by rolling around on the ground, but it can also split in half, with the top flying in the form of an aerial drone. Agha and his colleagues say this is only the beginning. Finally, they equip the bot with components that can swim, swim and navigate through caves.
In fact, such a device would be perfect for Titan with its vast methane seas, flowing rivers and complex topography. Titan can house not only cave systems, but also icy volcanoes that release ammonia or water, according to NASA. It would be quite incredible, to say the least, if a bot explores these features .
"We have very limited information about the composition of the surface. Rocky terrain, methane lakes, cryovolcanoes – we may all have them, but we do not know exactly, "Agha said in the NASA publication . "So we thought about how we can create a system that is versatile and capable of traversing various types of terrain, but also compact enough to be launched with a rocket."
In its idealized final Shape Shapeshifter would be a transforming, modular self-assembling robot consisting of smaller robots called "Cobots". Each Cobot would be equipped with a small propeller that allows them to move independently. The Cobots could "also become speleologists and form a chain to maintain contact with the surface," NASA said. "Or they could turn into a ball to roll on flat surfaces and save energy." System or "Mothercraft, " in the words of Agha, would provide an energy source for his Cobot army. The lander would also be equipped with various scientific instruments and tools. The team estimates that 10 Cobots would fit into a lander that is about 3 meters wide – about the size of the Huygens lander that visited Titan in 2005. But unlike other countries, this lander could by the dense atmosphere of the moon.
Shapeshifter, in its current form, is semi-autonomous and requires some human guidance. At some point, the bot will be completely self-contained, which will require the complexity of exploring Titan and not least all of its moving parts. If the mission controllers are operating the system completely from Earth, this would be very cumbersome as it takes about 70 minutes for the signals to reach the Titan.
There is obviously still a lot to do, and Shapeshifter is far from ready. Luckily we can still look forward to the NASA dragonfly. The rotorcraft is scheduled to launch in 2026 and arrive at Titan around 2034 .
Source link