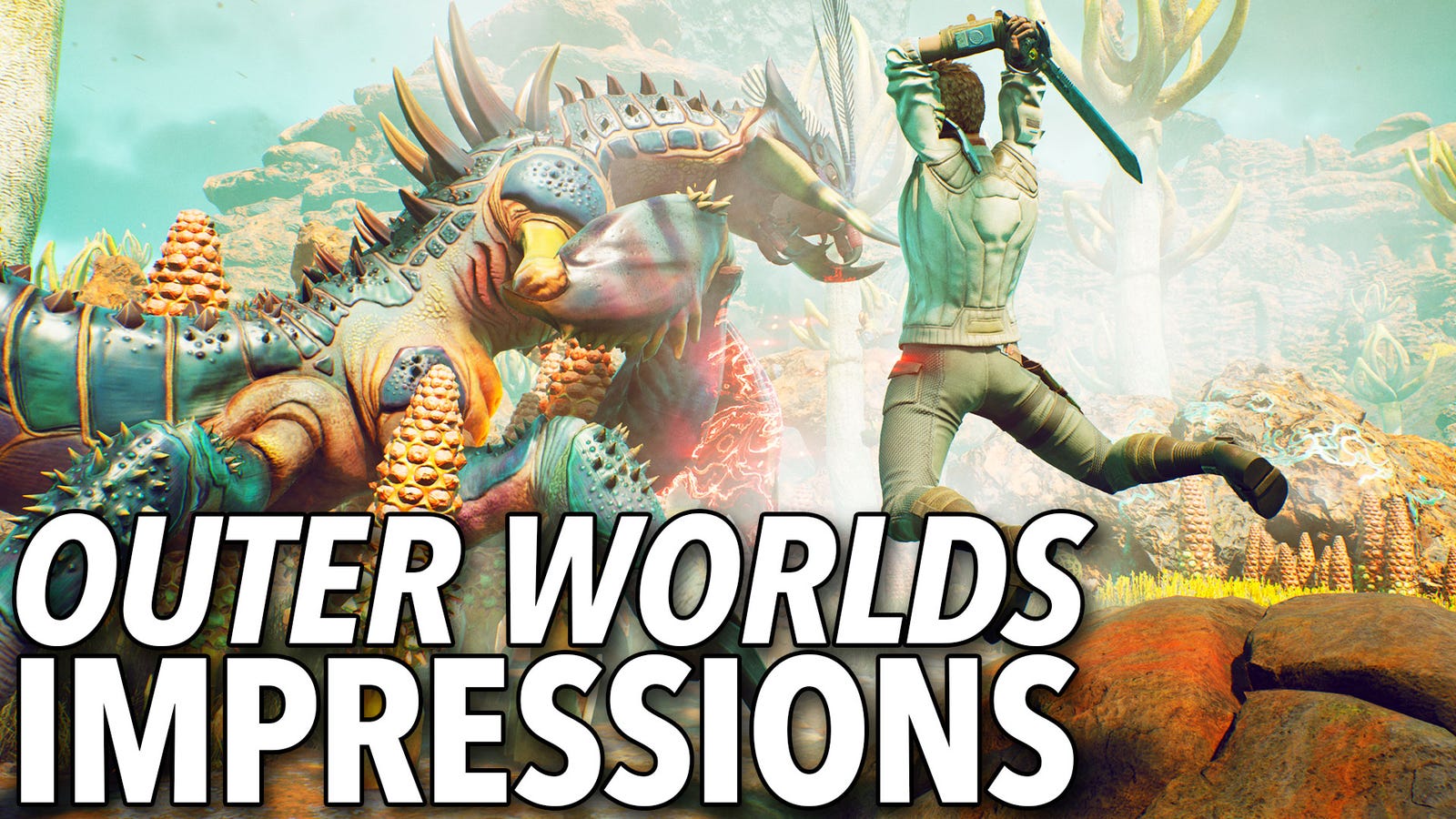 E3 2019
It's time for the biggest gaming show of the year. We have articles, videos, podcasts and maybe even one or two GIFs.
This week, my colleague Jason Schreier and I had the opportunity to attend a demo of The Outer Worlds the latest game by Obsidian Entertainment. Outer Worlds is an ego role-playing game in which you are trapped on a distant planet fighting a giant mega-corporation. I feel like this could be the RPG shooter I longed for.
The Outer Worlds demo, which we saw, was launched in the downtown outpost to launch missions and new escorts. From there, the developer ventured on the hostile colonized planet, facing both human enemies and monsters. The demo contained a plasma carbine rifle aimed at human enemies, but could be charged for bigger monsters like the Mantiqueen for a massive explosion: a gigantic worshiping alien that the developer avoided, declaring that it could leap into the middle of one Fight and give you even more to manage on the fly. They also displayed a luminous samurai sword that could be used for stealth and melee attacks. Unfortunately, they only blew it up a few times and put it away.
The Companions you can trust come with unique combat specializations. Nyoka, the "big game hunter," has a massive weapon that deals great damage to larger enemies. Ellie, another companion, is a doctor who can help keep the group alive. However, characters also have out-of-combat stats that can help you with certain interactions. For example, in the Lies category, Ellie has a decent number of points to access dialog options that would otherwise be unavailable. Therefore, the selection of companions is flexible and offers a variety of game options.
My favorite part of the demo was in a control room that overlooked the next room they had to enter. There was a main terminal that could manipulate the robots and eliminate all human enemies, making the room trivial. Unfortunately, no team members had enough hacking points to select this option. Instead, there was the intercom – and by using Ellie's ability to lay her buttocks, they basically told anyone to leave the room. What they have done. I love that.
The depth of dialogue selection, struggle, and even mission structures was fun, and I can not wait to find out what the game has to offer. Jason will have an interview with one of the developers of The Outer Worlds on splitscreen, so listen to that too.
Source link